In response to the article from the other day about holding calls, or lack thereof, there were several comments asking for a little more data about holding calls that have gone against our opponents. I was a little bored tonight so I decided to compile our holding calls and those of our ACC opponents this season. A few things:
These numbers are from ACC games only. Conferences have differing rules about who officiates games. So to be sure I dealt with ACC officials only, I pulled the numbers from ACC games.
Penalties counted are for offensive holding only...no defensive holding or holds during kick returns.
I wasn't so bored that I compared the offender from each penalty with team rosters to figure out if the call was on a lineman or another offensive player (running backs, wide receivers, etc.).
I was bored enough to go through every game's drive chart to find all the penalties because none of the stat sites I checked had a breakdown penalty types for each game played.

I don't plan on following up with numbers from the final three games of the season.
I am not a statistician by any means and I do not use Excel often. So the two charts are really basic.
This chart shows our ACC opponents for this season, number of conference games played, total offensive holding calls against that team in conference play, and the numbers of holds called against them in their game versus Florida State.

And the following chart shows our ACC games this season and the number of offensive holding penalties called against us in those games.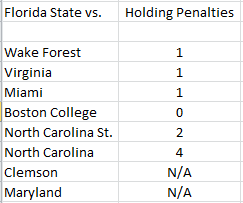 A few other notes:
Two of our holding calls negated touchdowns. One was against Virginia, the other against North Carolina State. I can't speak to if any other teams had points taken off the board due to any of their holds.
At least four of our holds are against players that are not offensive linemen. (Easterling-2, Haulstead-1, Relliford-1)
This information is for entertainment purposes only. Use it in good health and discuss amongst yourselves.