ACC and SEC stadium capicities (grey) with the percentage of stadium dedicated to student section (blue)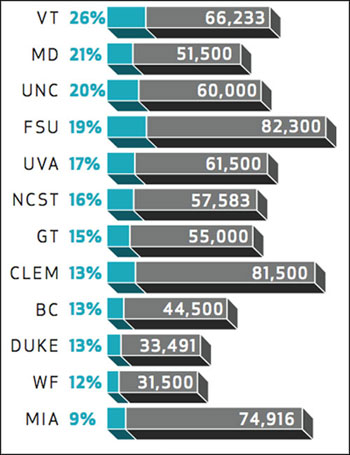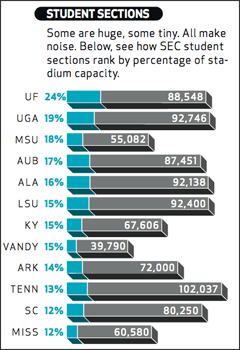 After doing the math...Largest Student Sections in the ACC/SEC:
1) Florida: 21,250
2) Georgia 17,600
3) Virginia Tech: 17,200
---4)Alabama: 16,700 - Alabama just added 2,000 seats to their student section over the summer so they are now larger by just a couple hundred
4) Florida State: 16,000
5) Auburn: 14,900
6) Alabama: 14,700 (Prior to 2010)
7) LSU: 13,800
I wanted to post this because some readers weren't giving FSU students any credit for selling out the student section the first two games of the season. As you can see from above, FSU has a larger student section than majority of the ACC and the SEC, including Auburn and LSU. This shows that it is a great accomplishment to sell out such a large student section.
I realize tickets are free and students don't have to go far to attend the game, but 16,000 is nearly half of the undergraduate students. Thats a large percentage considering majority of the students at FSU are women and there's aways going to be a handful of people who just don't care about sports/ go home most weekends in college.
I was just proud of the student section this year because my first 2 years as a student, we never sold out the student section, not even for the florida game. So for us to sell out the game vs Samford is a great accomplishment. I've read articles from the past decade saying how empty the student section has been over the years so it's great for this program to have a student body that is this excited about football.
And I know that when the games are less hot and when it's not a blowout entering the 4th quarter, the students will remain in their seats for a much larger portion of the game. Go Noles!