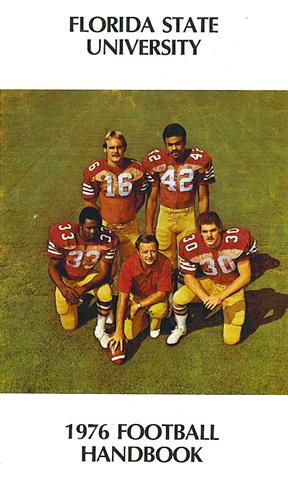 The 1976 Seminoles

An interview by Fsued
An interesting chain of events led me to a real thrill today – a 30-minute interview with former FSU quarterback Jimmy Black. I connected with Black through TN reader "Surfnole," who is a friend of the former QB. He had enjoyed FrankDNole's superb piece on the 1965 FSU-Oklahoma game as well as my humble submission on the 1976 game vs. the Sooners.
What I should have mentioned in that piece was the Black was the starting QB. While FSU only attempted 8 passes in that game, Black and Larry Key led a rushing attack that resulted in 219 yards on a whopping 56 carries. Of that total, Black accounted for 86 rushing yards on 16 carries.
Black is a member of a reunion group called the "73 Renegades." The 1973 freshman class saw a number of chapters of FSU football history, including three head coaches. When Black was a freshman in 1973, it was the final of Larry Jones' three years as coach of the 'Noles. Jones was not retained after an 0-11 campaign. Darrell Mudra coached Black and Co. in 1974-5. Things didn't get much better as FSU won 4 games in Mudra's two years.
Then, as the bumper stickers said: "The Beginning with Bowden."
As I mentioned in the original piece, the start to the Bowden era was inauspicious, with a loss at Memphis State and a 47-0 blowout defeat at the hands of a Miami team that ended up going 3-8.
Bowden had to change a losing culture. While the results didn't come right away, the  players were starting to buy in.
"From Coach Bowden's standpoint, we hadn't competed in the first two games. One thing that was a disadvantage for our group was that we had three different head coaches and four different offenses to learn.
"The other issue was discipline. In the past few years we had lacked some discipline – remember now, this was the 1970s."
When Bowden came in, that all changed. "Coach Bowden made us cut our hair. Mustaches had to be trimmed. There were lots of little things he had us do that all had to do with discipline.
"One thing Coach Bowden said to us when he first got to FSU was: 'I'll never ask you to do anything that  1) I wouldn't ask my own son to do 2) won't make you a better football player.' We all said 'OK, that makes sense.'"
Then, Norman.
Inside, read about Black's experience in the game against the Sooners!
"What I remember was running out on the field in front of 80,000 fans in Sooner red and saying 'whoa!'" Black recalls. When we would play in Tallahassee, we'd have 20,000, so that was something."
Black said he did recognize that the Oklahoma game marked a change in direction for the program.
"It was the first time we really competed," he said. "I was pretty much on the block in terms of playing. I needed to have a good game to keep my job."
INTERESTING ASIDE No. 1: At that time, Jimmy Jordan was a freshman and Wally Woodham was a sophomore. But while Jordan was seen as a promising star to be, Woodham was languishing on the scout team. "He was going to quit," Black said. "I remember trying to talk him into not quitting. I was a senior and told him how I had been in the same spot and that he should hang in there."
Back to Oklahoma, the word Black kept coming back to was that FSU "competed."
He also had some specific memories of the game:
--"I also  remember fumbling a snap. We were in the game pretty well. It was third and short and I fumbled the dadgum snap. We also fumbled in the end zone or we would have had a much closer game."
--Aaron Carter was a starting junior linebacker for FSU and, Black says, the toughest guy he ever played with. Carter was 5-9, 182 pounds (almost the exact same dimensions as Greg Reid and Chris Thompson). As Black tells it: "During the OU game, they had an OT or OG who was an All-American." (NOTE: This is probably consensus All-American Mike Vaughan, who was nicknamed "USS Vaughan" because of his huge size and destructive ability." Anyway, back to Black: "I remember watching the film, Carter just stuffs this guard with a  forearm shiver and jacks the guy backwards. This little 5-9 LB is doing this to an All-American tackle.
--Larry Key, who ran for 89 yards and FSU's only touchdown. "He was a tremendous back. He had a big ol' afro and was as fast as lightning. Interestingly, Black was waiting in line last New Year's Day at the Gator Bowl to buy a ticket to Bowden's last game. He noticed his long-lost teammate Key in line right ahead of him. "It's amazing the bond you create on a football team," Black said.
Black says Bowden's genius was as much in the mental part of motivating a team as the X's and O's. This was particularly true before the OU game.
"It was really Bowden's first of many games where he went and challenged another team that was frankly better than FSU. It was part of a mental aspect of the game. We didn't believe that we were that good. But we really were. If you go out on the field thinking you'll win – which they did for the 30 years he was there – you will."
While Black believed after the Oklahoma game that brighter days were ahead for FSU, he admits, he had no idea how good things would get.
"It was a remarkable thing. I knew they'd get better, but nothing like that."
INTERESTING ASIDE NO. 2: Jimmy Black almost returned to play for FSU for the 1977 season! Black has fallen out of favor with the offensive coordinator his junior year (1975) and was actually eligible for one more year of eligibility. "Coach Bowden asked me to come back. I thought about it. But I knew Jimmy Jordan was on my tail and I had suffered two concussions so I decided not to."
INTERESTING ASIDE No 3: If Bowden hadn't come to FSU, Black would likely have not come out for football in 1976. "I told my Dad I was quitting football, but decided to give it one more try when they hired Coach Bowden."
Black still remembers Bowden's very first team meeting.
"He said, 'now boys, if you do what I tell you, we'll go to a bowl game.' I remember biting my lip, wanting to raise my hand and say 'Coach, we haven't won three games in three years. Are you nuts?'
"We were a little bit of a wild crew – we didn't do everything he told us. We ended up being 5-6 – if we had done just a little more, we probably would have won 6 or 7 games and gone to a bowl."
Black has two children enrolled at FSU and has kept up with Coach Bowden over the years.
"I've stayed in touch with him. The last time I saw him a couple years ago –we sat  in his office and talked for about 40 minutes. He was sharp as a tack. The guy was amazing. He's written me some nice letters. I'm honored to have played with him."
So, what is Black's prediction for Saturday?
"24-21 Florida State."
"Even if we don't win, I think we will compete."
Just like he and the upstart 'Noles did 34 years ago in front of 80,000 crimson-clad fans on a Saturday afternoon in Norman, Oklahoma.
A big TomahawkNation.com thanks to Jimmy Black and reader Surfanole for giving us this opportunity.