Here is an article from Pat Forde of ESPN.com.  Can we hang his words up in our locker room?
Here they come again.
[+] Enlarge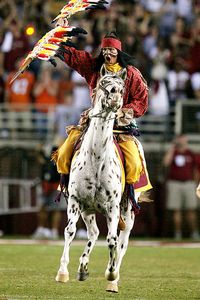 Doug Benc/Getty ImagesChief Osceola and Florida State are once again the talk of the nation.
Those Florida State Seminoles, all full of August strut, are back in the preseason top 10. War chants, burning spears and Chief Osceola are all the rage. This is the year for garnet and gold, we're told. The year the Noles are back.
Have we heard that one before?
How many times?
Florida State may well be returning to dominance -- but for once can we make the Seminoles prove it before giving it to them? They're ranked No. 5 in the nation, despite failing to win the underwhelming Atlantic Coast Conference in 2010, losing a first-round draft pick at quarterback and replacing him with a guy who has thrown six career touchdowns and 10 career interceptions.
Over the past 10 years, the Noles have finished below their preseason USA Today coaches' poll ranking seven times. And not just a little below. Every one of those seven seasons they've finished at least seven spots lower than they began.
Therefore Florida State wins the award as the ultimate "Tease Team" of the past decade, often tempting us to believe it is better than it turns out to be. Since 2001, nobody has a wider gap between expectation and performance than the Seminoles.
But they have plenty of company. The rest of the Top 10 Tease Teams: