Following National Signing Day last year, the St. Petersburg Times had a nifty visual aid that I found eye-opening. I thought it was fanpost worthy and created one that you can read here. Well, this year the name of the newspaper is different (the St. Petersburg Times is now the "Tampa Bay Times"), but the content remains relatively the same (they're big into recycling). So, without further ado, here is the 2012 visual of FSU's recruiting versus in-state rivals: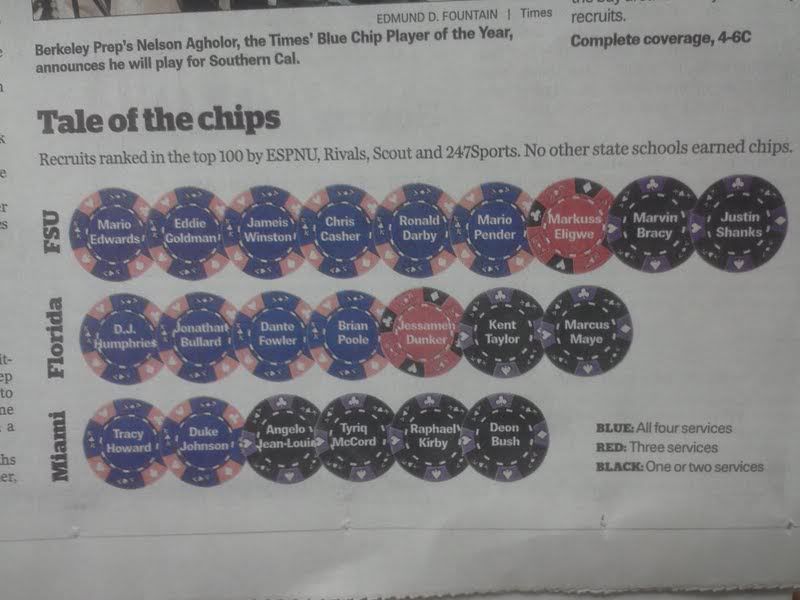 First off, to be clear, this is a different approach to evaluating recruits. The Times values a recruit, not by any technical evaluation, but by simply how many services include the recruit in its top 100. A bit crude, but for some reason I like it.
Second, apparently neither USF nor UCF pulled a player ranked in the top 100 by at least one service? Wow. There will never be a "Big 5" until those two schools start recruiting big.
Finally, by comparing last year's haul with this year's class, you can quickly see that this year wasn't quite as dominant in terms of overall numbers for FSU. Still, this year Florida State took as many recruits ranked in the top 100 of all four recruiting services as all other Florida schools combined. Think about that for a minute. UF took 18 high school recruits this year (not including kickers). Miami took a whopping 31. FSU took just 15, 3 fewer than UF and 16 fewer than Miami. Yet, the Noles still had more top recruits than any other Florida school. Impressive.
Again, enough cannot be said about the recruiting job that FSU's staff has done over the last two years. Of course, now expectations will only be higher than ever. We'll see if Jimbo & Co. can collect a few more wins this year to appease the rabid Nole fan base.
A bonus poll for you after the jump.