Last week, we put up a story about offensive schemes, breaking down the difference between motion and dribble drive motion offense, relating each to the Noles's offense this year.
In some of the recent game threads, many of you have asked why the Noles consistently play a man-man defense rather than playing zone. In last night's win over the Hilltoppers from Western Kentucky, we saw flashes of zone defense, including some atypical variations, specifically the 1-3-1 zone. In this story, I break down zone defenses, describing the nuances of the 2-3, 1-3-1 and match up zones. We'll take a look at a few videos and then discuss why the Noles should or shouldn't play zone.
Before I get into the meat of this post, I want to say that the Noles did a great job last night, beating an unpredictable team from Western Kentucky. The Hilltoppers kept it close thanks to the shooting from Mendez-Valdez, who couldn't miss, even with a hand in his face. In the end, the Noles closed the door and pulled away to win 82-69, with their lowest number of turnovers this year. Hamilton said: "I thought we took another step forward." I agree. 
We all know that the Noles have consistently played excellent defense since Hamilton joined the program. According to Ken Pomeroy, our defense ranks 36th in the nation, which is outstanding. Unfortunately, 5 teams in the ACC have better ranked defenses, but we do have the third most difficult strength of schedule in the conference.Since the 2003-2004 season, our defense has steadily improved to be a consitently excellent level. Here our rankings each year starting in the 2003 season: 222, 80, 44, 55, 43 and 36. Hamilton emphasizes defense and it shows. He has been able to put the athletic talent he recuits to work on the defensive end of the court, typically using man to man defense.
So what about using a Zone Defense? Everyone always talks about teams with a lot of length being effective at playing the zone. We have the tallest team in the country per game minute, why not use the zone? It lead the Syracuse Orangemen to a champonship in 2003, right?
Before we get into the details of zone defenses, let's learn from the man about defense:
Clearly, much of what he was talking about relates to man-man defense. This should serve as a good reference to see how our guys are doing on defense. Are they moving well away from the ball, are they pressuring the ball well, are they forcing their opponent to their weaknesses?
The zone defense can be an effective strategy for a variety of reasons. Like football, when playing a zone defense, a player is responsible for a particular area on the floor and they adjust their position based on ball movement and the position of the ball on the court. The zone is designed to prevent penetration and limit the offense to beat a team with one-on-one basketball. This is particularly useful if your team is not as athletic as your opponent and isn't able to defend one-on-one. (Keep that point in mind)
There are a number of other advantages of the zone defense. One of the major reasons to play the zone is that it slows the pace of the game. The offense is forced to make a number of passes before getting an open shot. This can be helpful when playing high paced teams looking for quick hitters that result from running off screens. However, keep the converse of that in mind...it allows the offense to have longer possession times. The zone can also help limit your big man from getting into foul trouble as he is protected in the middle of the paint. In 2003, Carmelo Anthony, a feature piece of the Syracuse zone, never fouled out of a game. The zone can also be used as a change up, see last night, and can be used to give your guys a break on the defensive end. This is not to say that defensive players do not have to continue to hustle and work in the zone, but they aren't running as much as they would be in a man scheme.
Like the motion offense, there are some basic guiding principles to playing a zone defense. Players must move in a zone to adjust to ball movement and play back side help defense. Not communicating well and failing to fill holes or passing lanes in the zone can be disastrous. Players must keep their hands up to fill passing lanes. To beat a zone, an offense must make good, crisp passes to get the zone out of position, allowing for cuts to the basket or open jump shots. The zone must force the ball to the perimeter, not allowing good penetration to collapse the zone.
The most commonly used zone is the two three zone, with the two guards playing up top and your three big men along the base line. Here's a diagram of the base set-up in a two three zone: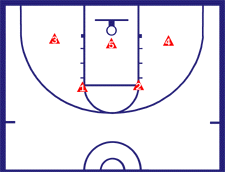 You can imagine the limited passing lanes if all 5 players have their hands up. Here's a video from Coach Sean Hobson and his youth team demonstrating how to set up the zone and a basic discussion of responsibilities. The key to playing any zone is movement. Imagine if everyone stayed in the same position as the ball moved around the court. There are gaping holes in the zone that will be exposed if the defense doesn't react.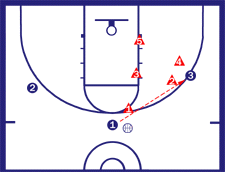 See how the zone almost resets in a lateral position as the ball moves to the wing. The one essentially replaces the two spot at the top of the key and the 2 and 4 move out to defend the ball on the wing. This illustrates the key point of pressuring the ball in order to keep it on the wing.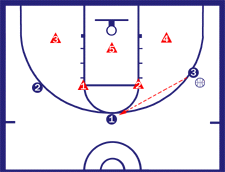 As the ball moves back to the top of the key, the zone realigns to its previous position, its base setup. As the ball moves the right side of the defense you see the following: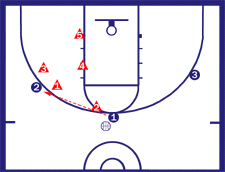 This is clearly a simplification of the basic flow of the zone as the ball moves around the perimeter. But, can you see how the movement closes the passing lanes through the zone? If you look at the picture above....O3 is wide open on the other side of the zone. A quick cross court pass to the 3 will start to break down the zone. Thanks to this excellent site for the images.
Here is a great video from Coach Gizzi diagraming the movement of players in a 2-3 zone. This is a variation of the 2-3 zone, a trapping 2-3 zone, which allows for more pressure than a typical 2-3 zone applies. I refer you to the story I mentioned above about Syracuse by Fraschilla on ESPN.com to show a more detailed analysis of how defenses move to cover in a zone scheme. This is a nice video on some subtle ways that a zone can break down simply by the actions of the defensive players. One thing to note is how much work it takes to play a good zone; look at the lateral movement of the players on the defense. It is not an easy scheme to play and everyone must buy into it in order for it to work. Here is another video from Sean Hobson about how to challenge the shot in a zone scheme. For an unbelievably awesome analysis and step by step of how to run a zone defense go here.
Those are the basics of playing a zone defense. There are tons of variations and permutations on playing a zone. There are a couple of zones that are played with more frequency than others: a 3-2 zone, a 1-3-1 zone (this is hilarious and a must watch) and the match-up zone.
The 1-3-1 zone is effective against defending the high perimiter and high post. It sets up in the following way:
Right away you can see the gaps along the baseline and the low post area. Attacking the zone in these areas will lead to success and likely getting the defense out of the zone. There are some basic rules to playing a 1-3-1 zone: X5 will play O5 man to man at all times, typically fronting him. X5 should be your best post defender. For us, it would be Alabi...duh. X2 and 3 must drop to the weakside block when the ball is to the opposite side and X4 has to stay at home, moving appropriately to the wing as needed but he can't get away from his low post area, typically staying below the block.
Here you can see how the zone rotates with the ball:
You can even trap as the ball gets further into the wing:
In that diagram, the 5 leaves his position to trap the ball deep in the corner. Clearly, the 1 and 3 must make up for the open area in the post vacated by 5. However, this is susceptible to the skip pass and an open shooter on the opposite side of the court.
Here are a series of diagrams from Coaches Clipboard showing the movement of the defense with the ball. Squiggles are dribbles, dashes are passes and straight lines are player movement.
Here is a nice video of Lute Olsen in a coaching clinic explaining the 1-3-1 zone. Pay close attention to where he puts his players. He puts his smallest guard at the "4" position under the basket. He does explain his rational later in the video. Another video from Coach Gizzi going over the 1-3-1 zone. He stresses that the players on the wing need to be outstanding athletes. Last time I checked, our team is stacked with them, especially Singleton, however this limits his defense to one side of the court.
Before I get into more discussion about the Noles, I'll touch on the match up zone. It is really a combination defense, playing man to man on the ball with a zone behind it. Some may say that it is essentially playing good help side defense. It allows your players to stay in a specific area, guards up top and big men down low, and freely switch who they are covering depending on the offensive rotation. At times, this will confuse the offense as they have difficulty understanding who is covering whom. You can show any initial base defense and run a match up zone out of it, adding to the confusion. By doing so, you may also get an offense to swicth out of an offensive set into a less comfortable set because they believe you are running one defense when in fact you are not. (Did that make sense?)The major premise is that you can set up in zone and run man to man off it with zone support.
I hope this helps you understand the fundamentals of zone defenses. There are tons and tons of variations that would take pages to go through. But, I hope this at least gives you a sense of what a zone attempts to accomplish.
So what about FSU: should we play a zone defense? Of course. It's a great change up but I don't think it should be our primary set. Let's  take a look at our numbers:
                      Offense               Defense
Raw Efficiency :  

 99.5 (191)

          

 90.8 ( 48)


Adj Efficiency :  

100.5 (155)

          

 88.0 ( 36)



Effective FG%  :  

 48.8 (172)

          

 43.4 ( 31)


Turnover Pct.  :  

 24.3 (296)

          

 22.5 (109)


Off. Rebound%  :  

 35.6 (100)

          

 34.3 (203)


Free Throw Rate:  

 35.3 ( 10)

          

 31.8 ( 90)



3-Point FG%    :  

 35.2 (128)

          

 33.6 (158)


2-Point FG%    :  

 46.8 (206)

          

 39.2 ( 11)


Free Throw Pct.:  

 71.6 ( 91)

          

 64.7 ( 59)


Block Pct.     :  

  6.8 ( 71)

          

 18.3 (  7)


Steal Pct.     :  

 10.3 (198)

          

 12.3 ( 43)



3PA/FGA        :   33.4 (153)           37.9 (296)
A/FGM          :   55.1 (145)           46.5 ( 29)


Offense
Defense
Date
Opponent
Result
Site
Pace
Eff.
eFG%
TO%
OR%
FTR
Eff.
eFG%
TO%
OR%
FTR
Sat Nov 15
Jacksonville (s) (sr)
W, 59-57
A
69
85.6
52.4
26.1
18.8
73.2
82.7
36.0
16.0
33.3
26.5
Tue Nov 18
La Salle (s) (sr)
W, 65-61
A
71
92.0
45.8
25.5
26.9
58.3
86.3
40.0
19.8
31.5
30.0
Thu Nov 20
Stetson (s) (sr)
W, 79-77
H
73
108.3
45.5
23.3
46.1
60.7
105.6
53.1
19.2
33.3
20.0
Sat Nov 22
Coastal Carolina (s) (sr)
W, 82-70
H
71
116.0
56.7
21.2
32.8
50.0
99.0
51.8
31.1
37.5
30.9
Mon Nov 24
Western Illinois (s) (sr)
W, 67-55
H
62
108.6
48.0
19.4
36.5
44.0
89.1
40.9
21.1
21.0
47.7
Fri Nov 28
Cincinnati (s) (sr)
W, 58-47
N
64
90.7
42.0
28.1
43.2
50.0
73.5
36.1
29.7
40.5
31.5
Sat Nov 29
California (s) (sr)
W, 80-77
N
78
102.7
55.2
23.1
25.6
70.8
98.8
44.1
16.7
20.8
54.2
Wed Dec 3
Northwestern (s) (sr)
L, 73-59
A
69
86.0
47.1
30.6
33.9
37.3
106.4
49.1
18.9
42.9
55.4
Sun Dec 7
Florida (s) (sr)
W, 57-55
H
64
88.8
37.3
21.8
38.9
51.0
85.7
43.1
24.9
31.3
33.3
Sat Dec 13
Georgia St. (s) (sr)
W, 62-57
A
54
114.1
64.5
27.6
44.2
50.0
104.9
44.3
12.9
32.8
28.3
Tue Dec 16
Tennessee Tech (s) (sr)
W, 69-59
H
75
92.3
53.9
32.1
34.5
39.2
78.9
41.7
29.4
33.3
28.3
Thu Dec 18
Charleston Southern (s) (sr)
W, 71-48
H
66
107.0
49.2
19.6
45.2
35.5
72.4
39.3
28.6
35.9
19.6
Sun Dec 21
Pittsburgh (s) (sr)
L, 56-48
H
67
71.8
34.0
26.9
27.8
46.8
83.8
38.1
22.4
38.1
20.6
Sun Dec 28
Western Kentucky (s) (sr)
W, 82-69
h
65
127.0
54.1
13.9
40.0
34.4
106.9
50.0
23.2
44.7
25.9


If you recall, the purpose of the zone is to prevent inside penetration, slow down the pace and put your defenders in a better to position to defend better athletes. We are currently 7th in the nation in block percentage as a team. Alabi ranks 22nd overall and has had some monster games. Even though we have commented on his sometimes lack of emotion and aggressiveness, he takes up a ton of space and is an effective defender. I only wish he did a better job on the boards. Okay...we defend the paint well, so we don't need a zone for that.
We slow teams down. We held Florida to their 3rd slowest pace of the year. They love to get out and shoot. We held Cinicinnatti to their lowest pace of the year. We force turnovers. And we limit team's effeciency. Okay, so we slow teams down in our man defense, so we don't need the zone for that.
Last time I checked, this team is stacked with athletic players who can run the court. Plus, they're big. So not only can they move, we have a lot of length on the court at any given time. This is an advantage in a zone, but if our defenders can stick to your athletes...we don't need to worry about the one-on-one situations. However, how will this play out when we play the big dogs of the ACC...well look at how we played Pitt. They are not a run and gun type of team, like Florida, but they are highly skilled players. We did extremely well against them, primarily playing man to man.
Do I think we need to play zone as a base defense? No. We challenge shots well, as highlighted by our opponent's relatively low 2pt FG% and we force turnovers. We slow the game down and play it at our pace and force teams out of their natural rhythm. I like it as a change up and to give our guys a rest from time to time. With the athletic ability of Singleton and Reid and our guards, a 1-3-1 zone would be an excellent change up. Our length aides in playing a 2-3 zone. So whatever Hamilton chooses will work well, but our aggressive style of play and more importantly, clean play (our opponents don't get to the line very often), allows the man-to-man defense to work well.
What do you think? Should we play the zone? Can our defense shut down a Duke or UNC? (By shut down I mean slow them down to maybe give our offense a chance.) What other types of basketball plays or schemes would you like to see broken down?
As always thanks for reading and Go NOLES!