Remember this?

Image from ESPN.com

Welcome to our house

Clemson vs FSU Part 2
Remember the 40-17 run?
With 16:28 to go in the second half, the Noles were down by 18 and Clemson's lead was 21.3% safe. Game over, right? For whatever reason, this team did not panic. They worked through their terrible shooting in the first half to go on the run of all runs this year to beat Clemson in Littlejohn Stadium, putting Seminole basketball on the national scene. Toney Douglas and Solomon Alabi combined for 40 points. And, despite only shooting 10 FT as a team, the Noles pulled off the upset.
We were not expected to win that game, although some of us thought we were due for an upset. Clemson was the #10 team in the nation and we had just endured two tough games with UNC and Georgia Tech. Clemson was on a roll, coming of three straight victories that included Georgia Tech, Virginia Tech and Duke. I believe we had about a 20% chance to win that game according to Pomeroy.
Now that we are ranked it's a different story. Simply playing a close game won't be considered a victory for us. Not only can we win this game, we absolutely need to. You may be thinking, well as long as we beat VTech at the end, why does it matter if we lose to Clemson, Duke? An underrated Boston College threw a monkey wrench into the works. 21+ wins and 8+ wins in the ACC and an RPI in the top 20...should be a lock. I'm a cautious optimist.
So, what has happened to the two teams since we last met. Clemson went on to beat BC, Maryland and Georgia Tech. But, they lost at UVA in OT, and in a close one to VTech at home. We went on to beat UVA, Miami and at VTech, losing at Wake and at Boston College. Since playing Clemson on February 7th, we have only played at the Tucker Center twice.
There haven't been any significant shifts in the "Four Factors" for either team. Just when we thought we were over the TO Blues, we had a 28% TO% at BC, a team that isn't known for generating turnovers. Mental fatigue? Long road trip? Looking past BC? All certainly possible/reasonable explanations.
Looking at Clemson's 5 losses, there are two common themes. In all of their losses, except to us, they had "relatively" poor shooting nights, having lower eFG% than their opponent and their season average. They also, with the exception of the Virginia game, had a lower FT rate than their opponent. And in three out of their 5 losses, they had a lower OReb% than their opponent. So it seems that if you can win 2 of the four factors against Clemson, you have an awfully good chance of winning. Looking at some other statistical models, if Clemson has a higher eFG% than their opponent, their correlation coefficient is 0.74. The closer to the number 1, the higher the likelihood of there being a direct correlation. Meaning, if the correlation was 1, every time Clemson out shot it's opponent, they would win. However, if their opponent has the better shooting night, the correlation coefficient is 0.91, meaning a higher likelihood of winning. The other significant correlations are if Clemson has a higher OR%, the coefficient is 0.46 and if their opponent has less TO, they are more likely to win, meaning there is a negative correlation for Clemson. It is actually equally as significant/strong as Clemson's eFG%. Moral of the story, shoot the ball well and prevent turnovers and your likelihood of winning is high.
What did we do against Clemson last time:
We won the TO battle, the OR battle and the FT battle. I hope/believe the analysis described above is correct. If there is a different or better interpretation, please let me know. As you can tell, I love advanced stats. Sabermetrics....love it.
I hope this helps illustrates the point above, specifically Clemson's eFG% and FT Rate %:
Remember to look at the data points before a negative slope in the curve. January 17th was Clemson's first loss against Wake Forest. Unfortunately, this is a bad example as Wake had way more turnovers against Clemson, but Clemson lost that game. They also lost the following game to North Carolina and demonstrates the TO% theory.
Here are the respective team's stats from Pomeroy:
Clemson:
Raw Tempo: 70.2 poss/40 min National Rank=55
Adj Tempo: 69.1 poss/40 min National Rank=68

 Offense Defense
Raw Efficiency : 

112.7 ( 18)

 

 94.3 ( 35)


Adj Efficiency : 

116.4 ( 12)

 

 92.1 ( 34)



Effective FG% : 

 53.0 ( 50)

 

 47.2 ( 89)


Turnover Pct. : 

 19.6 (113)

 

 24.3 ( 20)


Off. Rebound% : 

 39.4 ( 18)

 

 36.7 (304)


Free Throw Rate: 

 32.6 (268)

 

 31.5 ( 62)



3-Point FG% : 

 38.0 ( 38)

 

 35.6 (247)


2-Point FG% : 

 51.0 ( 65)

 

 44.7 ( 59)


Free Throw Pct.: 

 68.6 (175)

 

 65.4 ( 26)


Block Pct. : 

 8.2 (129)

 

 14.8 ( 11)


Steal Pct. : 

 11.0 (262)

 

 13.6 ( 7)



3PA/FGA : 33.8 (146) 28.7 ( 38)
A/FGM : 51.8 (223) 53.3 (152)
Florida State:
Raw Tempo: 68.3 poss/40 min National Rank=110
Adj Tempo: 67.3 poss/40 min National Rank=138

 Offense Defense
Raw Efficiency : 

 99.9 (194)

 

 93.5 ( 24)


Adj Efficiency : 

103.6 (129)

 

 88.5 ( 12)



Effective FG% : 

 48.2 (199)

 

 44.3 ( 19)


Turnover Pct. : 

 22.8 (278)

 

 23.1 ( 49)


Off. Rebound% : 

 35.6 ( 76)

 

 35.7 (280)


Free Throw Rate: 

 41.3 ( 47)

 

 35.6 (159)



3-Point FG% : 

 33.3 (199)

 

 31.9 ( 51)


2-Point FG% : 

 47.3 (193)

 

 42.4 ( 20)


Free Throw Pct.: 

 72.6 ( 52)

 

 68.4 (140)


Block Pct. : 

 8.0 (118)

 

 16.2 ( 7)


Steal Pct. : 

 10.1 (193)

 

 12.7 ( 19)



3PA/FGA : 34.0 (141) 35.3 (253)
A/FGM : 52.7 (206) 46.3 ( 19)
Clemson is a very good basketball team with the 12th best offense in the nation and the 34th best offense. Once again, we will have our hands full. Areas to exploit: we need to rebound on the offensive end and we need to get to the line...the three point and the free throw line. The three point line scares me because we rely on it too often and if they're not falling...we're done. The challenge once again will be trying to break Clemson's pressure man defense and press. We have been doing well against zone defenses recently and have been troubled by man defense.
Once again, we will need to focus on stopping K.C Rivers and Trevor Booker, two of the top offensive players in the nation. They are extremely active under the basket and they shoot the ball extremely well, probably because of a lot of put backs. However, if you stop them...you have Oglesby to deal with and Stitt and Sykes...this is a very talented team. However, they lack experience, only averaging 1.64 years of college. Despite their overall athletic ability, they are a relatively small team. Sykes is their tallest player at 6'9" and he only plays about 25 minutes a game. Booker is 6'7, followed by Rivers at 6'5. Their guards are 6'2 a piece. Our front line: Alabi 7'1 Uche 6'9 Singleton 6'9. Advantage us. Plus, we're not big and slow. Our guys are light on their feet and move very well, which is why Singleton may be having trouble identifying his role...he's big but we have way bigger players who move as well as he does for their respective size. In high school, he could play down low and dominate...now he has been moved outside.
Here are the line ups for tonight's game:
PROBABLE STARTERS FOR FLORIDA STATE
F #31 Chris Singleton (7.9 ppg, 5.2 rpg; 5 pts and 6 rebs vs. Clemson, Feb. 7, 2009)
F #41 Uche Echefu (8.8 ppg, 5.1 rpg; 24 pts and 12 rebs vs. Clemson, Jan. 12, 2008)
C #32 Solomon Alabi (8.2 ppg, 2.1 bpg; 17 pts and 9 rebs vs. Clemson, Feb. 7, 2009)
G #22 Derwin Kitchen (8.3 ppg, 2.3 apg; 1 pt and 4 rebs vs. Clemson, Feb. 7, 2009)
G #23 Toney Douglas (20.5 ppg, 1.9 spg; 23 pts and 7 rebs vs. Clemson, Feb. 7, 2009)



PROBABLE STARTERS FOR CLEMSON
F #35 Trevor Booker (15.2 ppg, 2.2 bpg; 29 pts and 5 rebs vs. Florida State, Jan. 12, 2008)
C #12 Raymond Sykes (8.1 ppg, 5.3 rpg; 10 pts and 6 rebs vs. Florida State, Feb. 7, 2009)
G #1 K.C. Rivers (14.5 ppg, 6.1 rpg; 12 pts and 6 rebs vs. Florida State, Jan. 12, 2008)
G #2 Demontez Stitt (8.5 ppg, 3.6 apg; 11 pts and 5 asts vs. Florida State, Feb. 7, 2009)
G #22 Terrence Oglesby (13.1 ppg, 2.0 apg; 19 pts and 5 rebs vs. Florida State, Jan. 12, 2008)

 
Clemson welcome to our house (it's just the photo credit no need to click):
Meet Toney: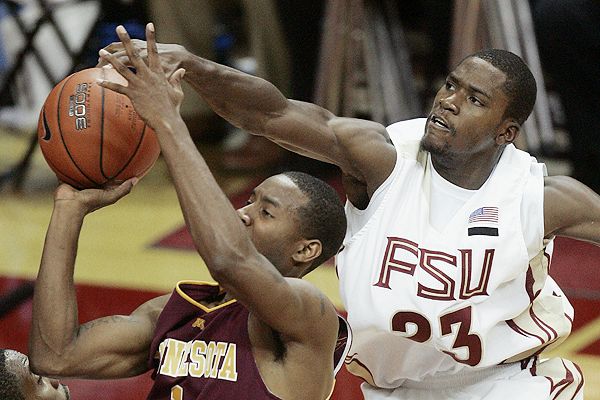 And Uche:
And Solomon:
I hope they make it a long trip home for you.
Radio and TV Info:
Look for live feeds on justin.tv and atdhe.net. Sirius XM users tune to channel 190. Radio link will likely be here. The game will be televised on Raycom, go here for the list of affiliates. If you have ESPN Full Court, it will also be televised there.
Other Interesting Reads
In a few of our discussions, the notion of Luck was brought up. Here is recent article from the Basketball Prospectus about the luckiest and un-luckiest teams in the country.
An interesting read on choosing your bracket.
Pure entertainment. Duke may have crushed Maryland earlier in the year...but the Terps got the best of this one.
Nice analysis from the folks at Rushthecourt.com
Go NOLES!
(Unfortunately, I'm at work today...so unlikely I'll be able to comment on the game)