Basketball recruiting is a skill that Florida State has typically excelled at given the conference in which it plays. Florida State is a football school first, second and third and the rest of the sports fall where they may after that. However, despite not being considered an elite basketball school, recruiting success is as much a part of the story of FSU Basketball history as Bobby Sura is.
This year's recruiting class added four nice additions to Leonard Hamilton's squad: Michael Snaer, Terrance Shannon, Bernard James (if he makes it as a walk on) and Jon Kreft.
Before you read this, please check out the excellent article from FrankDNole and friends on FSU's #1 Offensive Players.
Meet Michael Snaer:
Yes, he's ours for the time being.
Image from here.
After last year's 25-10 record and first appearance in the NCAA tournament in 11 years, the 'Noles are looking to continue their success. Last year's recruiting class included some outstanding additions to the team: Chris Singleton, Xavier Gibson, Luke Loucks and David Dulkys. Pierre Jordan was a part of that class but saw limited minutes (He played in 6 games and only averaged 4.6 minutes of game play.) Last year's recruiting class entered with high expectations and delivered. Despite having one of the youngest teams in the country and little chemistry, the Seminoles made it to the ACC Championship Game and were finally recognized at the national level. Unfortunately, despite all of the excitement for next year, the Seminoles lost their leader: Toney Douglas, who was drafted in the first round of the NBA draft by the New York Knicks. Now, the core of young players that entered last fall, must fill the void left by Toney's departure. This is an enormous challenge, but they are getting some help.
Let's take a look at the additions to the team:
Michael Snaer  6'5 200lbs SG Moreno Valley, CA

In one of the biggest surprises of the recruiting season, Leonard Hamilton was able to sign Michael in November of his senior year, during the early signing period. Ranked 7th overall and the 2nd best shooting guard in the 2009 Recruiting class, Snaer chose to sign with FSU over Kansas, Marquette, Missouri and UCLA. Despite being one of the top recruits in the country, Michael is from Moreno Valley, CA. Snaer is an outstanding addition to the Seminoles and will play a huge role in making up the offensive void left by Toney's departure. During his senior season, many commented on Snaer's decision making and shot selection and he actually dropped on a few recruiting boards. But, his performance at the McDonald's All-American Game and other post-season tournaments quickly placed Michael as one of the top recruits in the country. Most recruiting boards list his 3-point scoring ability and scoring threat as his major attributes. After watching numerous videos of Michael, he is an absolute athletic freak. He can score around the basket with both hands and can shoot from well beyond the three point line. One of the major themes of most recruiting boards is his ability to handle the ball. However, that will not be his role on the 2009-2010 team. He is a true shooting guard and it will be up to the likes of Loucks and Kitchen to get him the ball.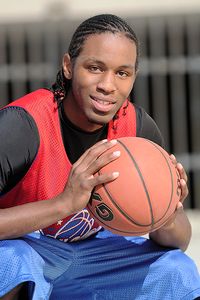 Photos from here.
During his senior year, Snaer average 28.1ppg, 10.8 rpg, 5.2 apg, 3.6 steal and 2.2 blocks. He was named the 2009 California Gatorade Player of the Year. He was also named MVP of a some major post-season tournaments. The thing that is most impressive about Snaer is that he truly fits the mold of a Hamilton player: a gifted athlete that loves to play defense. Many scouts, NBA and college, have commented on his commitment to defense and his raw athletic talent. Many are considering him a one-and-done. I think he is still too raw for that but I don't doubt that he will play at the next level.
Here is one of Snaer's most recent highlight tapes. Many say that Michael's effort, skills, defensive intensity and determination derive from the fact that he went relatively unnoticed until late in the recruiting process. Here is an excellent interview from Ballislife.com with Michael. And here is another highlight tape from Michael. I hope this gives you some sense of the level of player that we are getting this fall. Here is Michael's blog from the McDonald's All-American Game. He is a perfect fit in the Hamilton school of basketball and will contribute from the start. I can only imagine what it will be like to have Snaer, Singleton, and Alabi on the floor at the same time.
Jon Kreft 6'11 260lbs C Parkland, FL

Earlier in the year, I wrote this piece about Jon, detailing his rather circuitous path to the Seminoles. To summarize, Jon was originally part of the 2006 recruiting class for the Seminoles, a 5-star recuit out of Parkland, Florida. However, he ran into a little bit of trouble with the law and had his scholarship offer rescineded from Florida State. After serving his time, Jon enrolled in Chipola College, a community college in Marianna, FL, which is a feeder school to a lot of Division 1 programs. During his time at Chipola, Jon had no disciplinary problems and excelled on the court. If you look at his stats, they aren't that impressive. But, in general, Chipola gives all of its players time on the court in the hopes of getting them recognized in game activity.
Images from here.
When I wrote the piece mentioned before, one of our readers, freshcollegeboy, who attends Chipola College, had the following to say about "Big Jon":
I'm currently attending Chipola College (technically no longer a JC) and have been to about half the games. John Kreft, more commonly reffered to as "Big John", has been a serious force for our team this year. Unfortunately, Chipola is notorius for being a fast paced run and shoot team that plays very good defense. From the games I have seen, They don't feed him enough, as he is almost lights out from under the basket and has nice touch for the turnaround J. As for him as a person I have talked to him a few times and am in the "know" around school, and the kid is a good guy. I've heard nothing but positives from him and the people around him. I hear our coach is constantly reminding him and several other players that the choices they make here will affect the rest of their college career.

The main reason Big John didn't get the touches he should have, was because of teammate and 2009 NJCAA Player of the Year Casey Mitchell (signed with WVU), who is just ridiculous. I heard FSU was looking at him but got no interest. That doesn't change the fact, however, that I thing John has the potential to be a great post man, but he runs the floor extremely well, and can throw down some monster slams! I literally saw him during a game this past year do a between the legs slams! Like it was a dunk contest. . . only during a game :)

The Chipola Program has a history of taking troubled players and bringing out their potential while helping put their head back on their shoulders. Our President calls us the "School of Second Chances" because we basically get the good players that don't perform off the field and mentor them back to or into D1 schools. We've had numerous D1 players and a one or two NBA players make a pit stop at Chipola.

I don't think he could be a true Power Forward as he doesn't have a strong mid-range game and I've never seen him even attempt anything around the 3 line (honestly he's never had the chance nor needed too as Chipola had several who could light it up from wayyy downtown). In my opinion he would be a very good 4-5 Hybrid with Alabi on the floor. Nobody would have the size to compete with down low in offense or defense.

Also Big Jon does use his body very well. He weighs pretty decent but he plays with almost too much intensity and will throw his body around. A big body like his diving into the stands for a loose ball scares me but I've seen him do it several times without injury. When he gets angry he plays much better and gets very aggressive (at least once in every game lol). I think Florida State and Big Jon will both get a positive out of him playing there.

Oh yeah and he has a habit of yelling very loudly whenever he dunks. which is fairly often. :)
Here is Jon's highlight tape from Chipola. Jon is a great addition to the team and I can't wait to see the rotation of Alabi, Gibson and Kreft in the front court. We were the tallest team in the country last year and I wouldn't be surprised if we are again next year. Once again, Jon fits well into the Hamilton school of basketball. He's aggressive, athletic and has a good basic skill set. He needs to refine his game around the post. But, I hope that he and Alabi can rub off on each other. Look for Jon to contribute from the start of the season. With Echefu's departure, we need another threat in the low post area and someone to clean up on the boards. Unfortunately, I don't think Kreft's FT shooting is nearly as good as Echefu's. I like the fact that he is going to bring a lot of energy and emotion to the court.
Terrance Shannon 6'7" 190 - 205 lbs PF Forsyth, Georgia

Terrance is is a 3-star recruit out of Forsyth, Georgia who ranked 132nd overall in the class of 2009 and the 36th power forward overall. He received offers from FSU, Nebraska, Xavier, Memphis, Georgia Tech, LSU, Maryland, Tennessee Tech and Auburn to name a few. The word on the street is that Terrance is raw athlete who needs to develop his basic skill set. I wouldn't be surprised if he is a late bloomer. Fortunately, we have enough versatile big men on our team that an immediate impact isn't necessary. Plus, Terrance tore his ACL in AAU play and sat out his senior season.  His reported strengths are rebounding, toughness and his wingspan.
Image from here.
Last summer, Terrance had the opportunity to play in the 2008 adidas Super 64 tournament, a tournament that featured some of the top recruits in the country: Derrick Favors and Milton Jennings. This is what the scouting reports had to say after the game:
Shannon did yeoman's work on the glass -- particularly on the offensive end. He used his strength and quick leaping ability in addition to an impressive second jump to snare offensive rebounds, only to convert them into baskets. He contested shots on the defensive end and ran the floor with great ease. Unfortunately, Shannon sustained a knee injury in his second game and could not follow up his quality performance.  Source: ESPN.com
Unfortunately, I haven't been able to find any free video on Terrance. For those of you who have a Rivals subscription, there is one video there. Everything I have read about Terrance is promising. Some say he is undersized but has an unbelievable motor around the basket and makes plays. He also has a nose for the ball and rebounds well. This reminds me of a certain undersized power forward from Pitt who had an outstanding college career (and by the way he had knee injuries as well):
Image from here.
I wish I could predict that Terrance will develop into a Blair like player, but a lot of the language that is being used to describe Terrance reminds me of that used to describe Blair. Terrance will need to develop his strength and size if he is going to survive in the paint but he has the frame to develop. If his knee is healthy, which is should be at this point, look for Terrance to provide significant minutes off the bench in relief of Reid. Yes, Ryan Reid is likely to be our starting Power Forward this year.
Bernard James 6'9" 250 PF Savannah, GA

Who? The word on the street is that Bernard James is going to try and walk on to the Seminoles this year after having a successful season at Tallahassee Commnunity College. I hope that he does. Bernard has also had a different path to collegiate basketball, though quite the opposite from Jon Kreft. Despite not playing basketball in high school, Bernard could be another physical presence in the post this year. Remember, Solomon Alabi didn't start playing basketball until his junior year of high school.  Before entering Tallahassee Community College, he was a Staff Seargent in the United States Air Force. During his time in the military, he earned his was onto the United States' Armed Forces All-Star Team. In 2008, that team won the International Military Sports Council Basketball Championship, defeating Lithuania 84 - 74. He was the MVP of the tournament and named to the All-Tournament team. Are you interested yet? During his freshman year, he started 18 games, shot 62% from the floor, 55% from the FT line, averaged 12 points per game and 8 rebounds per game.
Images from here.
Look at the wing span. I don't know for sure if Bernard is going to make the team or not as he has not been made an official offer, but apparently he is going to try and walk on. With his size, success and talent, I hope he will make it to the team. Even though Xavier Gibson can play the pseudo-4, it would be nice to have a true 4 to play behind Reid.
In Other News:
Basketball practice started on July 17th and things look good for the Noles. Alabi has put on some weight, Reid has lost some weight and Singleton has bulked up (a little). One of our biggest concerns last year was that Solomon Alabi needed to increase his strength to allow him to truly dominate in the paint. He consistently showed flashes of brilliance but didn't have the power to consistently take the ball to the basket and finish. He looks good and I think we will see significant gains in his game this year. Ryan Reid looks as if he has lost a few pounds, which will help with his endurance. With the departure of Echefu, look for Reid to get a majority of the playing time. Remember, he was the starter at the beginning of the season last year but lost the job to Echefu. Gibson also looks like he has matured physically. He could secretly develop into a dominant player. He has a fluid game and is able to play with his back to the basket or shoot a jump shot from 10 feet. Snaer is apparently tearing it up in pick up games and has been taking on the likes of former NBA player Jason Rich. Freshman are not allowed to officially participate in practice until they are enrolled at FSU. Corey Clark has a nice article about the first practice of the year.
What about Toney? Do you miss him yet? Truehoop had this to say about Toney:
The Knicks' Toney Douglas continued to struggle shooting the ball, but he performed his primary function as floor general quite well. He gave the Knicks what they needed at the point -- game management, penetration and kicking, creating for others, and, most of all, solid on-ball defense at that position. Douglas now has 21 assists to only two turnovers in his two games. Not bad for a guy who started out as a combo guard.
He's even getting some love from the New York Times. Our suspicions were correct: Toney will be successful at the next level. 
Those are the updates for now. I will have an update on the 2010 recruiting class shortly. There are some outstanding, absolutely outstanding, recruits who have FSU on the list and we're making offers. This could be a really exciting year for FSU basketball. Please let me know if there are any other players you would like to hear about or any other basketball related topics. As we approach the start of the season,  will have individual player profiles and previews similar to last year. Again, the information regarding Kreft and James is what I was able to pull from the internet. I have not heard officially whether or not they will be on the team or what the plan is. Will let you know if I have any updates.
Cheers,
TC