There are a lot of general similarities between the basketball and football teams. After reading that Rodney Hudson is going to be sticking around and that and overwhelming of the offensive starters are going to be returning, I thought that this sounds very similar to the basketball team. With only one senior on the team, it is likely that what you see this fall and winter will be a very similar team to what we see in the 2010-2011 campaign. Granted, there has been some discussion that Alabi and Snaer might jump to the NBA, but we'll save that for another discussion.
Let's take a look at the possible additions to the basketball team during the upcoming recruiting season. We already have two outstanding players that have verbally committed to the team and have made offers to some of the best players in the country.
Before we get into the details of the 2010 prospects, I wanted to spend some time describing the Division I Men's Basketball recruiting process. Unlike football, basketball recruiting starts the summer after a prospects Sophomore year. Recruiting materials and monthly phone calls may begin on June 15th following a prospect's sophomore year. Monthly phone calls may continue through July 31st after a prospect's Junior year is over. In football, materials can't be sent until September 1st of a recruits Junior year and only one phone call may be made between April 15th and May 31st, this increases to one per week during senior year after September 1st, but are unlimited during contact periods.
During a recruits senior year, phone calls may occur two times per week, an official visit may occur after the opening day of classes and off campus contact, meaning a face to face contact that goes beyond saying "hello," may occur after September 9th. In football, only one call per week is permitted and off campus contacts may occur after the "last Sunday following the last Saturday in November."
In general, programs are allowed 130 recruiting person days during an acadmic year, no more than 7 recruiting opportunities per prospect per academic year. Recruiting opportunities are defined as contacts and evaluations. A contact is defined above. An evaluation is an activity "by a coach to evaluate your academic or athletic abilities. This would include visiting your high school or watching you practice or compete." There are no more than three off-campus contacts allowed during senior year and none during junior year. If you want more details, I recommend that you go here.
From August 1st, 2009 to August 31st 2010 here is the recruiting calendar:
August 1st to September 8th: Quiet Period
September 9th to October 5th: Contact Period
October 6th to March 31st: Evaluation Period, except for 11/9-11/12 (Dead Period), 12/24-26 (Dead Period) 3/16-3/22 (Contact Period)
April 1st to July 5th: Quiet Period, except 4/1-8 (Dead Period), 4/8- 4/21 (Contact) except 4/12-15 (Dead), 5/20-38 (Dead)
July 6th to 15th: Evaluation Period.
A Contact period is  the time in which a college coach may have in-person contact with a plaery on or off the college campus. Coaches can visit players at their high school or players can visit college campuses. A Dead Period is one in coach can only write or telephone a player or their family; there can be no face to face contact.  An Evaluation period allows a coach to watch a kid play but they cannot have in-person conversations off the college campus. A Quiet period is defined as a period in which a college coach cannot have any face to face contact or evaluate a player, but a player may visit a campus. Finally, a player can announce a verbal commitment at any time, but it  is not binding.
During the upcoming academic year, basketball players may sign during the early period of November 11th to 18th, 2009 and during the regular period between April 14th and May 19th, 2010. This should give you some sense of when things happen during the basketball recruiting season. November, April and May are big months.
The 2010 recruiting class is already off to a phenomenal start with Ian Miller and Okaro White, both Rivals.com 4 star recruits verbally committing to the Seminoles. Aside from Miller and White, FSU has already made 7 offers, 4 of which are to 5-star recruits. For the sake of his piece, we will focus on our current verbal commits and offerees. Other significant recruits will be mentioned.
The Commits:
Ian Miller 6'2 165lbs PG Charlotte, NC
Ian is a 4 star recruit out of North Carolina who has had a plethora of offers from big name programs: FSU, GTech, Kentucky, Miami, Oklahoma, Virgina, Virginia Tech, Wake Forest, Clemson and Florida. He is currently ranked the 82nd overall player and 19th point guard by Rivals and the number 10 point guard by Scout.com. Miller verbally committed to FSU in October of 2008. Ian is an outstanding ball handler and can shoot from anywhere on the floor. He has great body control and has a quick first step off the dribble. He is a true point guard and is something our team desperately needs. This is an excellent addition and I think you will be amazed by his athletic ability. If Snaer stays, watching Miller and Snaer in the back court will be a wonderful site to see. Miller lead his team to a state championship last season. I will not get into the debate as to whether or not he got the winning shot off or not (see video 2), but it was stil a great shot regardless. Here are a couple of videos of Ian: Video 1   Video 2   Video 3     Miller is #30.
Okaro White 6'8 185 PF Clearwater, FL
Okaro is another Rivals 4 star recuit who is currently ranked 48th overall for the cass of 2010 and the 11th overall power forward. He verbally committed to Florida State on November 29th, 2008 during his Junior year. He also received offers from Georgia Tech, Indiana, Memphis, Miami, Clemson and Florida. One of the positions at which we need to develop depth is the power forward position. Okaro needs to put on some weight but he is a very gifted athlete and has excellent jumping ability. Here is a nice preview of his High School team. Here is the higlight tape from the 2009 Pinellas County Athletic Conference Championship game. Okara is #10 in white. He runs the floor extremely well and has a bautiful touch around the basket. Okaro will fit nicely into the rotation and is another highly atheltically gifted Leonard Hamilton recruit. He will not dissapoint. I wouldn't be suprised if he put on some weight this year. He has the ability to contribute from day one. Okaro led his team to the State Championship, however unlike Ian his team was not able to win the game.
The Big Offers:
Brandon Knight 6'3 185lbs PG Ft. Lauderdale, FL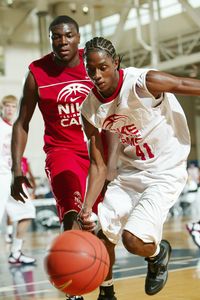 Brandon Knight is considered the number one recruit in the country. He has offers from UConn, Duke, Florida, Georgia Tech, Kentucy, Miami and Syracuse. Unfortunately, many think we don't have a chance and our only saving grace is that he is a local kid. I hope that Michael Snaer can have some impact on him and bring him to FSU for a year. Knight was the Gatorade Player of the Year as Junior. He can score easily from anywhere on the floor and doesn't need the help of others to generate his shot or to score. Here is an interview with Brandon. Here is a highlight tape of Brandon from the Reebok Summer Camp. Here is his Maxpreps.com profile. Brandon is ready to take it to the next level. I only hope that Leonard Hamilton can work his magic. It's highly unlikely that we sign him, but it is certainly a possibility. The fact that we are local is apparently a bonus. It helps that Kenny Boynton, another big time guard from Florida, committed to he Gators.
Roscoe Smith 6'8 180lbs SF Baltimore, MD
Sign Roscoe now. Roscoe is the 24th overall player in the 2010 class and the 5th small forward overall. Watch this tape and you will be convinced. He loves to play defense and is, again, an athletic freak. I love this kids jumping ability. Here are is Sophomore highlights. I would love to see him put on some weight but he can play anywhere on the floor. Clearly he can shoot from anywhere. He has the basic skill set to turn into a phenomenal player and he loves the game. I love seeing how excited he gets playing defense. Again, this would be an outstanding addition to an extremly strong core group of players.
Jelan Kendrick 6'6 185lbs SF Atlanta, GA
Watch this dunk.Convinced? Jelan is the #4 player overal according to Rivals.com and the #2 small foward. Can Leonard Hamilton steal yet another super star out of Atlanta? I can't find much tape on Jelan and I don't know why as this kid is an elite recuit. Apparently, Jelan has some room to grow into his frame and is a hybrid 2/3. I wouldn't mind such an addition to our team, espescially if he can jump like that. He currently has offers from Clemson, Geogetown, Kentucky, Tennessee and Xavier. I would be happy if we had either Roscoe or Jelan at the 3. Apparently, it is all up in the air right now and he isn'ty leaning any directions.
Luke Cothron 6'8 210lbs Red Springs, NC
Luke is currently ranked he 13th player overal by Rivals and the 3rd PF overall. He has offers from Alabama, Arkansas, Auburn, UConn, Florida, Kansas, MSU, Oklahoma, South Carolina, Texas A&M and VTech. These are great schools but not quite the upper echelon, meaning we might have a chance. This is a big athletic kid with fort hand around the rim. I would like to see hime be more aggressive attacking the rim, but he uses his body well to set up shots. He has room to add to his frame and we are thin at the 4 spot. Here is an interview with Luke. Keep in mind that this video is an NCSt video, take everything he says with a grain of salt. Here are some game tapes: Game 1 Game 2 Game 3. He has an ecellent shot for a big man, though I don't like how his shooting arm drifts after his free throws. I love that he has a such a soft touch around the basket. I can envision him cleaning up around the basket and dominating. Again, this is  the kind of talent we need to sign.    
Fabricio Melo 7'0 270lbs C Weston, FL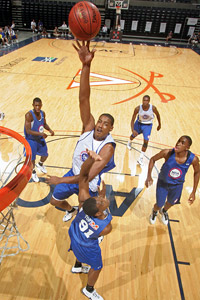 If Alabi is going to tempt the draft, we need Melo. Ranked as the #5 player overall and the #2 center, Melo would be an absolutely fabulous addition to the Semnioles. He currently has offers from Uconn, Louisville, Miami, Syracues, Texas, Florida and Kasas. Rumor has it that Louisville and Connecticut are on top of his list. He would be able to start immediately on either team. But. other sites have him not so keen on either school, with Florida State in the running. Leonard are you listening, go and get this kid. Do you want to make it past the first round? Do you want an ACC Championship? Do what you have always done and surprise us with your recruiting ability. This is an almost 10 minute video of Fab. Remember, he is 7'0 tall. Light on his feet. Beautiful jump shot for a big man. Has a beautiful shot over all. Watch how he follows through on his shots. How many seven footers do you know that can
drive the lane and dish? Melo is likely a one and done. So why not stay close to home big fella?
Other Offers:
Andre Stringer 5'9 170lbs PG Jackson, MS
Andre is a 4 star recruit out of Jackson, MIssissippi who ranks 94th overall and the 22nd point guard. I love this pass. He has offers from LSU, Alabama, Ole Miss and MSU. He is extremely quick off the dribble and truly fills the role of point guard. Many will question his height. During his Sophomore year, he averaged 9 assists per game. During his junior year, he averaged 25 points, 7 assists and 4 steals. He has already led his team to the state championship.
Stacey Poole 6'5 200lbs SF Jacksonville, FL
Stacey is the 21st player ranked overall and the #3 SF listed by Rivals.com. He has offers from South Carolina, Xavier, Clemson, Florida, Indiana and Miami. Depending on where you look he is high on Indiana or South Carolina. Here is a video of Stacey throwing it home. He did take part in the NBA 100 Camp and is clearly one of the best players in the country. The big question will be what position he will play. Depending on who we sign, we may have a traffic jam at the 2 and or three position. He is a 5 star recruit and I would love to see hime on the team, but I haven't seen enough tape to make a complete evaluation. From what I know, I would rather have Jelan Kendrick, but Stacey would be an outstanding second option.
There you have it. The list of current offers from Florida State. The list of players interested in FSU is significantly larger and includes many 3 and 4 star recruits. Any of the abover would be a wonderful addition to our team and I can't wait to see where Leonard Hamilton goes with this team. He has certainly set the stage for elite players. We are a competitor in the ACC and have and will make it to the NCAA tournament again. The addition of Michael Snaer is huge. He will aid in attracting elite players to the program.
As I hear things I will keep you updated. This could be an outstanding year for FSU Basketball and we are set up for a strong run in the ACC for many years to come. Please let me know if you have any questions. If any of you are in the area of any of these recruits I would love to hear your opinion on them. I really think Leonard will be able to sign some of these players. Watch out, Florida State will no longer be a "surprise" team in the ACC for basketball.
Cheers,
TC