Last year, we were introduced to the phenomenon that is Solomon Alabi: All-ACC Defensive Team, All-ACC Freshman Team, ACC Rookie of the week twice, seventh freshman to lead the ACC in blocks. His list of accolades is extensive and is even more impressive in light of the fact that he only started playing organized basketball in his junior year of high school.
As the 2009-2010 basketball season is rapidly approaching, there is a lot of buzz surrounding Alabi. Many sources identify him as a top ten pick in the 2010 draft. Can Alabi repeat or improve on his performance from 2009? Take a look inside as we take an advanced stats look at Alabi's development.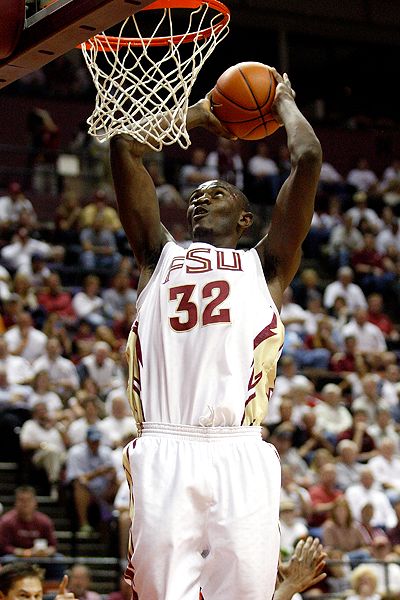 Image from here.
As many of you know, or will soon discover, I am a member of the Ken Pomeroy School of Basketball Statistics and have significant confidence in Tempo-Free stats and their application to basketball discussion, evaluation and prediction. Many of Pomeroy's statistics are derived from Dean Oliver's book Basketball on Paper: Rules and Tools for Performance Analaysis.  The foundation of their evaluation of a basketball team is based on the "Four Factors": effective FG% (eFG%), Turnover Percentage (TO%), Offensive Rebounding Percentage (OR%) and Free Throw Rate (FTR). These stats are typically used to evaluate the overall performance of a team, particularly their skills without the ball, and are the basis of the development of the efficiency stat. While these stats are very useful for team statistics, I think they can translate well for the initial evaluation of a player. It is not a perfect correlation, but provides a nice frame work from which to start before getting into position specific analysis. Clearly, eFG%, TO% and OR% will vary depending on a player's position. So it would not be fair to compare a point guards TO% to a center's TO%. A point guard handles the ball much more often and will likely have more turnovers and a higher TO%. A center obviously has more opportunities for offensive rebounds. I think you see what I'm getting at...but comparing one center's OR% to an others is fair game.
Solomon Alabi became a household name in the homes of ACC Basketball fans during the 2009 season. After sitting out the majority of his freshman year as a result of injury, Alabi made an immediate impact in 2009, earning numerous honors along the way. He became a dominant defensive player and served as the foundation in the paint for the Seminole defense. His presence allowed them to play aggressive man to man defense with the comfort of Alabi in the paint in case they were overly aggressive. Expectations are exceedingly high for Alabi in the upcoming season. Will he live up to those expectations? The data indicate that the answer is a resounding yes.
Offensive Rating
The offensive rating (ORtg) is a measure of player efficiency. Simply put, the higher the better. Last year Alabi finished with a rating of 102.9. As a reference, Toney Douglas finished with a ORtg of 115.1, which was 183rd in the nation. Hasheem Thabeet, considered by many as the best center in the country, finished with an ORtg of 117.9 or 103rd in the nation. Remember, Thabeet was a junior as Alabi was only a red shirt freshman coming off an injury on a very young team. I think this says a lot about what we can expect from Alabi:
Clearly, there was a significant improvement in Alabi's efficiency. As the offense developed and his minutes increased, Solomon became more efficient. The fact that he became more efficient as he had more playing time is they key point. A nice way to think about a player's contribution is the following:
Skill Curves: Since 100% of team possessions must be used by the offense at all times — and there is an inverse relationship between %Poss & ORtg — there is a lot of "extra" offensive value (beyond a player's ORtg, that is) in simply creating shots and using those possessions. This is the idea behind what Dean Oliver called "skill curves" in Basketball on Paper… Basically, as a player's role in the offense increases, his efficiency will go down because he's having to take shots of increasing difficulty; at the same time, he's boosting his teammates' ORtgs because they don't have to take those tough shots anymore. This is why someone like Michael Jordan was so valuable — he was able to maintain an ORtg of 120-125 even while assuming 30-35% of the Bulls' possessions when on the court, which in turn diverted defensive attention away from his teammates and created easier chances for them as well. So here are some rules of thumb: Players who have both a high ORtg (>110) and a high %Poss (>23) are offensive stars; players with a high ORtg and a low %Poss (<17) are good role players who may be able to take on more possessions and still maintain a reasonable efficiency level; players who have a low ORtg (<104) and a high %Poss are probably not suited well for their role and need to shoot less; finally, players with low marks in both categories are either defensive specialists or scrubs.

From here.
Solomon finished the season with an ORtg of 102.9 and a %Poss of 20.3. His numbers are mixed based upon the above definition. He had a low ORtg but his possessions were not that high, which really places him in the defensive specialist category. However, this is his Ortg for the season, which is likely lower than it will be due to his relatively slow start. He was timid and was almost too much of a gentleman on the court. As his confidence in his skills, and his injured leg increased, his ORtg increased.
Four Factors:
Again, using the four factors for player analysis isn't perfect, but it allows common terminology to be used.
This is a busy graph. I recommend turning off all of the "Pct" lines and only looking at the trend lines, which are more important in the argument that is trying to be made. Solomon's eFG% increased significantly throughout the year , even as his floor percentage increased. Meaning despite playing more minutes, getting more possessions and taking more shots, his eFG% went up. Keep in mind that eFG% is significantly increased by 3 point FG percentage. Meaning if you hit some threes, it will go up as they are more heavily weighted. For Solomon, who attempted 1 3 point shot all year, his eFG% increased throughout the year. He finished the year with an eFG% of 54.0. Hasheem Thabeet finished with n eFG% of 64%. However, Alabi finished the year with an eFG% of 59%; he started at 49%. Thabeet started at 65% and decreased to 62%. (The stats are slightly different depending on which source you use.) The bottom line is that Alabi got better as the season progressed, despite the fact the more teams were aware of his presence and tried to shut him down.
The other key factor to notice in this graph is that his TO% decreased throughout the season despite increasing minutes. He went from turning the ball over in 1 in 4 possessions to 1 in 5, roughly. Interestingly, his FT decreased significantly. He only shot 75 free throws on the year. I don't have a great explanation for this: his minutes went up, his FG attempts went up but his FT attempts went down despite having a FT% of only 68%.
Other stats:
The other notable stats for Solomon are his OR%, DR% and his Block%.
If you only look at the trends for these statistics, you will likely fall out of your chair. First, look at the magnitude of change in the stats, it is only a couple of percentage points. Plus, we must look at the definition of these stats to understand why there might be a drop as the season went on. Solomon's numbers for blocks and rebounds remained relatively constant throughout the year.
Solomon's numbers really didn't change despite increased minutes. He needs to improve his numbers in these categories to be an elite player. Granted, his Block% earned him the 16th rank overall in the nation. The OR%, DR% and Block% are a percentage of the possible rebounds and blocks that the individual gets while he is on the floor. More minutes means more opportunities. Despite increased opportunities, his numbers did not increase and therefore his percentage went down. This is likely due to improved competition and that teams started to recognize the importance of Alabi in Florida State's success.
Conclusions:
Alabi is on track to become an elite center at the collegiate level. He has put on a good ammount of muscle in the off season. Adding weight and muscle at 7'1" is a diffcult task and any increase should be considered significant.
Photo from here.
Also, look at Ryan Reid in that photo. It looks as if he has lost some weight in the off-season. Currently, the basketball team is in Spain playing exhibition games. This is an unbelievable experience for the team, not only for going to Europe but for developing chemistry. Alabi scored 19 points in their first game against Euro Colegio Cavi Villaviciosa de Odon. More on the story here.  I have tried to find more information about this team but I have been unsuccessful so far. Florida State won the game 101-53, with 6 players scoring in double figures. This is badly needed experience for this team. The more they can run their plays against competition the better.
Based on the trends that Solomon demonstrated during the last season, he is on track to become a dominant player in the ACC. He was not utilized in the most efficient manner last year. However, I expect his possessions and shot percentages to increase significantly in the upcoming year. Despite the fact that Solomon could make the jump to the NBA next year, I have a feeling he is committed to academics and could stay to finish his degree. This is extremely optimistic thinking, but I think it is realistic.