It's that time of year again, football is done, signing day is over and basketball is probably screwed without their best player. We now turn our attention to the entertaining yet amazingly predictable Seminoles club and the NCAA's decision to make collegiate baseball resemble the late 1800's as much as possible. In case you haven't heard college baseball will be using "safer" bats this year which will no doubt reduce power numbers considerably as well as the interest from fans. Believe it or not I think this a good thing for the Seminoles, in my opinion this levels the playing field as far as pitching is concerned. It is being reported that pitchers no longer fear the long ball as much as they used to and are attacking the zone with more fastballs. On offense Florida State will undoubtedly lose their pop but they are a good contact hitting ball club that sees a lot of pitches. I think they will continue to have success and be able to produce runs at a better pace than some of the lesser ACC teams.
That's enough of the season prediction for today, a full preview and position breakdown will come later in the week. The main purpose of today's article is to educate all the new Tomahawk Nation followers to the insanely maddening coaching style of Coach Mike Martin.
Inside we will show you how Lebben manages to reduce our chances of winning ballgames, refresh your memory of everyone's favorite drinking game and point out more failures from FSU promotions.
I first turn your attention to this article that was originally written almost 2 years ago. If you are a casual baseball fan or maybe manage your child's little league team you probably think bunting is an essential part of the game. I have news for you, IT IS NOT. There are very few instances where bunting benefits you, unfortunately for the Noles Mike Martin still manages like it is 1987. I encourage you to read the following article in its entirety before commenting. Mike Martin, Micromanager: Why FSU's baseball coach prevents his team from scoring runs
With that out of the way you might be wondering why we get upset when "11" does something dumb, is it because he hurts our chances of winning? Hardly, it's because we were only born with one liver. The follow is an excerpt from an article written by our Offbeat Friday Crew last year with a few minor edits.
The Mike Martin Drinking Game

While watching games last year, the braintrust at Offbeat Friday and several TNation readers began to notice some very particular habits of FSU's coach, Mike Martin. For those of you unfamiliar with the name, Mike Martin is more commonly referred to by the following nicknames, Mr. February, Chief Bunts-For-No-Reason, and "Lebben" (Probably meant to be "11," after his jersey number, but it's really hard to understand certain baseball fans when they talk with half a hot dog in their mouth while staring at the scantly clad woman they have paid to act like their friend for the day). These habits eventually led to the creation of The Mike Martin Drinking Game!!

Take a drink every time:

Mike Martin says any variation of the words "poise", "execution", and "competitor." Martin is particularly fond of attributing the success of physically gifted, All-American catchers to that player's "poise" and "desire to compete."

If there are two runners on with nobody out and Mike Martin calls for a bunt. (If the player at bat hits 3,4, or 5 in the lineup, take two drinks.)

If the announcers spend at least 3 minutes talking about how a pitcher has run out of gas, and Mike Martin walks to the mound, only to return to the dugout without bringing in a reliever.

If a player gets inexplicable amounts of playing time due to his last name (Note: Formerly the "Jack Posey Rule". However, Jack is injured this season. Pay particular attention to Stephen McGee.)

Jack Posey is healthy, Stephen McGee is back and FSU welcomes Sherman Johnson's freshman brother to the team.

If a closer walks the bases loaded with nobody out in a 2 run game and Martin does nothing.

If the same closer appears to be attempting to finish the game without throwing a single fastball.

If a right-handed pitching recruit with a 95mph fastball arrives on campus and becomes a side-armed left-handed knuckleballer.

A few new rules, based on our best guesses at things that will be popular this season:

If an FSU pitcher is sidelined for 3 weeks with high cholesterol.

If Gene Deckerhoff describes a hit as a "can of corn" off the bat, but the ball ends up being a 450 ft. blast.

If Gene Deckerhoff praises an outfielder for a "one handed catch."

If a player chooses "Run This Town" "Black and Yellow" as their intro music.
If Tyler Holt Devon Travis gets his own show on TLC called "The Littlest Leadoff Man."
If Taiwan Easterling throws someone out trying to advance from second to third after a batter has hit the right field screen.

*Disclaimer: We here at Offbeat Friday do not drink alcohol. If you are watching an FSU baseball game and plan to play along with the MMDG, we suggest that you don't either. Seriously. You will die.

**Disclaimer 2, Electric Boogaloo: We aren't playing around about the first Disclaimer. Martin says "poise" like it's the word "and".
So if you plan on following FSU baseball and you have time today head down to the hospital and put yourself on the donor liver recipient list.
Lastly I would like to point out another terrible job done by whoever puts together the FSU baseball poster. For the second year in a row it seems they attached names to a dart board and fired away when choosing who will be the face of the program.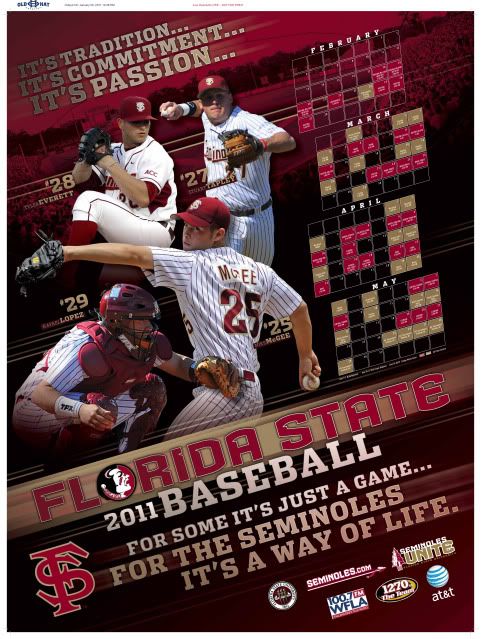 I have no issue with McGee being front and center, but as a pitcher? The kid led the team with 17 homeruns last year. Yes he was the closer (might not be this year) and yes he had 13 saves (worthless stat) last year but his biggest contribution to this team is with his bat.
Moving to your left is Rafael Lopez. I know there is nothing sexier than a JUCO transfer platoon catcher whose baseball playing career is over after this year.
If you like middle relievers who's innings are limited late in the year due to arm fatigue then you will love the choice of Tyler Everett. My only assumption is that with Holt's departure they had to get the name Tyler on the poster somewhere.
Lastly is FSU's overweight and out-of-shape designated hitter. You read that right Tapley is FSU's DH (or soon to be LF) but for some inexplicable reason he is shown fielding. Stuart started a whopping 4 of 68 games in the field last year and is an absolute nightmare with a glove on.
Well that's the face of the 2011 Florida State Seminoles Baseball team. Enjoy and come back later in the week for a complete preview.