The Florida State Seminoles look to get back to the College World Series for the 3rd time in 4 years this weekend as they host the Texas A&M Aggies.  The Seminoles swept through their regional series beating a good Alabama Crimson Tide team where the bats held strong and the pitching was good.  The Aggies had a tougher time getting through regionals as they had to defeat a tough Arizona Wildcats team in a winner go home game in order to advance. 
Inside we will preview the ACC versus the Big 12 as well as pitching and offensive matchups.
ACC vs. Big 12
The ACC and Big 12 were two of the best conferences in baseball this season. They both sent 8 teams to Regionals with 2 advancing from the Big 12 and 3 advancing from the ACC.  Currently the Big 12 has 4 teams ranked in the top 25 Power Rankings while the ACC has 5.  Looking at conference performances you will see that both of the conferences are very similar.
The numbers are both pretty cut and dry, the ACC and Big 12 are really similar.  While the ACC might have more power arms they also walk more.  There is a bit of an ERA discrepancy but there is no real reason to put to much stock into that.

Despite having the conception of being a pitching and small ball conference the Big 12 hangs with the ACC.  I found this to be a little shocking and as you will see later A&M is not just a team coming to town with strong pitching.
Pitching Preview:
Texas A&M has one of the best pitching staff's in the country and if it wasn't for the season ending injury to 1st round prospect John Stilson this staff would be considered absolutely dominant.

Like Vanderbilt last year the Noles will have defeat a team with excellent pitching, having a staff comparable to that of Texas really says a lot.  Despite losing their ace the Aggies still have to two really good starting pitchers.  RHP Ross Stripling is tall right hander with 3 pitch mix, a 90-92 fastball, big 12-6 curve and a great changeup (when it's on) and RHP Michael Wacha, a big tall right hander who has great stuff.  Both of these arms have the ability to pitch deep into ball games as they have pitched 52% of the team's innings, Florida State's weekend arms have only thrown 55% of the team's total innings.  This team is full of right handed arms which could benefit the Noles offense that has very good left handed bats, for more info on the teams staff read through the comments of an early post this week.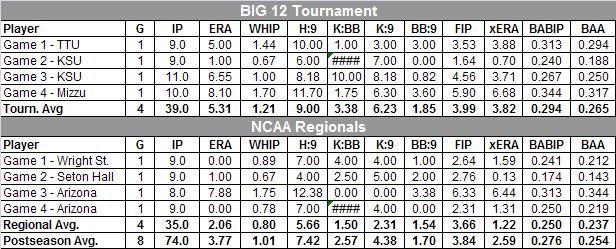 The Aggies pitching uncharacteristically struggled through the Big 12 tournament but stepped up their game in the regional that they hosted.  They shut down 3 and 4 seeds Wright State and Seton hall, had a hiccup the first time against an excellent Arizona offense but got a lights out performance in the final game.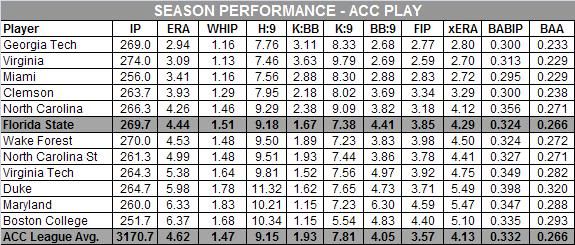 It was another season of disappointment for the Noles pitching staff as this year's performance was league average across the board.  It has been well documented  that the Florida State staff relies on very few arms, but the one arm they can rely on is All-American LHP Sean Gilmartin who had an amazing bounce back season.  Gilmartin will pitch game 1 and for the Noles to win this series a win today is imperative as the Noles have not been able to consistently rely on any other starters.  The Noles have a quality long reliever in LHP Brian Busch and a shut down closer in RHP Daniel Bennett.

The Seminoles pitching was hit or miss in the ACC tournament and in that format their lack of quality depth was exposed.  The regionals was a different story as the Noles did something they hadn't all season, they limited their walks.  In the 3 games they allowed only 3 walks, all coming in game 2 against Alabama.  This will be vital to the success of the pitching staff in this series.
Offensive Preview:
The Seminoles pitching was able to subdue an average Alabama offense but will have their hands full with a good Aggie team.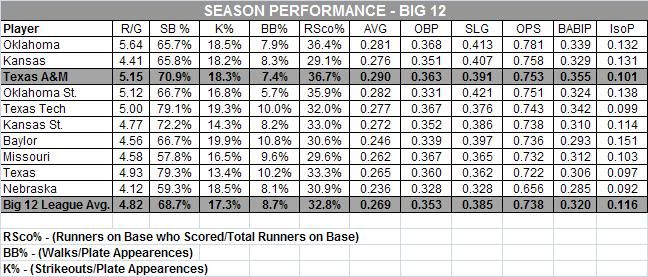 The Texas A&M offense is better than league average in every statistical measure but lacks the ability to get on base at a high clip and when runners are on base they typically down slug runs home.  Having an IsoP comparable to teams like Texas and Nebraska should allow opposing pitching the ability to throw strikes without the fear of having a ball tattooed for extra bases.  The Aggies really only have 2 hitters that should be considered good college bats, RF Tyler Naquin and CF Krey Bratsen.  Naquin led the team with a .404/.488/.529 slash and would be better served hitting further down in the lineup but the lack of other quality bats prohibits it.  The speedy CF Krey Bratsen is 15-17 in stolen bases this year with a solid OPS of .866.  This team plays a lot of small ball and given the quality of arms they have scratching out a few runs might be enough to win.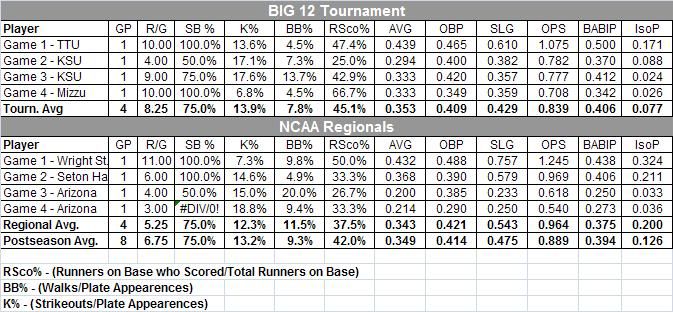 What the Texas A&M offense has done well lately is take advantage of poor pitching.  Over the last 8 games the Aggies are hitting 150 points higher than their season OPS.  If the Noles revert back to the way they have pitched for the majority of the season A&M can take advantage.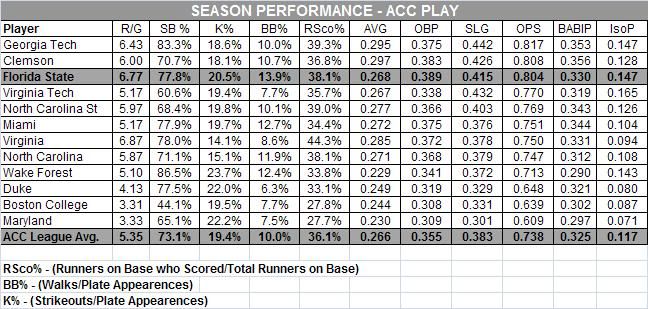 FSU continues to have one of the best offenses year in and year out and that is a credit to the hitting coach Mike Martin, Jr.  This team leads the nation in walks for the 3rd time in 4 years and strikes out at about a league average rate. They work the count and wait for a pitch they can drive which why they have one of the highest slugging percentages in the ACC.  Getting through the first 5 batters in the lineup has proven to be very difficult for opposing pitchers; they have put together a .321/.431/.517 slash lead by RF James Ramsey and his 1.016 OPS.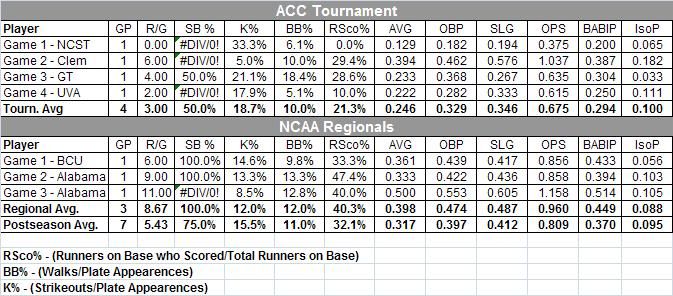 Don't let the numbers in the ACC tournament deceive you, the FSU offense faced the #2 overall pick, a 2nd round draft pick, an All Conference pitcher and a quality Saturday starter.  The offense had a bit of a power outage in the regionals but were very efficient at getting on base. 
Pitching Probables:
Sean Gilmartin is coming off a less than stellar performance against Alabama but Nole fans should feel confident that he will give the team an excellent chance of winning.  Stripling is coming off a complete game performance against Seton Hall where he allowed 4 hits, striking out 5 and walking 2.  The numbers speak for themselves, both of these pitchers have had excellent seasons and this should be a great game. 
Saturday, June 11, 4:30 PM
Radio - Seminoles All-Access
TV - ESPNU
Web Stream -  ESPN3
Live Stats -  GameTracker
Mike McGee is coming off his best outing of the season where he pitched 5 innings allowing only 3 hits and walking none before the game was delayed due to weather.  Not to be outdone Michael Wacha pitched the decisive game against Arizona where he threw 7 shutout innings striking out 4, walking none.  The Aggies have a huge advantage in this game as Wacha has pitched well all year and McGee has been inconsistent in his starting role.
Sunday, June 12, 4:00 PM

Radio -  Seminoles All-Access
TV - ESPNU
Web Stream - ESPN3
Live Stats -  GameTracker
Monday, June 13, TBA (if necessary)
Florida State - TBA vs. Texas A&M - TBA
Radio - Seminoles All-Access
TV - ESPNU
Web Stream - ESPN3
Live Stats -  GameTracker
It has been said all season this team can only go as far as their pitching will allow.  Winning today's game is absolutely imperative for the Noles, having to win 2 games in a row with the rest of the staff will be a difficult task.  This should be a great series and the Seminoles have a good shot of returning to Omaha.
Look forward to seeing everyone back here at 4:30 PM for a live game thread.
Go Noles!