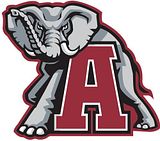 Florida State makes it 34th consecutive regional appearance by playing Bethune-Cookman University Friday at 6:00 PM in Tallahassee.  That game is preceded by the Central Florida Knights and the Alabama Crimson Tide at 12:00 PM.  Inside we will preview each team and what we can expect from them this upcoming weekend.
TEAM PREVIEWS:
The following is some insight to how each team in the regional did throughout the year.  A more detailed game by game matchup will be included in upcoming game threads.  RPI and SOS were provided via Warren Nolan and Power Rankings were provided via College Splits.
#4 Bethune-Cookman University Wildcats - MEAC Conference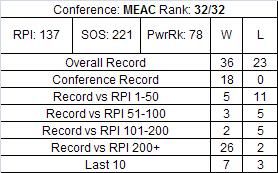 The Wildcats earned an automatic bid to the postseason by winning their conference for the 6th year in a row.  The MEAC is the worst conference in baseball and BCU has dominated it going a perfect 36-0 the last two seasons.  As you will see below their numbers are impressive but try and keep in mind the level of competition.

Bethune-Cookman had far and away the best staff in the league with 4 pitchers earning All-Conference honors.  They were carried by three solid starters who combined for a K:BB ratio of almost 3.00.  

It is pretty apparent that the Wildcats destroyed terrible pitching.  Their offense consists of 8 hitters with an OPS of over .900 for the season one of who is C Peter O'Brien (.385/.449/.708) who will be one of the top catchers in the upcoming MLB draft.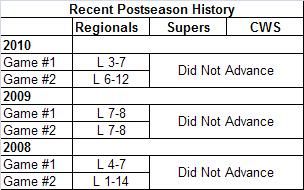 While Bethune-Cookman's stats are inflated by poor competition they are still a very competitive team.  In the last 3 years of postseason play as a #4 seed they managed to keep all of their games relatively close. 
#3 Alabama Crimson Tide - SEC Conference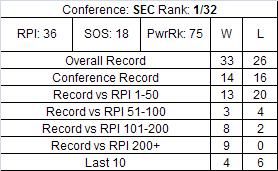 The Crimson Tide finished the SEC season at 14-16 and went 1-2 in the conference tournament on their way to the #3 seed in regional play.  There is really nothing special about Alabama as they are a team that doesn't do one thing really well.

Alabama's staff was pretty average in the SEC and are not a team that is going to overpower opponents at the plate as evident by their below average strikeout rate.  Its been reported that the Tide will go with their normal weekend rotation of Kilcrease, Morgan and Smart, all of who give Alabama a legitimate shot of staying competitive in games.

There is nothing that really stands out at you when you look at Alabama's offense.  Scoring almost a full run less than the rest of the SEC should give opposing pitching an advantage in any game.  A player to watch is 2nd Team All Conference junior OF Taylor Smith who put up a .318/.418/.458 slash and had 18 walks to only 10 strikeouts in conference play.
The Crimson Tide are no strangers to post-season play and did beat a very good Georgia Tech team last year to advance to Super Regionals. They would have to play better than they have all season to have a legitimate shot of advancing.
#2 University of Central Florida Knights – Conference USA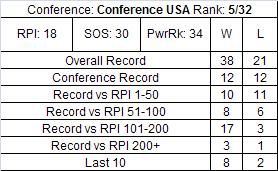 Central Florida put together a pretty decent resume together by beating several good teams but managed to finish a pedestrian 12-12 in conference play, good enough for the 4th best record in the league.  
Pitching is not the Knights strong suit, much like Alabama teams do not have to be worried about any shutdown starter.  It is unknown at this time what the rotation will be but the Noles fared well offensively in their earlier season series scoring 24 runs in the 3 games.

The offense carried UCF most of the year and will more than likely have to do it again to advance.  The Knights had one of the best offenses in the conference and were led by All Conference members 1B Jonathan Griffin (.361/.402/.722) and DH DJ Hicks (.351/.417/.532).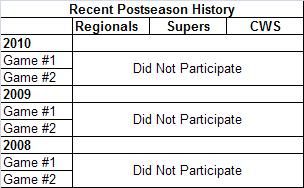 While no current players have any postseason experience their coach did win a title as an assistant with LSU.  The Knights went 11-11 this season against teams that made the postseason including 5 wins against national seeds Florida State, Florida and Rice.  They pose the biggest threat to upset the host team and advance to Supers.
#1 Florida State University – ACC Conference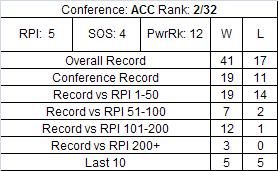 The Seminoles are coming off another 40 win season, Atlantic Division title and a good conference tournament showing where they lost in the finals to #1 overall seed Virginia.  Florida State is the obvious favorite to advance from this regional.

Outside of ace Sean Gilmartin and reliever Daniel Bennett the Noles have struggled to find quality pitching.  Florida State lacks quality starting arms and will more than likely have to utilize their many relievers to finish out games.  

Having one of the best offenses in the ACC translates to having one of the best offenses in the nation.  The Noles display a patient power hitting team lead by All Conference players RF James Ramsey (.350/.416/.600), CF Mike McGee (.301/.447/.515), C Rafael Lopez (.319/.458/.543) and 2B Devon Travis (.297/.429/.426).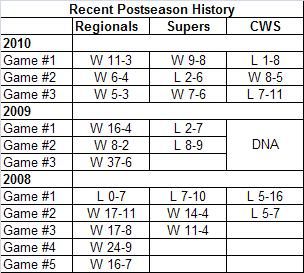 Florida State has been to the College World Series 2 of the last 3 years and by earning a national seed have a legitimate shot of getting back again. The Seminoles have not lost a regional since 2007 and should be able to outslug teams this year into another Super Regional appearance.
SCHEDULES AND BROADCAST INFORMATION:

Games 1 and 2 on Friday will not be televised but you can watch the Seminoles vs. Wildcats on Seminoles All-Access (UPDATE: The stream will be FREE).  Games on Saturday, Sunday, and Monday (if necessary) featuring Florida State will be on either Sun Sports or FoxSports Florida.
So there you have it, a brief breakdown of every team in the Tallahassee Regional.  As Florida State progresses through the weekend will preview each matchup starting tomorrow with Bethune-Cookman.