The 2011 season will mark the beginning of a new era in collegiate baseball. As cliché as that sounds it is absolutely true, with the implementation of the safer bats offense is expected to take a big downturn. While everyone has their theories it really is difficult to gauge just how big of an impact it will have.
This was my opening to the 2011 Season Preview and the same holds true for this 2012 squad as Florida State has a new pitching coach for the first time in 20 years marking the beginning of a new era in Seminole baseball. After an embarrassing loss to end 2011, former Pitching Coach and Recruiting Coordinator Jamie Shouppe resigned from his position and immediately recruiting took a turn for the better. Pitching recruits who laughed at the thought of attending FSU now considered the Noles a legitimate choice and once former Seminole pitcher Mike Bell was hired interest in becoming a pitcher for Florida State gained momentum. Bell and Martin, Jr. feverishly hit the recruiting trail and salvaged a pretty good recruiting class for the Noles. In the meantime Mike Bell has repaired damaged relationships with high schools as well as developing new pipelines with training camps and travel ball teams. On the field Bell has totally revamped the pitching program as each pitcher now has a strict regimen of workouts that they are to follow and accountability has been instilled. It seems that he has the blessings from Head Coach Mike Martin as this staff will look drastically different as it has in years past.
Inside we preview the makeup if the 2012 Seminole baseball team…
PITCHING:
As mentioned earlier Florida State has made a move that was long overdue and seems to be very serious about moving in the right direction. This movement might prove painful to fans this season but could pay great dividends in the future. More on the reasoning behind that later but lets take a look at what the pitching staff looked like last year in comparison to the rest of the ACC.
As you can see above the Florida State pitching staff was pretty average and had declined again for the 4th year in a row which is why the aforementioned changes were made. So what can we expect from an average staff who lost some key contributors, has several returners and eight freshman pitchers?
KEY LOSSES FROM 2011:

For a staff that was merely average last year losing your two best and only reliable pitchers hurts. Sean Gilmartin was a 1st round pick and had one of the best seasons for a FSU pitcher ever while Daniel Bennett was a very reliable closer for the majority of the season. To expect someone on the current staff to have a season like these two did last season would come as a complete surprise and is not likely.
The next table shows you how the 9 returning pitchers from last year faired.

Despite eating up a good amount of innings the quality of pitching was not very good, a dismal strikeout to walk ratio and a FIP over 4.00 is Maryland and Boston College bad. Next we will run through the returning staff for the Noles and what contributions we can expect moving forward.
RETURNERS 2011 SEASON PERFORMANCE: (In order of innings pitched)

Busch began last year as a starter but finished as a long reliever, typically the first guy out of the pen after a bad Saturday or Sunday start. This was unfortunately a common occurrence in 2011 and could be again for 2012. Expect to see Busch in the same role this year and expect to see him plenty as he is the only left handed pitcher on this staff with any experience.
Scantling had several good starts last year but for the most part he just could not be counted on consistently as a starting pitcher. He will be looking to redeem himself after he started the last game of 2011 for the Noles where he failed to record an out against A&M in the Super Regionals. It has been rumored that Scantling always lacked a strong work ethic which is why he has yet to live up to his potential but he has reportedly improved his velocity in the offseason and is ready to be a valuable contributor. He will start the season out of the bullpen but I would be shocked if he went a whole season without seeing a few starts.

Sitz was a starter at the beginning of the year in 2011 but struggled and found himself as an effective relief pitcher towards the end of the year. Sitz is another pitcher who has reportedly improved his velocity under the guidance of Mike Bell and has won the closer role to start the year and I would expect him to be rather effective in it.
Waugh was a guy who generally pitched in low leverage situations and was hardly effective. If he sees action this year it would probably be in similar situations.

Merians is out for the season.

Benincasa has the potential to be a good pitcher for Florida State and had some success last year although it was usually against weaker competition. I fully expect him to be a guy who makes an occasional weekday start and could eventually move himself into the weekend rotation.

Simmons is another JUCO guy who saw very little action last year. Given the fact that he is a senior he is likely in the same boat as Waugh. It will be interesting how many innings these guys get with all the young guys it might just be better to let them get the experience.

It appears that 3.3 innings in 2011 is enough to earn you a spot in the weekend rotation. I'm kidding, but it seems he will be the only weekend starter in 2012 with any experience, currently at 89-91, has hit 93. I actually applaud the move by the coaching staff for moving forward with youth and allowing them to learn through experience. In the offseason Miller played in the Florida Collegiate League and was the 7th ranked prospect by Baseball America.

Brandon Johnson has pitched well in practice and the Noles desperately need another left handed pitcher. Hopefully he has success this season as there is reportedly a 15 mph difference between fastball and change up.
NEW PITCHERS TO STAFF:
Brandon Leibrandt - LHP - 6-4 - 195 - FR
What does being the son of former MLB pitcher Charlie Leibrandt get you? The Friday starting pitching role for one of the greatest college baseball programs of all time. Again I kid, it is good to see that the coaching staff has decided to move forward with the youth movement by allowing one of their best young pitchers to be thrown right into the fire. Although talented, fans need to temper their expectations as he is not a 1st or 2nd round draft pick that turned down millions of dollars to go to college, he was a late round draft pick who knew he could have an immediate impact in college. If you want to go ahead and compare him to Gilmartin go ahead as he falls into the crafty lefty who throws 86-88.
Mike Compton - RHP - 6-2 - 195 - FR
Compton sits around 88, very fluid, smooth delivery. Throws a lot of strikes and will take the mound on Sunday for the Noles. Given the dreadful pitching from our weekend starters last year there is a ton of room for improvement.
Luke Weaver - RHP - 6-2 -160 -FR
Weaver is the third true freshman to be named a starter on the staff and will be the go to guy during the week. Despite being undersized he could be the most talented young pitcher. He was drafted in the 19th round by the Blue Jays.
Jordan Priddle - LHP - 6-2 - 195 - FR; Bryant Holtmann - LHP - 6-5 - 200 - FR;
Michael Cetta - RHP - 6-0 -198 - FR; Kyle Bird - LHP - 6-2 - 180 - FR;
Cody Alling - LHP - 5-11 - 160 - FR
As it typically goes some of the above freshman will get meaningful innings, some will throw a few here and there and some will never see the field and be gone next year. At this point it's just wait and see.
So when I stated that there was going to be drastic changes to this pitching staff I wasn't kidding. Florida State fans should absolutely expect the young kids to struggle, what will be interesting is to see how Head Coach Mike Martin reacts. Martin has been often criticized for having a quick hook with young pitchers. But by throwing them into the fire like this I would have to think that he has been convinced by his other coaches that this is the best thing for the future of the team and that Bell might have more influence on pitching changes that Shouppe ever did. Much like last season I expect the starting pitching to change, the Noles had 10 different starting pitchers last year and that number could very well be reached again this season.
OFFENSE: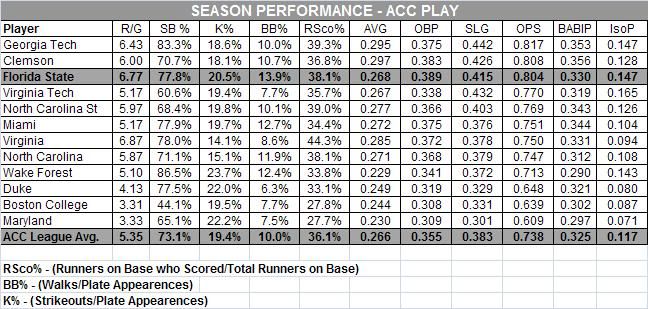 The 2011 Florida State offense was elite and considered to be one of the best in the conference as well as the country. Power numbers and scoring was down across all of college baseball but the Seminoles excel because of excellent plate discipline and once again were great at working counts and drawing walks. This is all thanks in part to Hitting Coach Mike Martin, Jr. who is without doubt one of the best assistant coaches in the country.
KEY LOSSES FROM THE 2011:

The Noles lost two great players in CF Mike McGee and C Rafael Lopez. Both players had excellent seasons and were awarded by being drafted last June. Florida State was extremely lucky thanks in part to the unselfishness by FSU's best hitter, James Ramsey and his decision to stay for a senior season. Had he left early Florida State would have lost their best three hitters and while the Noles have a great offense that type of hit is hard to recover from.

But Ramsey did stay and he is one of five position players to return including all four infielders. As you can see above the Noles still have a strong core of hitters who still have room to improve. Add in a talented group of freshman I feel confident that this offense will once again be very very good.
PROJECTED STARTERS:
CATCHER:

This is a tough one as Stephen McGee is really not a FSU caliber player. He barely won the starting job due to the fact that he is familiar with most of the pitchers and knows how Martin calls games. I full expect him to split time and eventually lose his starting position.
FIRST BASE:

This is more than likely Boyd's last season as a Nole and fans are still waiting for him to breakout. Boyd had a great 2011 campaign and should only improve his draft status which currently projected as a 3rd-4th round pick.
SECOND BASE:

Finally healthy Travis had a great sophomore season for the Seminoles and made me very humble. He led the team in extra base hits and with a OBP well over .400 he is a great guy to have at the top of the lineup. If Travis continues to improve or even maintain Florida State will be in good shape.
SHORTSTOP:

While having an OPS barely over .800 isn't ideal, Gonzalez was at least serviceable. The one major area of his game that needs to improve is his plate discipline, college defenses are generally not very good and striking out more than 25% of the time is really unacceptable unless you can straight up mash. Hopefully he improves and if not is pushed by someone younger.
THIRD BASEMAN:

Johnson suffered a big drop off in 2011 as he was a victim of the new bats sapping his power. He still has great plate discipline and his ability to take a walk is what will keep him in the lineup. While I wouldn't expect 2010 numbers, Johnson does have room for improvement and it is reasonable to expect it.
RIGHT FIELD:

Miller is the starting right fielder for 2012 mainly because there is no one better at this point, this is due to poor recruiting of pitchers the last couple years which has hurt depth of position players. As you can see Miller was pretty unproductive last season, now it could be the case that he needs consistent at-bats to be successful and we can all hope that is the case. If not we can hope a young guy can step in or possibly JUCO transfer Stephen Spradling.
CENTER FIELD:
Ramsey moves from right to center which obviously should have no effect on his hitting. He was Florida State's best hitter last year and as mentioned earlier was extremely unselfish by choosing to come back for a senior year instead of going pro. He was named to ESPN.com's All-America first team, while nabbing second team honors from both Baseball America and College Baseball Insider. Overall this preseason, Ramsey has garnered six different All-America honors. Ramsey will also enter 2012 as the top rated senior draft prospect in the nation. Baseball America recently released its top 50 senior prospects with Ramsey leading the way among a very impressive class. One area that Ramsey would help next year's draft stock his improving his plate discipline and cutting down on his strikeouts.
LEFT FIELD:
Jose Brizuela - OF/INF/RHP - L/R - 72 6-0 - 187 - 1 FR
Brizuela is a great athlete who was a pretty highly prized recruit. He will start in left field for the Noles but could very easily be platooned with other younger players if he doesn't produce.
DESIGNATED HITTER:
John Nogowski - OF/1B/LHP - R/L - 6-2 - 210 - FR
Nogowski has reportedly been hitting the ball extremely well since stepping on campus earning himself the DH position on opening day. It is likely that if he doesn't play well sophomore Sean O'Brien could see some at bats in that position.

In the few plate appearance that O'Brien had last year he did play well. Although with such a small sample size it is hard to put any stock in it. There has been conflicting reports on the status of O'Brien, but the fact he is back for his sophomore year gives hope that he can be a significant contributor in 2012.
NEW POSITION PLAYERS:
Mario Amaral - C - R/R - 73 6-1 - 220 - 1 FR
Amaral is a another prized recruit for the Seminoles who was drafted in the 17th round by the Brewers. Amaral has a future in baseball past college and is too talented to not win the starting catching position.
Giovanny Alfonzo - INF - R/R - 70 5-10 - 165 - 1 FR; Bert Givens - OF - R/R - 73 6-1 - 195 - 1 FR;
John Holland - INF - L/R - 71 5-11 - 180 - 1 FR
All of the above freshman will probably have limited opportunity to contribute in any meaningful capacity this season.
Stephen Spradling - OF - R/R - 72 6-0 - 205 - 5 JR
Spradling is currently injured but when healthily could challenge others for plate appearances.
Florida State did lose two of their best hitters from last season and while it might not be as potent as it has been in the past they should still be tops in the conference and hopefully one of the best in the nation. As far as what the starting lineup might look like I would imagine that Travis and Johnson would bat 1 and 2 with Boyd moving into the 3 spot and Ramsey batting clean up. This gives Martin a R, L, R, L start to the lineup that can gain you an advantage late in games when facing relievers, but then again Martin will probably want to protect Ramsey at all costs. As far as the rest of the lineup goes it really is a toss up since pretty much everyone is unproven.
DEFENSE:
It is really tough to gauge defenses at the collegiate level as there are no advanced metrics of measuring defense and fielding percentage is a miserable way of evaluating it. Having watched a lot of college baseball year after year I do feel confident in saying the Noles should have a strong defense with all four returning infielders and Ramsey moving to center. There are some concerns with left field as Brizuela is converting from the infield and how much will the Seminoles miss a great defensive catcher in Rafael Lopez.
PREDICTIONS:
Florida State has to once again play Georgia Tech, but this series was replaced with the North Carolina one which might actually be beneficial for the Noles as UNC is expected to be one of the best in the country this season. I really think this team is doing the right thing by turning towards its youth but unfortunately that will mean some definite growing pains. The offense should still be great but how many times can they 'outscore' other teams. It is just really difficult for me think that this team can succeed with 4 starting pitcher who virtually have no experience and a returning staff that was really poor last season. I predict Florida State to be right around .500 in conference play and anything better than that would be great and Mike Bell would have really done an amazing job. Missing the postseason is not a concern but the possibility that Florida State doesn't host seems to be a real possibility.
NEXT UP:
Florida State opens up the season by hosting Hofstra today at 4:00 PM. The Pride won just 15 games last season and finished with an RPI of 210. The Seminoles should be able to sweep this team without issue.
For a complete season schedule and TV listings click here and as always, GO NOLES!