The Florida State Seminole baseball team is off to a fantastic 2012 season having posted a 19-2 record with a perfect 6-0 in conference. They are coming off a home stand where they played 5 days in a row going 5-0 beating and Virginia team who lost a lot this year but is still a good team and strong program. They followed that up by dismantling an average Stetson team by a combined score of 26-9. The Noles have been so successful thus far primarily due to an offense that is still one of the best in the country. Their great plate discipline currently has them 7th in the country in OBP and 3rd in walks resulting in them being one of the highest running scoring teams (9th) in the nation.
The pitching staff has also made improvements this season under new pitching coach and former Seminole Mike Bell. Kendall Rodgers of Perfect Game has a free article about the progress that has been made.
The first-year pitching coach did nothing of the sort. He didn't want to have opinions on pitchers before seeing them perform in the fall. That attitude displayed by Bell created a culture of confidence amongst the pitchers in the fall; all feeling like it was a fresh start.

"Basically, we pretty much went back to square one during the fall," Bell said. "I told the older guys, whether you've had a good or bad career to-date, that doesn't matter anymore. You were getting to start everything from scratch. I didn't have good or bad memories of those guys. I wanted to build and grow with each one of them with a clean slate."
This was a great approach taken my Bell given the fact that everyone who pitched prior to his arrival had been done a disservice by the former pitching coach. Rodgers goes on to write...
Moving forward, the Seminoles don't expect to be flawless every time out from a pitching standpoint. Bell knows better than anyone this unit is work in progress.

But just a month into Bell's first season with the Seminoles, the improvements with many of FSU's arms are quite evident.
Hearing about the changes in the program has me excited about the direction the pitching staff is going. While I don't think the 2012 staff has really outpitched 2011 staff of any great significance so far they are doing better than I thought they would for being such a young group.
Florida State travels to Wake Forest (16-7) this weekend for a match up against two very good pitchers and an offense that has been able to hold their own this season. The Seminoles are currently ranked 6th in Baseball America poll and have a RPI of 5th according to Warren Nolan going 5-1 vs Top 50 RPI teams this season. The Demon Deacons are not currently ranked but boast a very respectable RPI of 30 having gone 4-7 against Top 50 RPI teams. They opened up conference play by sweeping a terrible Maryland team only to be swept themselves by a pretty good NC State team. The Noles are currently the only team in the ACC with a perfect conference record sweeping Duke and Virginia.
Inside a preview of the offenses and the pitching probable's.
OFFENSE:
Offensively Wake Forest is a hitting the ball pretty well this season. They are plating runners at a pace better than FSU and league average while scoring an impressive 7.6 runs per game. The lineup has 5 players who have an OPS better than .900 including 3B Carlos Lopez who is posting a robust .675 SLG and an OPB of .440 The Demon Deacons walk better than league average which could hurt Nole starters who have had their troubles with walks this season.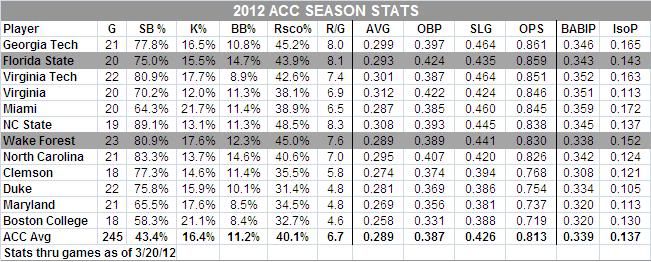 As mentioned earlier Florida State's offense is still excellent, especially their 3rd and 4th hitters. James Ramsey
(.437/.573/.831) and Jayce Boyd (.388/.463/.575) are hitting everything in sight while doubles machine Devon Travis has a respectable .954 OPS The Noles are once again walking at a pace much better than league average and have done a great job on cutting down on strikeouts. So the next time you hear a fan get pissed off at how FSU strikes out too much and looks at too many pitches please tell them they are clueless. For more on
Ramsey
and
Boyd
here are two articles from Perfect game that were written recently highlighting both players.
PITCHING:
As you can see from the below numbers FSU pitching is doing well this season. There is not a category that will jump out you and make you say wow but the fact that they are around league average is very respectable, especially considering that the weekend starters consist of two freshmen and an inexperienced sophomore. Despite having two very good starters Wake Forest as a staff is nothing special, getting to the bullpen is key for the Noles to have success this weekend.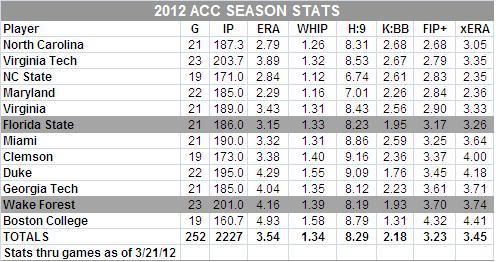 The table below shows the success that Florida State has had on the surface but when you look at the numbers a little bit closer they are a little more revealing.

You will notice that the Noles three weekend starters have thrown almost 20 innings less than those of the Deacons. That is less than 5 innings per start which lends itself to the possibility that these young pitchers are being pulled at the first sign of trouble. This would limit the opportunity for them to have a bad inning(s) which would impact their numbers negatively. The bright side of this is that the bullpen for the Noles is pitching very well but a cause for concern is the amount of innings that they are pitching and can their arms hold up the entire season.
PITCHING PROBABLES:


The Noles will have a tough test against lefty junior Tim Cooney on Friday despite the struggles he has had this season. Cooney was one of the best pitchers in the conference last season striking out 91 and walking only 18. Not sure exactly why he has struggled this season but only a third of the way through he has 17 walks, suggesting his command might not be as good as it was last season. Freshman lefty Brandon Leibrandt is looking to rebound from an outing where he allowed 9 of the 20 batters he faced to reach base.

Freshman Mike Compton has been the Noles best starter all season and has had great success despite having a poor K:BB ratio. Right now he is getting by with that due to his low H/9 allowed but as the season progresses and his BABIP starts to move towards the norm that could hurt him immensely. Justin Van Grouw is a big pitcher that probably belongs in the Sunday start but Wake Forest chooses to start him on Saturdays in order to reduce their chances of being swept. Seminole bats should be able to handle the 6'7" righty.

The advantage on Sunday definitely goes to Wake Forest as junior lefty Brian Holmes takes the mound against a Nole pitcher that has yet to be determined. Holmes is having a fantastic year despite his last outing where he allowed seven walks and five hits against a good NC State ball club. Whoever the Seminoles decide to go with doesn't really matchup and I would hope the bullpen is intact from the previous two games in order to give the Noles a chance at a series win or sweep.
Despite facing two great starting pitchers I expect the Seminoles to win the series and maintain first place in the conference. The hitting on this team is just too good and they are still able to outscore teams. Unfortunately none of the games are televised, but if you're local to Tallahassee you have a radio feed or you can listen and follow online at www.seminoles.com
Go Noles!