The Florida State Seminoles (21-4) are coming off a tough loss against the top ranked Florida Gators (23-2) in Jacksonville this past Tuesday. Florida State played well and if not for a killer error by Ramsey in the centerfield and an inning ending double play my McGee with the bases loaded the Noles played well enough to win the game. But for the first time in a long time the Gators won the season series and remain the top team in baseball while the Seminoles (8-1) prepare for an ACC home series against the Virginia Tech Hokies (2-7).
Prior to losing this week the Seminoles won a solid road series against a good Wake Forest team while the Hokies were embarrassed at home by Duke who outscored them 23-6 in a series sweep. Inside a quick preview of the offenses and how the pitching matches up...
OFFENSE: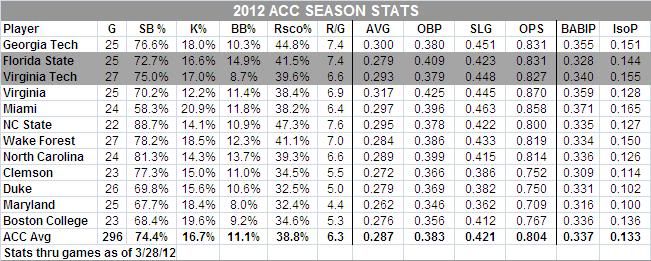 Virginia Tech is near the top of the league in power and currently has four players in the lineup slugging over .500 while FSU has only two. Fortunately for Seminole pitching despite their power they are not really adept at getting on base via the walk. Only Maryland walks less than them which is great given the issues the staff has had with issuing free passes. Players to watch for Virginia Tech are RF Jake Atwell (.393/.472/.663) and 3B Chad Pinder (.365/.431/.577). For the Noles it's still the usual, as James Ramsey and Jayce Boyd both have an OPS over .900 while Ramsey has a monstrous .860 slugging percentage. Not to be forgotten is Sherman Johnson who has reached base in every game this season and 2B Devon Travis who leads the team with eleven doubles. The Seminoles definitely have the advantage on the offense side of the ball.
PITCHING:
As a staff Virginia Tech is pretty respectable and has similar numbers to Florida State. Yes their ERA is a full run worse than Florida State but there are so many reasons why that is a poor measure of a staff that it really should be the last statistic used to gauge a pitcher.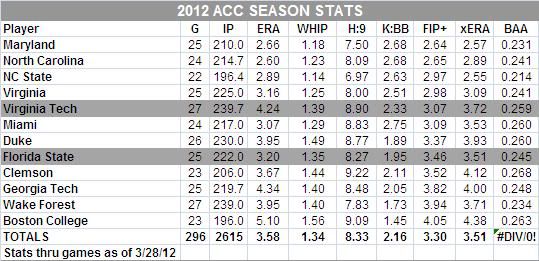 Virginia Tech starters are coming off a pretty terrible Duke series where they combined for 17 innings pitched with an awful 9 strikeouts and 8 walks. If that performance repeats itself this weekend the Nole offense should take advantage and chase them earlier than the 5+ innings they averaged last week. Unfortunately the Seminoles starting pitching wasn't a whole lot better striking out 8 and walking 5 in only 12.1 total innings. For the Noles to keep winning games starters are going to have to go deeper into games and hopefully that begins this weekend as the Sunday starter is going to change.
PITCHING PROBABLES:

The one glaring difference in the combined performance of the three weekend starters is the difference is the K:BB ratio. So not only does Florida State need to last longer into games the K:BB ratio has to improve as well.

Joe Mantiply is a better than any Florida State starter and gives the Hokies a good opportunity to win ball games. Leibrandt was pulled early in his last start after only throwing 68 pitches, a pitcher like him who doesn't overpower hitters needs to have better control than he has displayed so far this season.

Mike Compton has been the Seminoles' best starter all season and is unfortunately not pitching as well as his numbers have indicated. I would expect his numbers to slide more towards the norm as the season goes on. Looking at righty Marc Zecchino, he is what you expect from a Saturday starter on an average team and the Seminoles had no problems with him last year as they put seven runs on the board against him.
While the Sunday starter for FSU has yet to be announced all bets are on Luke Weaver who has struggled for the majority of the season. He did pitch well in his last start against Stetson and hopes he can keep the Noles in a position where than can win this game. As far as Sunday starters go Aizenstadt is a pretty good one. A high scoring game should probably be expected.
The Noles are obviously the better team in the series and should win at least 2 of 3. But as I mentioned earlier in the week the Noles have had luck on their side this weekend winning 10 of their 11 close games so far this season. It is only a matter of time before that starts to balance out. Friday and Saturday's game both start at 6PM and can be viewed on ESPN3. Sunday's 1PM start will be aired on ESPNU.
Go Noles!