The top ranked Florida State Seminoles look to continue their ACC dominance this season as they travel north to take on the worst team in the conference. Despite a midweek setback against the best team in the country the Noles are playing great baseball and should have little trouble with the Eagles this weekend. Currently at 14-1 in conference they Noles are far exceeding any reasonable expectations going into the season and a five game lead in the division that they were expected to finish second in is an added bonus. After this weekend though the home stretch of conference play becomes more difficult as three of the remaining four teams on the schedule have an RPI of 25 or better with Clemson coming in at 36.
Inside a preview of the offenses and the pitching matchups.
OFFENSE:

Lucky for Florida State pitching is that the Eagles are really bad at everything offensively. They are below average in every meaningful category. Boston College has two hitters with an OPS over .800 while the Noles have four including James Ramsey and is .793 slugging percentage. The only real threats are CF and leadoff hitter Tom Bourdan and SS Anthony Melchionada (.318/.393/.485) who bats in the three spot. The Seminoles continue to have great success scoring runs because of their ability to get on base, the top five hitters in the lineup all have an OBP of .400 or greater while BC doesn't have a single player that can make that claim.
PITCHING: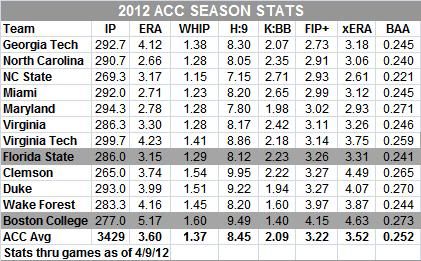 As bad as the Boston College offense is their pitching is even worse. Florida State should have their way with this staff, so yes expect to see a high number of runners left on base that is a good thing. The Seminoles as a staff are still pretty average which given the youth and inexperience is a great thing. Mike Bell is working wonders with these kids and the future looks extremely bright once we get some real talent on campus.
PITCHING PROBABLES:

Freshman Brandon Leibrandt had the best start of his career last Friday against a good Georgia Tech offense. He lasted seven plus innings allowing three singles, walking one and striking out four. A repeat performance means he is starting to put things together at the most crucial part of the season. Eric Stevens got pounded last Friday against Virginia Tech giving up seven runs in four innings. The Seminoles should get to the bullpen early often.

Mike Compton is looking to rebound after a poor start where he lasted only two innings. Boston College starter Hunter Gordon is really not good as are most pitchers on this staff.

Peter Miller had a solid start where he went six strong inning allowing only four hits and striking out four. Tyler Lasko was routed last Sunday surrendering ten hits in just over four innings.
The obvious advantage this weekend goes to Florida State as they are far superior in every aspect of the game. Boston College has two series this season both against good teams (GT and Maryland) and while the Seminoles should sweep a series win would suffice. The game times this weekend are all during the day, Friday at 2:30 and Saturday and Sunday at 1:30 and 1:00. None of the games are televised.
As always though, Go Noles!