GAME 3 FINAL (10 INNINGS): Noles Sweep the Dirty Canes 8-7

The Seminoles survived a 7 running inning and stalling attempts by Jim Morris to sweep Miami for the first time since 2002. Sherman Johnson hit a walk off single off of stud reliever EJ Enincosa. Lots of strong relief appearances but FSU will see be searching for a Sunday starter. Florida State moved to a remarkable 10-0 in one run games and continue to play strong.

GAME 2 FINAL: Noles Shutdown Canes...Again 6-1

Another great team pitching performance from freshman today and some awful defense by Miami made this game seem easy. The Canes made 4 more errors today and the Noles took full advantage of it. Nice to see Mike Compton bounce back after some poor starts and another excellent outing from Luke Weaver
GAME 1 FINAL: Noles Demolish Canes 11-2

Justin Gonzalez had 2 homeruns, one was an absolute bomb. Sherman Johnson increased his extra base hits on the year by 42% with three doubles. Sacrifice bunter extraordinaire, James Ramsey was on base four times. Brandon Leibrandt had a laborious first few innings but made it through five solid. Relief appearances by Scantling and Holtman shut down Miami. Great win by the Noles.
The Florida State Seminoles enter the final leg of the season the number one ranked team in the nation according to Baseball America, the most respected of all polls in my opinion. They are 30-7 overall and a phenomenal 16-2 in the ACC with a five game lead in the Atlantic Division over NC State. The Seminoles have not dropped a weekend series all year and three of the seven losses have come at the hands of one of the most talented teams in the history of college baseball. Given the change in coaching, poor recruiting and graduation from last year it's fair to say this team has far exceeded anyone's expectations. How the Noles have achieved success and whether it can be duplicated for the rest of the season is what will be discussed throughout the article but first a recap of last week.
The Noles traveled north to face the worst team in the conference and came home with a series win losing only the Sunday game. Friday afternoon saw freshman Brandon Leibrandt have another solid start, his third in a row and it appears that he has become a pretty reliable Friday guy considering he has tremendous shoes to fill in departed first rounder Sean Gilmartin. The Seminoles' bullpen surrendered a lead in the eighth inning but the offense picked them up scoring two runs in the top of the ninth to secure the 6-5 win. Saturday saw another early departure for Mike Compton, he lasted only two plus innings throwing 42 pitches to eleven batters. This should be a concern for the Noles as he has not made it through the third in his last two starts. Compton was relieved by Hunter Scantling who went four plus innings and kept the Eagles bats contained. Doubles by Boyd, Brizuela and two by Johnson was more than enough as the Noles won 6-3.
The Sunday game was not a pretty sight as Florida State lost 17-6 but in no way should the game have gotten this out of hand. Peter Miller had another poor outing by a FSU starter as he lasted only two-thirds of an inning. Mack Waugh came on in relief and was not much better allowing seven hits in 2.2 innings and the Noles trailed 6-4 at the end of the fourth. Down 9-5 entering the 8th innings Mike Martin went with Brian Busch who has been pretty bad all year and surprisingly to no one he pitched poorly again allowing three hits and a walk to the six batters he faced. Now with a six run deficit Martin turned to Gage Smith who had pitched the previous two days and let him get pounded for six straight hits before getting pulled. I have yet to find a fan, writer or analyst come up with an explanation as to what the line of reasoning was here. Martin who notoriously has a quick hook lets a certain player get hammered when he probably shouldn't have been pitching in the first place. Martin has been criticized plenty on this site but so far this year has not given us much to complain about but when he does something like this it leaves us all scratching our heads. All we can do is pray this type of decision doesn't happen in a game of critical importance.
All in all though it has been an amazing season and the Noles have performed better than anyone in their right mind thought they would. The way things have played out though the Seminoles have the toughest stretch of games in four of the next five weeks as they hope to maintain their success, win a regular season conference title and a secure a national seed.
After the jump we will look at what the Seminoles have done this season offensively and on the mound, what to expect the rest of the season and how they matchup against the Miami Hurricanes...
SEASON REVIEW:
OFFENSE:
The Florida State Seminoles once again have a great offense and that can be accredited to one of the best assistant coaches in the game Mike Martin, Jr. He instills a patient and disciplined hitting approach, a smart philosophy that successful major league ball clubs use. The casual fan will just look at a team's batting average and make a determination on whether or not that offense is good but that is an outdated way of judging an offense and offers a weak correlation to how potent a team is. On-base percentage, slugging and the combination of the two (OPS) are a more advanced way of measuring how productive a team is. Looking at the table below you will see that the batting average of a team has a weak correlation to the amount of runs scored per game while a team's OPS has a much stronger correlation to a team's run output. The Noles currently have a steady hold of third place in the conference and this is due mostly to their ability to draw a walk as depicted in their BB% which is well above league average. This is what you are looking for as a fan especially when you have a team like the 2012 one that is not producing the power numbers that teams of the past has done.
Consistency is another aspect that makes a team successful and the graph below displays the great level of consistency shown by the Noles. You will notice throughout the rest of the article I use all the data collected from the UCF series because the games played prior to that against extremely weak competition does not give a true understanding of a team's talent. Since the third week of March the offense has been pretty consistent and that's what happens when you have a team as disciplined as this one.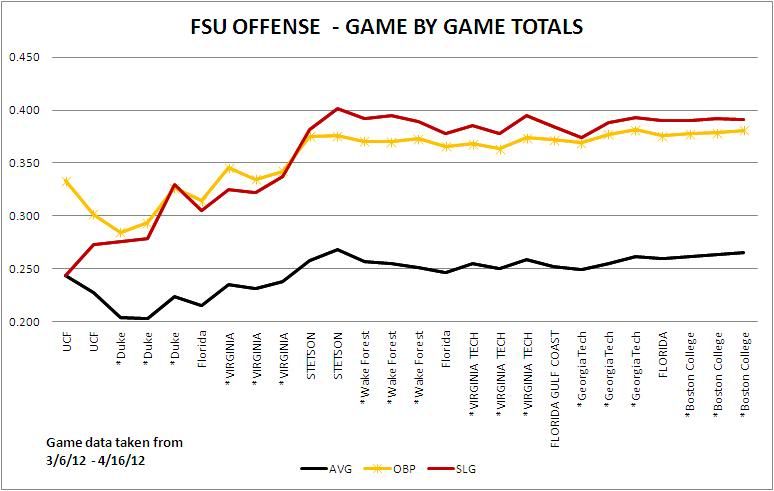 Going into the season we really knew what to expect from the following returning players and lucky for Nole fans they have not disappointed. Sherman Johnson and Devon Travis are very, very good college players and do a great job of setting the table in the one and two spot in the lineup. A combined .429 OBP and run scoring percentage of 43.3 means they are doing a fantastic job of getting on base and scoring in part to the two studs hitting behind them. Jayce Boyd has been excellent all year and James Ramsey is doing his best to improve his draft status as he is one of the best hitters in the game and has been highlighted is several respected publications this year. A surprise this year has been the offense shown by Stephen McGee, now a .324 slugging percentage is definitely not ideal for your five hitter but the fact that he is getting on base at a .468 clip in extremely impressive. Unfortunately though his awful Rsco% of only 25% is indicative of just how bad the bottom of the lineup has been.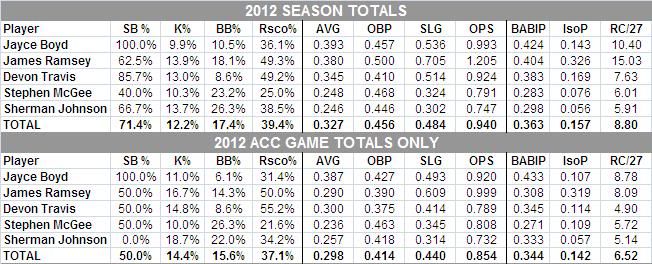 I tweeted this stat the other day:
#FSU 1-5 hitters have a combined OPS of .940, hitters 6-9 come in at .709
and
What's worse is that #FSU hitters 1-5 are striking out only 12% of the time and walking 17%, 6-9 have a K% of 22% and a BB% of 10%
As highly touted as Nogowski and Brizuela early on it is really disappointing to see them struggle so much and contribute so little. Justin Gonzalez just seems to not be getting any better either, it doesn't matter how good your defense is a K% of almost 29% with an IsoP of .116 is not going to cut it. It's just a shame that the pitching problems of the past have ruined recent position player recruiting because there is no one on this team able to challenge him for a spot. Not that I think Martin would ever allow that to happen anyways. Seth Miller has also struggled but anyone who expects a JUCO player to be heavy contributor is really just doing some serious wishful thinking.

All in all this has been a really good offensive ball club but there might be some concerns moving forward that will be addressed later on.
PITCHING:
There was a lot of excitement around FSU Baseball at the beginning of the season and it was due to the long overdue change in pitching coaches. Former Seminole pitcher Mike Bell was brought in and TOTALLY revamped the pitching staff. The changes he made have been quite evident as they're reflected in the performance of young pitchers and older pitchers who have not performed in the past.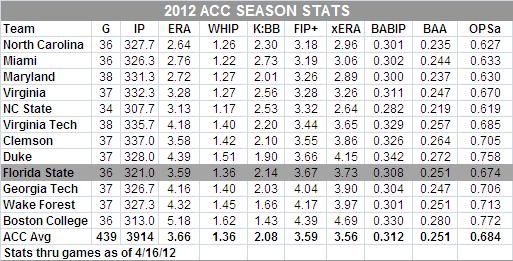 By no means is Florida State an elite or even excellent pitching team but it's fair to say the staff is pretty good given the circumstances. Being near ACC average in each meaningful statistical category speaks for itself. Teams like North Carolina, Miami and Virginia are loaded with talent and potential high draft picks. The Seminoles are not at that level yet and it will take a few recruiting cycles before Florida State can have balance.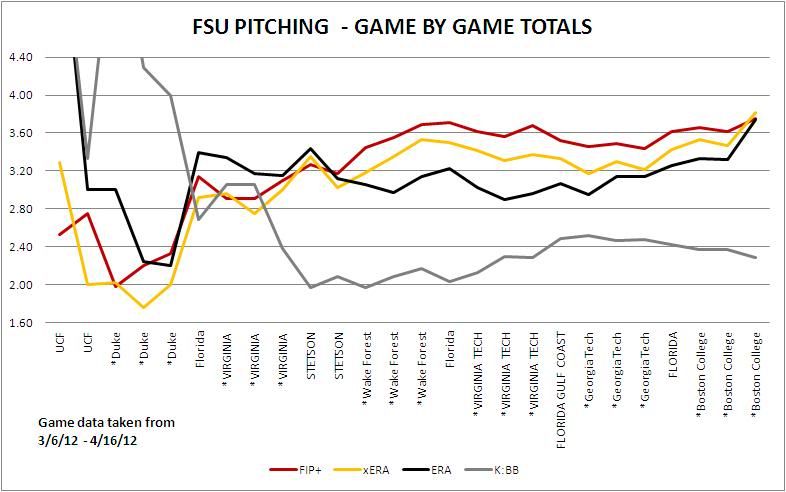 The first thing you should notice from the above graph is that basing opinions off of small sample sizes such as seven or eight games will get you in trouble and you need at least a half of a season to make a sound determination of what a team does well and what a team does poorly. Just like the offense it wasn't until the third week of March until the numbers started to work themselves out and since then it has been pretty balanced performances by the staff as a whole.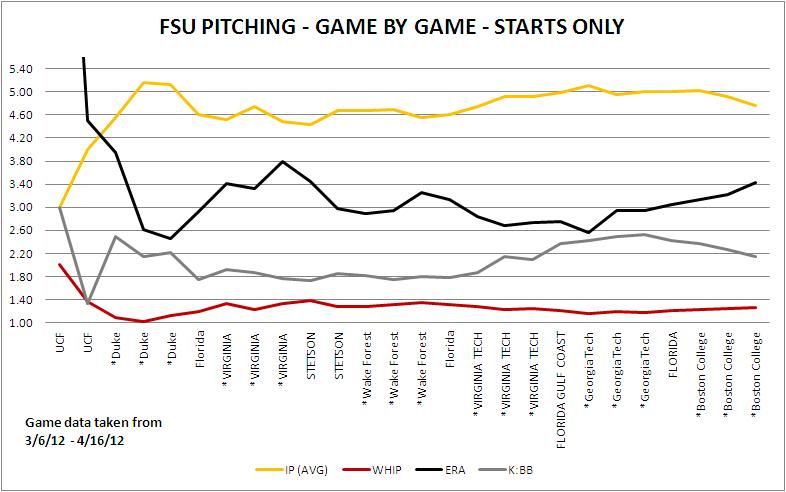 When the word came out that Florida State was going with a starting rotation that consisted of two freshmen and a sophomore that had four total innings pitched in his career fans should have started preparing for the worst. Freshman lefty Brandon Leibrandt has really started to look comfortable on the mound. Throughout the season I have been concerned with the lack of innings pitcher per start but Leibrandt has gone 7.0, 7.1 and 5.2 innings in his last three starts against quality offensive teams. Saturday starter Mike Compton on the other hand is a real cause for concern right now. After his best start of the year three weeks ago against Virginia Tech where he went 7 plus striking out 8 and walking none he has lasted a combined 4.1 innings in his last two starts. There has been no word on whether there is an injury or not but if Compton goes down or is ineffective moving forward this really changes the amount of success the Noles can have. Peter Miller really has been a disappointment this season and it really shouldn't be to anyone's surprise. He posted excellent numbers in high school but it was against some of the worst competition possible, it really wasn't fair to put him in that Sunday starting spot. In his most recent start and possibly last start of the year he recorded only two outs, the official reasoning for removing him from the rotation is that he has shoulder soreness but this is an injury that comes with underperforming. We will discuss his replacement a little later on.
When your starting pitching is lasting less than five innings a start it is imperative that you have a good bullpen and Florida State has just that. Led by a resurgent Hunter Scantling and one of the best stoppers in the country Robert Benincasa the Noles should feel very confident with a close lead late in the game. Gage Smith has also been strong out of the pen despite his last outing in which he was pitching in a position he shouldn't have been. If Brian Busch sees any more meaningful innings this season expect a mob with torches and pitchforks to show up at Martin's doorstep. There is zero justification for allowing a senior to pitch when he allows 44% of the batters he faces to reach base, I know he one of a few lefties on the team but allowing the younger arms to get work should be a priority.
It can't be said enough that the job that new pitching coach Mike Bell has done with this staff is really amazing. If he can somehow keep it together the rest of the season with what he walked into it would be remarkable.
WHAT LIES AHEAD:
Below is a graph that shows the offenses that Florida State has faced this season who rank in the top 50 RPI. Virginia, Virginia Tech, Wake Forest and Georgia Tech all have really good offenses who lead the top half of the conference in OPS and runs scored. Going 11-1 against those teams is an amazing feat and the fact that the pitching was able to keep Florida State in those game is another testament to how much the pitching change has effected this team.
Looking ahead the Seminoles' staff faces offenses that have not been overly impressive this season with a few exceptions. They start this weekend by playing Miami who is not the same team they were last week or three weeks ago. Then face a Maryland team that is and always has had a below average offense. Clemson seems to be getting better but is still not a dangerous offense. The big exception is NC State who has arguably the best offense in the conference, they lead the ACC in runs per game and are hitting really well when runners get on base. Another amazing feat is the team's success on the base paths, a rate of 88% is astounding.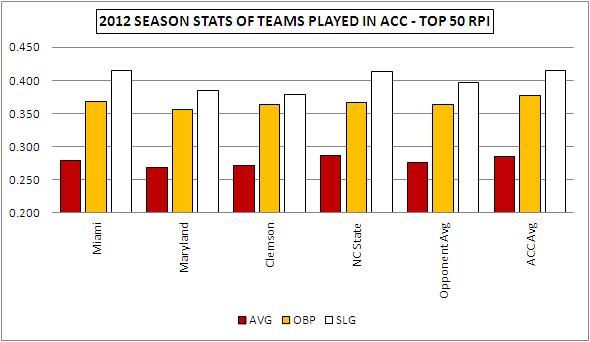 The Seminoles offense has done very well so far this season but if you take a look at the pitching staffs they've faced they all rank in the bottom half of the conference. Only Virginia has a staff that can be considered above average and Florida State caught them early in the season before they straightened out their staff. Virginia Tech is comparable to that of Florida State and Wake Forest is poor. Georgia Tech has had some bad injuries to really good pitchers and the Noles scored a lot of runs against their less than stellar replacements.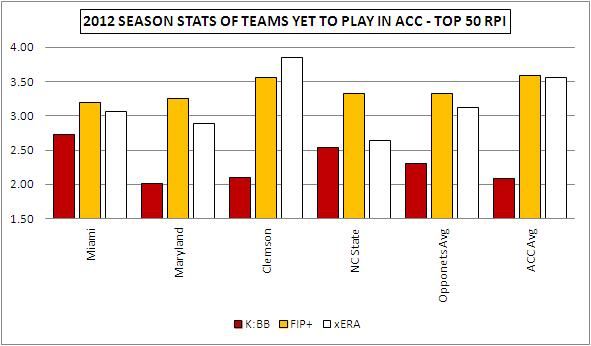 Starting this week the Noles will face the best staff they have seen all season in Miami. The Hurricanes have three legit starters that have all pitched very well this season and would immediately be Florida State's best pitcher. Maryland started out hot but once conference play hit they went back to being the Maryland of old. Clemson continues to be a disappointment this season but their pitching is really playing well of late and in three weeks time could pose a real problem. The season series finale will be a good one when NC State and their well balanced team come to town. The Seminoles hope to have the division locked up prior to then.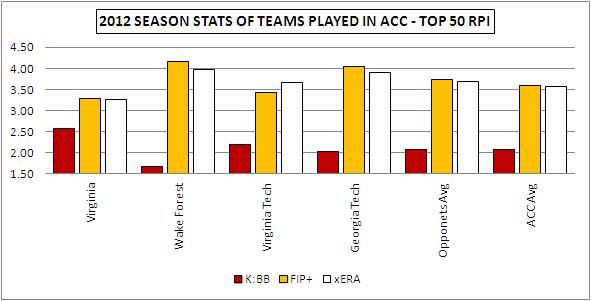 Is Florida State as good as their 30-7 season record and 16-2 conference record? Probably not, the Noles are currently 13-1 in close games (decided by two runs or less). If you look at the table below and think logically you can make the assumption that this type of success is more than likely not going to keep up. Either two things can happen from here on out. One, the Noles start losing their share of close games bringing back towards their average winning percentage. Or two, the Noles go on an amazing run to finish the season and we call this year a statistical anomaly. Using sound logic one would have to believe that the first scenario is the one most likely to play out.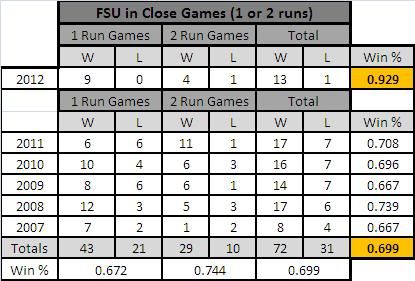 So the Seminoles have compiled a 16-2 record in conference against teams that have gone a combined 41-67 (.380%) in conference, even taking away their record versus FSU they still come in at 39-51 (.433) Hopefully that competition did enough to prepare them for the teams they have yet to face as their combined conference record is 39-33 (.591%). At the beginning of the season I predicted the Noles to go 17-13 in conference and for that to happen there would need to be a catastrophic collapse at the end of the season. That being said breaking .500 for the remainder of the season as I predicted would give the Seminoles a twenty win season in conference, something that many thought would never be possible.
MIAMI SERIES PREVIEW:
OFFENSE:
On the surface Miami looks like an average ACC offense but given recent unfortunate circumstances and poor coaching they are going to be worse than they should be this weekend. First off they lost one of the best hitters in the country and potential first rounder Peter O'Brien who has a small fracture in his wrist after being hit by a pitch last weekend. This is tremendous for a Miami team that has been slumping as of recent weeks. Imagine if the Seminoles lost James Ramsey, how much confidence would you have in the Noles being able to outscore teams? Another reason why the Seminoles offense is better is the crippling effect that manager Jim Morris has on the Hurricane offense. If you notice the Canes score half a run less than league average despite having a respectable OPS, this can be attributed to a determinative and out of date managing style. The basic fundamentals of the game is to preserve outs as they are limited and your most precious commodity. Giving them away with awful base running and unproductive sacrifice bunts is what is going on at Miami. The Hurricanes have an terrible SB%, well below league average and well below an acceptable rate of 80%. I realize the new bats make this game a little different now but the Canes are second in the nation is sacrifice bunts with 53, this is an insane number. It has been discussed many times on this site how inappropriate that is in the game of college baseball and only in the a few rare circumstances is that prudent. But Nole fans should embrace this archaic philosophy and hope that Jim Morris does what Jim Morris does this weekend.


As I mentioned earlier the Hurricanes have one of the best staffs in the conference and in the country. Their starting rotation as you will see below has been nothing short of phenomenal as they have three pitchers that could all start on Friday. Make sure to note the difference in the innings pitched despite having the same number of games started. To pitch that many more innings and to have numbers that good really speaks to the talent and performance of the Canes' rotation.

PITCHING PROBABLES:

It was mentioned earlier the success Leibrandt has had recently and at this point there is no reason to think that will change. Erickson is coming off of a pretty strong start against VT where he pitched 6.2 innings allowing only 2 runs on 6 hits but what was strange is that he walked 1 and struck out nobody.

What Mike Compton does Saturday will probably determine what his role will be for the rest of the season. Florida State needs him to rebound as they don't have anyone who can jump in that role and be all that successful. Eric Whaley also had a solid outing last time out pitching 6 innings giving up 3 runs on 7 hits, striking out 3 and walking none.



Scott Sitz will make his first conference appearance of the season on Sunday. So far this year he has been pretty reliable and should give the Noles a good shot to win on most Sundays. If this was any other Sunday the Seminoles would probably feel good about their chances but Steven Ewing is not your typical Sunday starter. He has been phenomenal all season and is coming off a great start where he allowed only a solo homerun in 8 innings, issued only 1 walk while striking out 7. Anything close to that on this weekend gives the Canes a good shot of winning.
At this point in the season I think Florida State is the better team as a whole. Although I am a sucker for good pitching and the Hurricanes have an abundance of it while the Seminoles have some questions to be answered. I will go ahead and give a very slight edge to the Hurricanes this weekend. Weather may be a factor as there are bad storms expected to roll through and Saturday's game has already been moved to 12 PM. Friday (6PM) and Saturday games will be on ESPN3 and Sunday (12:30 PM) will be on your local CSS station or ESPN3.
Go Noles!