The Wolfpack hired former Northern Illinois coach Dave Doeren to bring his spread to run attack to NC State but the team he inherited was not built for it. Tom O'brien ran a pro-style offense and left somewhat of a bare cupboard on both sides of the ball. Injuries have hampered Doeren's efforts and if the Pack didn't have bad luck they'd have no luck at all.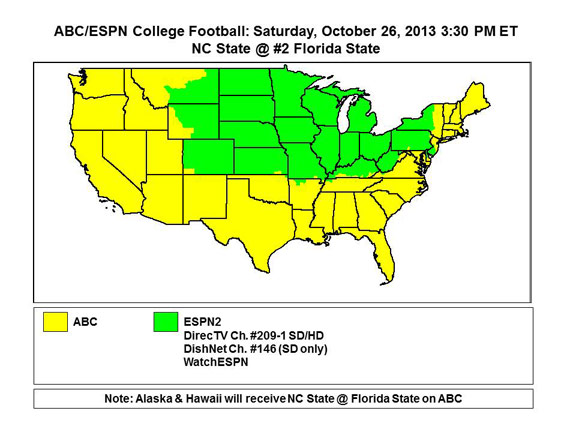 Line: -32 (seriously)
NC State's Season so far...
Ugh. Things could not have gone worse for NC State. While the Wolfpack were able to easily defeat Louisiana Tech on opening weekend, they lost starting QB Brandon Mitchell after just 2 series. The next week NC State did it's best #goacc impression and nearly lost to Richmond (residing in the CAA with a 2-5 record) but escaping with a last minute field goal. A Thursday night game against Clemson gave fans hope as NC State seemingly tied Clemson at 13 in the 3rd quarter but an incorrectly blown whistled canceled the score. Clemson went on to score the next 13 points and put the game away. To their credit NC State bounced back against a bad Central Michigan team (3-5) but have been in a tailspin ever since losing at Wake Forest and home against Syracuse. Again, ugh.
v. NC State's Defense
NC State is statistically better against the pass than the run but when you you play teams like Wake Forest and Syracuse, you tend to have that look. However, even Clemson struggled to pass at times against NC State. Unfortunately for the Wolfpack NC State at times has been horrid against the run.
The main reason NC State is doing well against the pass is because of the pass rush. NC State is affecting the QB (sacks plus hurries) on about 7% of all passes and has had a defender get a hand on about 10% of their passes. All of that has led to 6 INTs for the Pack which means they pick off passes at about the same rate as FSU (about 4% of pass attempts). Unfortunately for NC State FSU is not University of Richmond.
Making matters worse for NC State is their poor record against the run. The Pack is giving up over 4 yards a rush making them the 74th best rush defense in the country. To be fair NC State has played Syracuse, who has a pretty good rushing game, but they've also played Wake who does not.
The bottom line is that the practice leading up to the NC State is more challenging for FSU than the game will be.
N.C. State's defense is good enough on the defensive line to keep this close for a half if it gets some breaks from the refs, bounces and Florida State. But it's not a great unit.
Goals
More than 7.5 yards a play before garbage time (375 yards on 50 plays, 450 yards on 60 plays, 525 yards on 70 plays)
No more than 1 turnover
60% or greater TDs in the red zone
v. NC State's Offense
FSU might remember Doeren's offense as the one that brought FSU to it's knees when he coached Northern Illinois (to be fair Doeren was not coaching the team when those remarks were made nor during the game). Doeren's offense is predicated on the QB being a pass run threat every ,play utilizing WR zone read sweeps along with more traditional zone reads and QB draws.
Doeren planned to employ QB Mitchell in this role but the transfer broke his left foot in NC State's second series against Louisiana Tech. While Mitchell is listed as the starter for FSU, Doeren might want to rethink that. While backup Pete Thomas has clearly not been the answer, Mitchell could easily re-injure his foot as FSU has done a good job of hitting QBs (many have not made it to the 4th quarter). Also, starting left tackle Rob Crisp is still out which makes starting Mitchell all the more dangerous. N.C. State has a chance to make a bowl game if it can keep Mitchell healthy the rest of the way.
Considering he's only thrown 3 passes this season, the senior is largely untested. How well will he be able to run after overcoming an ankle injury? Doeren wants his QB to run a lot of power to soften up the line and get edge players to crash in leaving room for WRs to work on sweeps, but will Doeren risk injury with Mitchell's limb being untsted? If he decides to keep Mitchell in the pocket, will N.C. State's offense be effective?
The NC State WRs are a smaller but faster group headlined by Bryan Underwood. Expect FSU to crowd the line and get physical with the receiving group to keep them from creating any space.
Sophomore running back Shadrach Thomas looks to be a good running back but it's hard to tell with the offensive line NC State has. The Wolfpack are averaging just over 4 yards/carry meaning they are somewhere between Notre Dame and Virginia and those teams have face better defenses. Usually teams that are such large underdogs run the ball more to eat up time, but will the Pack do that? FSU has looked a bit suspect against power running teams like Pitt and BC, but it's yet to be seen if N.C. State can do that.
Goals
Less than 4.5 yards/play allowed before garbage time (225 yards on 50 plays, 270 yards on 60 plays, 305 yards on 70 plays).
Force 2 turnovers
Less than 50-percent touchdowns allowed in the red zone.
Special Teams
NC State has done a good job on returns but hasn't face a team with the depth of FSU. Rashard Smith has 1 punt return TD to his name, and N.C. State is actually a top 25 team where punt returns are concerned on both sides of the ball. Unfortunately the opposite is true when considering their kickoff return average on both sides of the ball, as they rank well into the bottom quarter of the NCAA in this phase of the game. NC State's Niklas Sade has had a very good season making 12 of his 14 FGs with his only misses coming from beyond 40 yards.
Prediction
This is a bad NC State team. Not only have they had to transfer to a completely different offense, they've been beset by injuries. To their credit the Wolfpack hasn't lost any out of conference games just narrowly avoiding the embarrassing loss to the Richmond Spiders. I know we've said this multiple times but the only thing that will stop FSU is FSU. This is the textbook trap game with FSU coming off a big win against Clemson and heading into another likely top 5 match up with Miami. The quicker FSU puts this game away the better.
Florida State 49, NC State 7 | Chance of winning: 97%