So far, so good for the Maryland Terrapins. They're 4-0, the offense has yet to score under 30 in a game, and the defense has yet to give up more than 3 scores in a game. Maryland still has a lot of question marks, though. The competition they've seen is questionable at best. Maryland, like BC the week before, is coming off of a bye week. Is the extra time enough for the Terps to shock the Noles? It looks like the storm will miss Tallahassee, so let's break it down.
12:00 | ESPN | Line: -16
Maryland's Season so far...
Maryland has whooped up on every opponent it's seen so far. A 43-10 win against FIU got their season started off well (FIU is awful) and the good times continued after a 47-10 win over ODU (ODU is an FCS school transitioning to the FBS). While the storylines were interesting, the game was not as Maryland beat UCONN 32-21 (UCONN is really bad and Michigan should be ashamed for only beating them by 3). And a week before their bye, UMd beat up on WVU 37-0 thanks to 6 turnovers (WVU swapped out almost it's entire starting lineup and then beat Oklahoma State the following week). Maryland has taken care of business so far, but how good this team is is still a question.
v. Maryland's Defense
Even considering its rather weak opposition to date, Maryland has a very good defense. It has plenty of size in the front seven (1835 pounds) from its 3-4 scheme. Coordinator Bryan Stewart is from the Wade Phillips school of defense, having been with him with the Dallas Cowboys. Maryland will look to bring a lot of pressure in a variety of ways, with the focus on creating negative plays.
Maryland's front seven has been surprisingly good after losing many key contributors off a very solid 2012 defense. Maryland has done an excellent job stopping the run so far, and that is in large part thanks to nose tackle Darius Kilgo, a 310-pound anchor in the middle. The linebackers have also played quite well.
Part of that, though, is also that the rushing offenses Maryland has faced are totally awful.
Still, this defense has been playing very well. It's creating negative plays, turnovers (to the extent that they an be created as opposed to lucked into), and will likely be the best defense FSU has played to date.
For a team that gets so much publicity for its offense, its defense might actually be better.
Or might have been, rather. I say might have been because the Terps are now down their top two corners until the end of October, at least. Corner has gone from a position of strength to a bit of a question. And that's a big deal for a team that wants to bring pressure as Maryland does.
Knowing Maryland's lack of proven depth at cornererback, look for the Seminoles to play a lot from their 11 personnel (one tight end and one back, with three receivers). Doing so will force Maryland to make a decision.
Will Maryland elect to stick with its 3-4 alignment v. three receivers? Or will they go to a 3-3-5/4-2-5 look, bringing in an extra cornerback. Against West Virginia, Maryland actually stuck with its 3-4 alignment, even against four receivers. I wondered if this is because they don't trust their third and fourth corners (previously fifth and sixth).
Maryland does have a solid 3-4, and its backers are good against the pass, both in coverage and in rushing the passer. But, they have not played anything like Florida State's offense. West Virginia's offense, before making 21 personnel changes against Oklahoma State, was awful.
How awful? Check out this horrible play that turned into a pick-six for the Terrapins.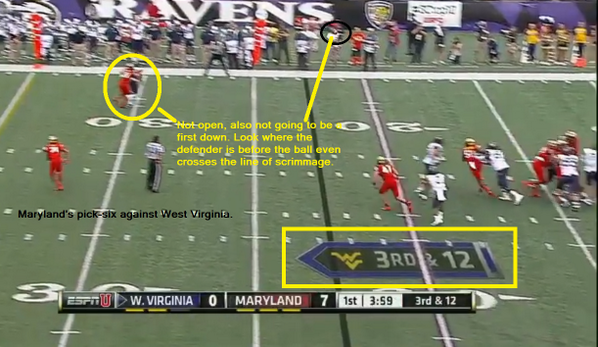 Maryland might try to play its 3-4 early on against Florida State, but FSU should be able to throw the football often, and throw it well enough to take them out of it and force them into a look with more defensive backs. When Maryland does go to that look, FSU should look to run the football a little more, and then mix in some play action. Jameis Winston must not be greedy before the snap -- if the numbers are there for the run, check to the run play available.
Maryland's outside linebackers have been excellent rushing the passer this year, and FSU must protect well, particularly with its backs, to give the deep shots down the field time to open it up. Nose guard Darius Kilgo has also been excellent against the run, and FSU must get him blocked when it does look to run.
Goals
More than 7.0 yards a play before garbage time (350 yards on 50 plays, 420 yards on 60 plays, 490 yards on 70 plays)
No more than 1 turnover
66% or greater TDs in the red zone
v. Maryland's Offense
All week you've heard about how explosive Maryland's offense is. And that is true. Maryland has just as many plays of 20 and 30 yards as Florida State. Of course, the defensive competition faced by Maryland has been worse.
Maryland brings to Tallahassee arguably the best 1-2 punch at WR as any opponent FSU will see this year. Stefon Diggs was a 5-star recruit out of high school and has lived up to the hype. He has succeeded in an offense that used a linebacker as QB and will really show out now that Maryland has a competent QB. Complimenting Diggs nicely is Deon Long. Long started out committing to West Virginia, transferring to New Mexico State (coached by current offensive coordinator Mike Locksley), then a stint at Iowa Western CC and finally finding a home at Maryland. Both WRs are extremely good and will make FSU pay for any lapses in coverage exist.
Feeding Diggs and Long is QB CJ Brown. Brown is a talented QB that can run and throw and may be the most underrated QB in the ACC. Averaging just over 10 yards a passing attempt and a 7-1 TD to INT ratio, he has ben excellent, but again the competition has been suspect at best. Compounding Brown's passing threat is his ability as a runner. Like most teams FSU has seen, and many teams in college football, Maryland is not afraid to use Brown as a threat on the ground as well as in the air. This is a true spread offense with a heavy spread option component. While Brown is Maryland's 2nd leading rusher he did most of his damage against UCONN and very little against any other team (note: NCAA stats include sacks as rushes for some dumb reason).
But Brown is not perfect. Far from it. He is not all that great throwing from the pocket, and his effectiveness is greatly reduced when he is not throwing off play action.
Given that, FSU's defensive success will hinge on standard downs. Can FSU win the battle on first down to put Maryland in passing downs (second and 8, third and 5, etc.)? If so, this could be a long day for the Terps.
As noted, Maryland is a very spread team. To counter that, FSU will operate almost exclusively from nickel and dime sets. And FSU has been quite good playing from these alignments this year, particularly from nickel, in which it has allowed just 212 yards on 59 plays.
This is a good test for Florida State's defense. Can they be disciplined, play their keys, and stay home on the fakes? If so, their physical talent will take over and they can have a lot of success against Maryland, because Maryland's offensive line is not very good. It really is all about assignments here. This line can't push FSU around if the Seminoles use proper technique and play smart. Getting Mario Edwards, Jr. back this week could be a big help, as he is typically very disciplined against read option plays, and is difficult to block.
But there are a lot of fakes. Maryland tries to find all sorts of creative ways to get Diggs the football, and it also uses him as a big decoy. Check out the play below, in which Diggs acts as a decoy.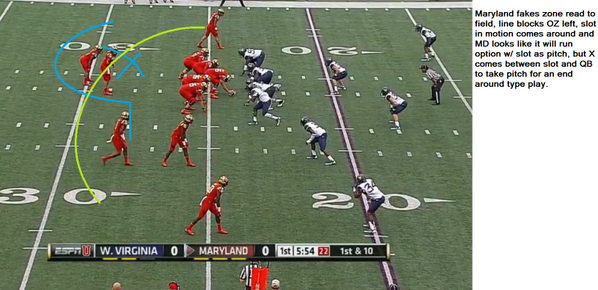 Off a bye week, the expectation is that Maryland will get even crazier.
FSU must be disciplined against the rush, but also disciplined in its pass rush. FSU cannot crazily rush the passer and get out of its rush lanes, allowing Brown to run around and make plays.
Goals
Less than 5.0 yards/play allowed before garbage time (250 yards on 50 plays, 300 yards on 60 plays, 350 yards on 70 plays).
Force 2 turnovers
Less than 50-percent touchdowns allowed in the red zone.
Special Teams
Cason Beatty is not a good punter. As the season goes on FSU will have to make some hard decisions on whether or not to punt the ball. To be fair Beatty has shown a good ability to drop punts inside the 20 when close enough but the leg strength isn't always there. Compounding that is the poor kick coverage FSU exhibited last week against BC and Maryland can be much more dangerous with Diggs returning punts. FSU would like to angle their punts and keep Diggs from being a factor but, Beatty is just as likely to shank the punt out of bounds as angle it correctly. Will Likely has actually returned more punts than Diggs but you have to assume Diggs will get the opportunity against FSU.
Brad Craddock has only missed one field goal (and an extra point) but that was a 50 yard shot and he's proven he can split the uprights from that distance. Nathan Renfro is a good punter averaging 44.3 yards a punt with almost 1/3rd of his punts going for over 50 yards and Maryland has covered the punts well.
Prediction
This game could not have come at a better time for FSU. The offense is humming along, and the defense should be plenty motivated after a sub-par start against Boston College. Maryland will hit some plays, but if FSU can limit the big plays, force them to kick field goals in the red zone, and continue to play offense like it has been, it should beat them soundly.
Florida State 45, Maryland 20 | Chance of winning: 87%