UPDATE:
Due to inclement weather that is expected to hit the New River Valley on Sunday, Florida State and Virginia Tech have decided to alter this weekend's ACC baseball series at English Field.
Saturday's schedule will now switch from a single game to a doubleheader. The first game will still begin at 2 p.m. with the second game of the day starting 45 minutes after the completion of the first game.
The Seminoles are off to a torrid pace this season due in part to the ability to constantly reload talent, coach them up and perform under pressure of playing in a top flight conference. Florida State is coming off a huge series win against Georgia Tech that saw them erase a 5 run deficit on Sunday and went on to win 8-6 against one of the best teams in the country. They then followed that up with a tight win on Tuesday against rival Florida in Jacksonville earning the season series victory.
Virginia Tech is no pushover and this will be a tough series for the Noles. The Hokies are currently 5-4 in conference play with a series sweep of Duke and a pair of wins against Miami and Georgia Tech. They feature a very strong lineup that can score runs and will make you pay for poor pitching performances. The weather could be a factor this weekend with temperatures in the 40's and 50's and a possibility of wetness on Sunday, this should be no stranger to Florida State though as their last road trip was a cold one in College Park.
OFFENSE
The Hokies and Noles are pretty similar offensively except for one important area, their plate discipline, however once the ball is put into play though VT can swing with the best of them. Much like Georgia Tech a week ago the Hokies strike out with more frequency than they walk, actually walking less than league average, the Noles on the other hand are only one of three teams in the conference to actually walk more than they strikeout. The others are #1 ranked UNC and 23-2 Virginia, for all of these teams to still hit with the tremendous power that they do is a compliment to their respective coaching staffs and personnel.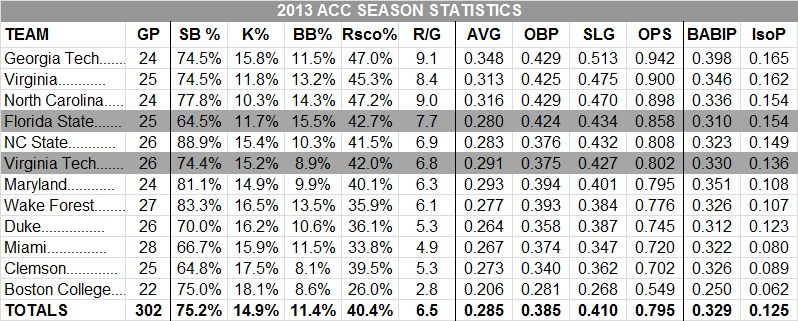 Virginia Tech's lineup is stacked throughout the heart of it with 3 hitters who slug over .530 and all have an OBP around .400 or better. Third Baseman Chad Pinder is third in the ACC in batting (.410/.500/.530) and accompanied by C Mark Zagunis (.333/414/.556) and LF Tyler Horan (.330/.390/.547) who have helped combined for 9 of Tech's 22 homeruns this season. Zaginus is also a threat on the base paths as he has stolen 10 of 11 bases this season but as mentioned earlier the achilles heel of this group is their discipline as they have combined for 41 strikeouts to only 31 walks.
Four batters with plus .300 averages, plus .400 on-base percentages and plus .500 slugging percentages. Brizuela, Miller, McGee and Davis are continually a thorn in the sides of opposing pitchers as that quartet has accounted for 53% of the teams extra base hits. Frequently overlooked players on this year's team are the bookends of leadoff hitter Josh Delph and nine hole hitter John Sansone. The sophomore, freshman combo have an OBP of .482 and .444 respectively.
PITCHING
An advantage that Florida State needs to take advantage of is the pitching staff as a whole. While the Noles pitching staff walks more batters than they should their high K/9 makes it more tolerable as they have a respectable strikeout to walk ratio. Virginia Tech pitchers on the other hand have one of the worst ratios in the league, against free swinging GT and Miami the staff combined for 32 strikeouts and 30 walks, if the Noles don't do better than that this weekend then a series win will be tough to come by.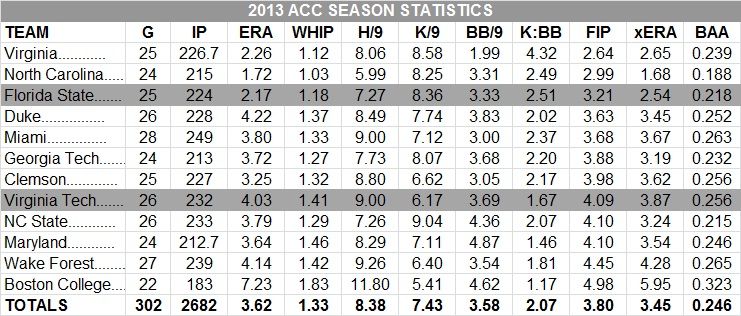 PROJECTED ROTATION
Brad Markey has been up and down all season, he has looked great Duke and Notre Dame pitching 8 strong innings in both games. But against GT and Miami the right hander allowed 13 earned runs on 18 hits in 12.2 innings. Florida State hitters should be able to handle Markey despite his a strong K:BB ratio and even if he struggles early head coach Pete Hughes isn't afraid to leave him out there to get knocked around, another positive for the Noles.
Brandon Leibrandt has not been nearly as effective as he was last year in his Freshman All-American season. The lefty has struggled as of late too coming off his shortest outing of his career against GT where he didn't make it through the second inning.

It is a very small sample set but the cause of concern is valid. Leibrandt flirted with a no hitter against Boston College but almost halfway through the season it appears that BC might just be the worst team in the history of ACC play. They are atrocious on offense and Leibrandt has struggled in each start since then. A K:BB ratio of under one seems to be a big issue especially since the lefthander had a 3:1 ratio all of last season. Another poor outing has to have coaches and fans doubting just how much longer he can stay in the ace's role.
Right handed Devin Burke has been Virginia Tech's best pitcher this season and has done it against a high level of competition. Most recently he shut down Miami throwing 7 innings allowing 1 earned run and earlier this season he held the Yellow Jackets in check for 8 innings allowing only 2 earned runs. In those two games he allowed 9 singles and 3 extra base hits.
Scott Sitz has been very strong for FSU this season as the only question with him is what spot in the weekend rotation does he now belong. Looking at Sitz's miniscule ERA you might think he has been lights out this season but the truth is he has been extremely fortunate. Last week was a perfect example of not pitching all that effective but having great results, of the 24 GT batters that he faced, half of them reached base. Two of those runners did score in part to errors but if Sitz pitches anywhere close to that again I would expect much different results.

Joe Mantiply is making his third start of the season in the weekend rotation and thus far has done great for a Sunday starter. Against Duke and Miami the lefty threw 5 innings a piece, allowing 3 earned runs on 11 total hits. Now the Noles offense is much much better than both of those opponents and should to have far more success. Despite another superb outing from weekday starter Luke Weaver and terrible start from Peter Miller, he remains in the weekend rotation. The right hander started off the season with good results despite not pitching all that well and has since continued to pitch worse and worse as the season reaches the half way point.

Miller's big issue hasn't been that he walks to many batters and doesn't strikeout enough, he actually has a great K:BB ratio. The problem plaguing him is that he is just extremely hittable. Having watched him pitch there is just nothing special or deceptive about him and for that he doesn't belong in the weekend rotation. Luke Weaver will eventually be a starter in ACC play, how soon no one seems to know, let's only hope that Miller can give the Noles some quality innings this weekend.
For Florida State to win this series on the road would be equally as impressive to me as last weekend's series win versus Georgia Tech. The level of competition VT has played this season has been excellent, SOS of 29 according to Boyd's World so they should be prepared for Florida State. First pitch is tonight at 5:30 and the game can only be viewed on Hokies All-Access if you have the universal subscription. I will be watching intermittently and will try and update in this thread as much as possible.
Have a great Easter weekend and Go Noles!