The Eagles (3-8) are coming off a two-game series split at USF where BC tallied a season-high 10 runs and 16 hits in the 10-4 victory, but fell, 9-4, in the second game in Tampa. The Maroon and Gold has tallied wins over Elon (7-6), Georgia State (2-0) and USF (10-4). The Seminoles (12-0) enter conference play undefeated. After opening 2013 with a three-game sweep of Rhode Island, FSU took three from in-state rival USF. Last weekend, the Seminoles beat Villanova three times before a midweek, two-game sweep of Presbyterian.
Boston College was picked to finish sixth in the Atlantic Division and 11th overall in the Atlantic Coast Conference Baseball Coaches Preseason poll. Florida State voted to finish second in the Atlantic division. The Eagles earned 17 points from the league coaches. Last season, BC tied for fifth in the ACC with a 10-20 league record, going 22-33 overall.
The Eagles are a terrible baseball team in every facet, the Noles have more talent, better coaching and are far superior. I am pretty sure the same could have been said last season as everyone was expecting a series sweep. BC kept the series close losing the first two games 6-5 and 6-3 before completely blowing up the Seminoles bullpen on Sunday in a 17-6 route. On paper Florida State should dispense of Boston College just as easily as they did USF and Villanova.
OFFENSE: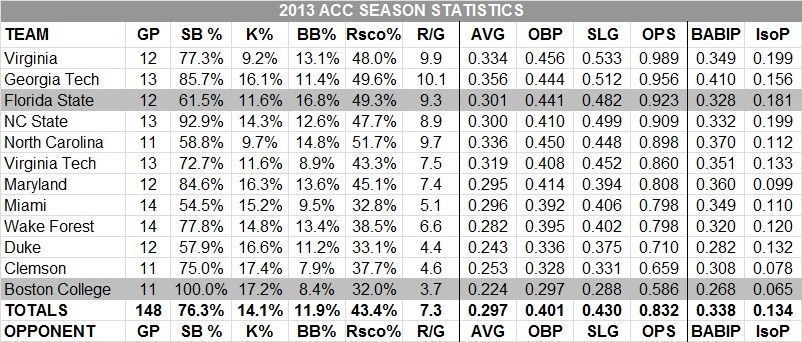 Boston College has one starter with an on-base percentage over .400, Florida State has 7 of 9 starters with an OBP of .432 or higher. Boston College has one starter with a slugging percentage higher than .375, Florida State has 7 of 9 starters with a slugging percentage of .379 or higher, 6 of those 8 have an SLG of .472 or higher. Only one starter for the Eagles walks more than he strikes out while all but 2 Noles walk more than they strikeout.
PITCHING: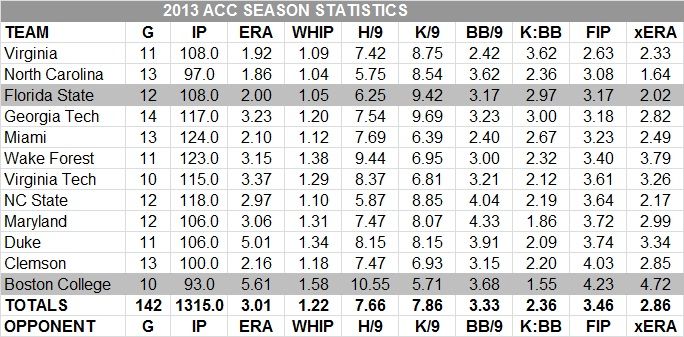 The Eagles are off to a terrible start of the season and a major reason for that is their pitching staff. The lowest K/9 in the league coupled with an above average BB/9 translates to a lot of balls being put in play and too many base runners which translates to the worst ERA in the league. Florida State on the other hand has a very impressive K/9 this season, albeit against weak competition, if that number can stay high then the large amount of walks they allow is more tolerable.
LHP Brandon Leibrandt has had his season start with mixed results, his K:BB ratio is absolutely phenomenal and should yield positive results. But his issues have been the abnormal number of extra base hits he's allowed this season, four homeruns this season after only four homeruns all of last season. It is way too early in the season to be concerned with this trend. RHP John Gorman will no overpower you, he allows a tremendous about of balls to be put into play and the Seminoles shouldn't have issues scoring runs against him.
RHP Scott Sitz's amazing turnaround continues three starts into the season as he has yet to allow an earned run. Much like Leibrandt, a spectacular K:BB ratio approaching five has been key to his success. RHP John Gorman is coming of a stellar start where he pitched seven shutout innings allowing only 3 hits while striking out 5 and walking none. That was against Georgia State, FSU is not Georgia State and any results that come close to that could be troublesome for the Noles.

RHP Peter Miller has had an up and down 2013, an awful opening start, followed by his best start of his career and in his final start he allowed zero runs in 5.1 innings. MIller was extremely fortunate in that start as he hit 2 batters and walked 4, against a team like Nova that will not cost you games, if he wants to stay in the weekend rotation his control must become more consistent. LHP Andrew Chin was knocked around last Sunday versus Georgia State, if the Noles don't take advantage of him we could see a game very similar to last Sunday, a game that is much closer than it should be.
PREDICTIONS, NOTES AND COVERAGE:
I do predict a sweep here, yes that is being slightly greedy but the Noles are far better in every part of the game, plus given the fact that the Noles are playing this season at home they should be 15-0 heading into Gainesville next Tuesday.
Justin Gonzalez will probably be out this weekend, DJ Stewart should be back and other than that no other injury news. Not many great ACC series this weekend with the exception of the slugfest that could break out betweek GT and VT, both teams have a ridiculous lineup. There is a nice little tournament going on between UCLA, Notre Dame, Oklahoma and USC, lots of excellent baseball there. The premiere match up of the week is in Eugene where two top 10 teams in Vanderbilt is traveling to Oregon play.

As always, enjoy the gorgeous weekend weather and Go Noles!