Florida State returns to ACC play in Tallahassee for the first time since hosting Georgia Tech three weeks ago. Coming off a tough loss to Florida, the Seminoles (27-6, 10-5) look to get back on track and continue their dominance over Duke in the three game series (21-14, 8-7).
Historically, FSU is far ahead of the Blue Devils. The Noles hold an all-time record of 68-19 over Duke. They have also won the last seven games over the Blue Devils, 26 of the last 29 matchups, and most impressive of all, FSU has swept the last seven series between the two for games played in Tallahassee.
Duke is performing much better than some expected coming into the season. With wins over Florida, Miami, Clemson, and a series win over Georgia Tech; the Blue Devils are a team more than capable to upset the Seminoles this weekend.
Duke currently sits fourth in the ACC Coastal Division, ahead of Virginia Tech and Miami.
OFFENSE
Statistically speaking, Duke might have better individual hitters, but Florida State has the better overall team hitting. Duke's Andy Perez and Jordan Betts have carried much of the weight for their team hitting .372 and bringing in 35 runs respectively. Looking at FSU though, their top starting hitter for average, Jose Brizuela, is still hitting .056 below Perez with 12 less hits.
Still, the Noles have the overall advantage since they do not rely on any one player. Florida State is an extremely patient team drawing 194 walks so far this season. The main concern offensively for FSU is getting the timely hit.
PITCHING
These teams are eerily similar in strikeouts and walks allowed. Duke has played more games and have more strikeouts (262) than Florida State (244). However, FSU has also allowed less walks (109) than Duke (125). The Noles have also given up fewer hits and as a whole appear to be the better pitching team. Taking that with a grain of salt, Florida State pitching gets into a lot of trouble due to their defense allowing extra outs.
The main standing point with pitching is the unearned runs allowed from each team. As it is no surprise by now, Florida State has been giving away runs left and right all season and has one of the most troubled defenses in the nation. The Seminoles have allowed an astounding 39 unearned runs across compared to Duke's 13 allowed. The Noles keep finding ways to win most games, but it sure hasn't been easy for the pitching with all the errors behind them.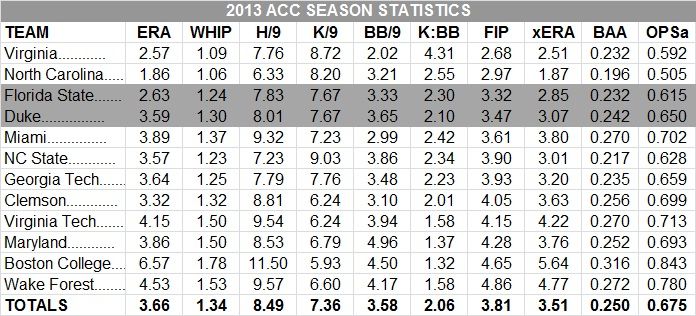 PROBABLES

Friday's 6 p.m. matchup is looking like a great one as Luke Weaver is expected face off against Trent Stewart. Both are having great years with high strikeout rates and a low amount of walks. Friday appears to be a pitchers duel in the making, at least on paper.

Saturday's game might turn into the exact opposite of Friday's start. Brandon Leibrandt and Drew Van Orden are expected to start and neither has looked overly fantastic on a regular basis this season. Leibrandt is still trying to find his magic from last year. His inconsistency on the mound caused him to drop to the Saturday slot rather than Friday and it appears that he will remain there until he gets back to his ways of old.

In a game originally scheduled later in the day, but bumped up to an 11 a.m. start due to Duke's traveling schedule, the series finale is expecting to see Scott Sitz and Robert Huber. Sitz is the clear favorite in this one as he remains one of the best pitchers the Noles have this year. Entering with the fourth lowest ERA in the nation, Sitz looks to keep the Sunday gold intact as the Seminoles have yet to lose on a Sunday this year and are a combined 18-0 when wearing gold since last season.
At the same time, Sitz, as great as he has been this season, still has some miscued numbers. He has only allowed three earned runs this year, but 20 runs overall. Once again, it all goes back to FSU's defense and making the plays they should be making.
Florida State (27-6, 10-6) looks to continue their dominance over Duke (21-14, 8-7)