Two of the ACC's best and country's elite teams square off to this weekend at Davenport Field. The weekend series touts two of three winningest teams in college baseball since 2009. Virginia has posted 227 wins since the start of the 2009 season - most in Division I baseball - while Florida State has won 220 games, third most in that span.
The Seminoles are coming off a great week where they played exceptional in a series sweep against Duke and shutout South Alabama on Tuesday. The Cavs had a series at Georgia Tech that was tied going into Sunday with the Jackets winning in a rainy 5 inning game. The Hoos hosted Old Dominion on Tuesday and won 10-9 in extras.
This is the headline series across college baseball this week and record crowds are expected for each game. Aaron Fitt of Baseball America does a great job of highlighting the series in his weekend preview. Now on to ours...
OFFENSE
It isn't very often that Florida State faces an opposing offense that is as good if not better than their own. Everything that the Noles to do to be as productive as they are the Cavaliers do as well if not better. Excellent plate discpline combined with above average power makes this team dangerous. Both of these teams rank in the top 10 in walks and on-base percentage, with UVA ranked 13th in slugging while FSU comes in at 28th. All of these key categories equates to the 6th and 17th highest scoring teams in the nation.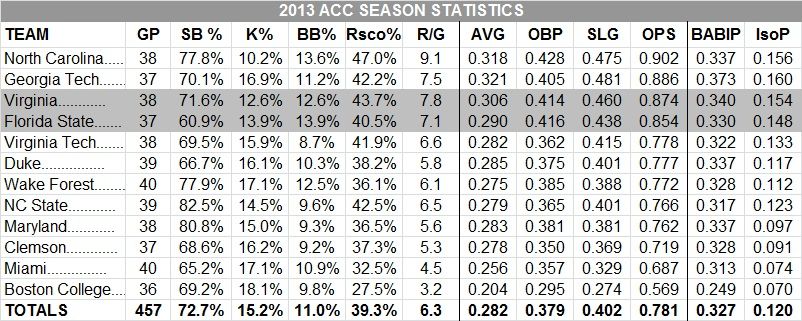 Left fielder Mike Papi is a player that really stands out for UVA with is .535 OBP and gaudy .702 slugging percentage, he leads the team in homeruns with 5 despite having the fewest amount of at-bats amongst starters. If you do manage to get Papi out you still have to deal with Derek Fisher and Brandon Downes who have +.400 OBP, +.500 slugging and Branden Cogswell and Joe MacCarthy who both have +.400 OBP and slugging percentages.
Florida State has a formidable lineup of their own as Jose Brizuela and DJ Stewart tout have +.400 OBP, +.500 slugging percentages while Marcus Davis is leading the team in slugging at .561 and still maintaining a .389 on-base percentage. Catcher Stephen McGee, .277/.436/.496, is probably FSU's best player while John Sansone and his .429 OBP is nice to have as a 9 hole hitter.
Being a pitcher this weekend will be extremely daunting, in the last 8 games played between these teams over the past 2 seasons there has been an average of 11.1 runs scored per game.
PITCHING
In season's past I was envious the pitching staff that Virginia would have every year and wondered why Florida State wasn't allowed to have nice things. A new pitching coach solved that problem and now the Noles have pitchers who can be trusted to perform highly on a pretty consistent basis. Just like their offenses the two teams have almost identical numbers with the exception of one pretty important one, the Cavaliers strike out a batter more per 9 innings while walking a batter less per 9 than the Noles. That results in an insane K:BB ratio over 4 which is 2nd best in the country.

Another strength of these teams is their bullpens. Both relief groups have at least 5 guys than can go to in whatever situation presents itself with a certain confidence that they will limit any further damage. Robby Coles for Florida State has emerged as a strong 9th inning guy who can be extended past one inning if needed. As good as Coles has been, Virginia's closer has been dominant, in 29 innings this season Kyle Crockett has 37 strikeouts and 1 walk. If he comes in with a lead the Noles chances are slim.
PROBABLES:

Luke Weaver has excelled in the role as staff ace and last weekend was a perfect example against Duke. In seven innings the right hander allowed only one earned run on his first homerun allowed on the season, struck six and walked none. Lefty Brandon Waddell tossed a pretty good game again a strong GT offense last weekend pitching 5.2 innings allowing 1 unearned run but was on the wrong end of another stellar Buck Farmer outing. Even though Waddell has an excellent K:BB ratio, opponents are batting .288 against him at over 10 hits per nine giving Luke Weaver the edge here.

Leibrandt's sophomore slump took a turn for the good last week as he looked the best he had all season against Duke. The lefty struck out 10 and walked only 1 over 7 innings while stilling have a pitch count under 100. Like Waddell the night before him, left hander Scott Silverstein pitched exceptional against GT lasting 7 innings, striking out 9 and walking 2 with only 1 earned run. Silverstein has walked a full batter less than Leibrandt per nine innings pitched while still keeping a solid strikeout rate and has been slightly less hittable giving him the advantage.

Both teams are lucky to have Sunday starters who have pitched like Sitz and Howard have this season. Right hander Scott Sitz didn't have his best outing on the season but did enough to earn a quality start and keep Florida State in a position to win the game. Nick Howard didn't fare as well, the righty didn't make it through the fourth. We'll call this matchup a draw as both have had similar success this season.
Seldom has a pitcher's duel broken out in this series over the last few years and with these offenses I am not sure if we can expect one this weekend. Both sides have excellent starters and deep bullpens, what may be an advantage for Virginia is the Saturday and Sunday starters are both lefties. As we saw in the Miami series the Seminoles are rather thin from the right side of the plate. Not having the best hitters in the lineup due to splits could give UVA a slight edge.
Also of note is that both of these teams don't play the best defense. Florida State has had its troubles on the left side of the infield and as a team have a fielding percentage of .966, eighth in the ACC. Virginia hasn't performed any better with a .966 fielding percentage.

Lots of hype surrounds this series and I am sure it won't disappoint, shame is that many college baseball fans won't be able to view it. I'm sure there is some silly contractual obligation with ESPN3 that only allows a certain amount of ACC games per week but for this series to not be available is poor marketing. If you do subscribe to CBS Universal or for some reason have UVA All-Access you can watch all 3 games here, if not you can check-in here as I will do my best to update.
Given that this is a road series for Florida State the advantage, however slight it may be, has to go to Virginia. Regardless of the outcome both teams are still some of the best in the country and will be vying for a national seed at the end of the season.
Go Noles!