There are two weeks left in the regular season and the Noles have two of the biggest and most important series of the year left on the schedule.
The marquee series of the weekend features a pair of top 10 teams battling for the ACC Atlantic Division title and national seed position. No. 9 Florida State visits No. 5 North Carolina State, and both teams are red-hot. The Seminoles have won nine straight games, while the Wolfpack has won five straight and 20 of its last 21. The Seminoles (16-8) hold a half-game lead over the 'Pack (15-8) in the standings, but N.C. State has the advantage of being at home, where it is 24-6 this season. The Seminoles are just 9-7 on the road this year, with series losses at Virginia Tech and Virginia. The team that wins this series has the inside track on a second or third national seed out of the ACC.
Aaron Fitt of Baseball America sums it up pretty well here, it should be a fantastic series that is highlighted with 2 of the 3 games being televised including the finale Monday night on ESPNU.
OFFENSE
While the Noles offense isn't as prolific as it has been in years past it still manages to be one of the highest scoring teams in the nation and that is due to having the 4th highest on-base percentage trailing only New Mexico, North Carolina and Delaware State. Florida State's offense has been on fire during its 9 game winning streak scoring over 12 runs per game in that stretch. They're batting .364 and just over 30% of their hits have gone for extra bases while still maintaining plate quality discipline.
The NC State offense can be be really good at times but overall they are really not any better than league average, that being said they do have one of the best hitters in the country and can do things to hurt you. One of those things is their proficiency on the base paths. The Wolfpack leads the conference in attempts, twice as many as FSU, and still has a success rate of 80% which is outstanding. Florida State on the other hand has an embarrassingly bad success rate which has now dipped under 60% for the season.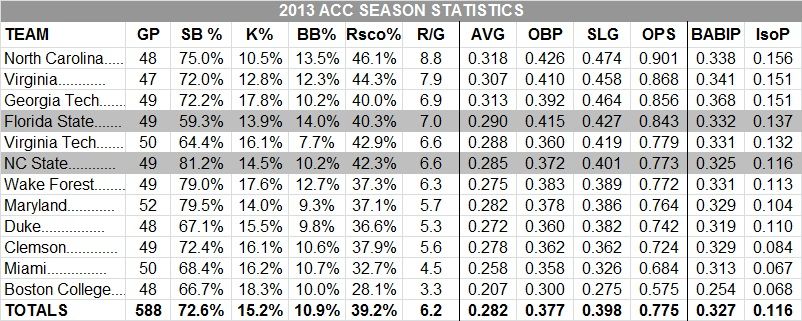 Jose Brizuela (.331/.441/.476) and DJ Stewart (.317/.420/.509) continue to be the toughest outs in this lineup while catcher Stephen McGee (.293/.447/.529) now has tied for the team lead with 7 homeruns. Hard to believe after the junior slugged an anemic .275 last season and came into this year with no career homeruns. Mr. Everything, Jameis Winston, has quietly started being a threat in this lineup. After a slow start it appears he has solidified himself into the starting lineup and with an .881 OPS proving he can be very dangerous in the bottom of the lineup.
The NC State lineup revolves around their phenomenal shortstop Trea Turner, during his absence due to an injury the Pack went 5-6 while with him in the lineup they are 32-5. The sophomore (.408/.495/.632) not only leads the team in homeruns he exercises the best plate discipline with 28 walks to 16 strikeouts. He is a terror when he is on base too, stealing 23 bases in 28 attempts. NCST does have other hitters that can be a pain to get out including 1B Terran Senay (.314/.383/.503) who has 6 homers on the season and catcher Brett Austin (.290/.372/.415) who leads the team in doubles. Those three make the top of this lineup very dangerous however Senay and Austin have combined to strikeout 23 more times than they have walked.
PITCHING
Statistically these two teams are practically identical. The Wolfpack has had 20 different pitchers make an appearance this season including 9 of which have made a start as they try to find a consistent rotation. These two teams are also have a group of relievers who have been extremely successful on the season which means scoring runs this weekend could come at a premium.
PROBABLES

Nine strikeouts and only one walk over seven innings last week against UCF seems to be what we expect out of ace Luke Weaver every time out. Hard to believe but the right-hander has outpitched his counterpart and 2012 Pitcher of the Year but he just makes every hitter earn his spot on base. The sophomore has a low walk rate and what is equally impressive is that he has allowed only 6 extra base hits in 63 plus innings this season.
A rough start to what were lofty expectations for Carlos Rodon is a reason why his numbers are nowhere close to what we saw out of the superstar last season. But recently he has returned to freshman form and that is why NCST has moved him back into the Friday (Saturday) role in the rotation. In his last 3 appearances he has allowed only 6 earned runs over 22.2 innings with 4 walks and 29 strikeouts. The Noles have had trouble with left handed pitchers this year and in this first game they are facing one of the best in the country.

Sophomore Brandon Leibrandt is starting to look more and more like the pitcher he was last season and that couldn't come at a better time for FSU. In his last four starts he has gone 7 plus innings three times allowing only 3 earned runs with a strikeout to walk ratio (4.72) almost double his season average. Right hander Ethan Ogburn is making his first conference start since Virginia Tech on April 4th. He has had 3 starts since and has pitched extremely well including a 1 hit performance over 8 innings his last time out, but those 3 opponents haven't exactly been world beaters. Charlotte, Davidson and Presbyterian don't nearly have the lineups that Florida State does giving the Noles the advantage on Sunday.

Scott Sitz finished off a great weekend for FSU starters against UCF as he was the third one to go 7 plus innings. In his last 2 starts he has struck out 14, walked only 1 and allowed 1 run on 7 hits. I encourage everyone to watch the following piece on Sitz, covers his time here at Florida State but more importantly focuses on his mustache.
The Wolfpack have had multiple pitchers in the Sunday role this season and a few different ones as of late. So they made the smart move and went with a left-handed pitcher with a high K-rate. Stone did start on Tuesday against UNCW and went 4 innings on 75 pitches, prior to that his last start came against GT on April 21st where he managed to last only 2 innings, allowing 4 runs on 3 hits and 3 walks.
NOTES

This series has huge importance on how Florida State will fare in the postseason. I think Florida State is the better teams and has better pitching matchups, playing on the road this season has not been one of their strengths so a series win would do great things for their national seed potential and their confidence.
The weather may or may not cooperate as storms and rain are anticipated on Saturday but after that the rest of the weekend and Monday looks like great baseball weather.
See everyone back here at noon today.
Go Noles!