Its pretty simple, win two games either today, tomorrow or Saturday and Florida State wins the Atlantic Division for the 7th year in a row. Unfortunately Clemson seems to have the Noles' number in recent matchups as the Tigers have won 9 of the last 13 games. A division title would wrap up the #2 seed in the tournament while a series loss could drop the Noles to as low as a 5th seed dependent on how Virginia and NC State fare.
OFFENSE
Florida State pounded a pretty good NC State pitching staff last weekend and continues to rank as one of the best in the conference and the nation. Clemson however is a mediocre offense that scores less than a half runner lower than the league average. They don't get on base all that efficiently and when they are on base they don't hit for all that much power. The Seminoles once again have the advantage offensively.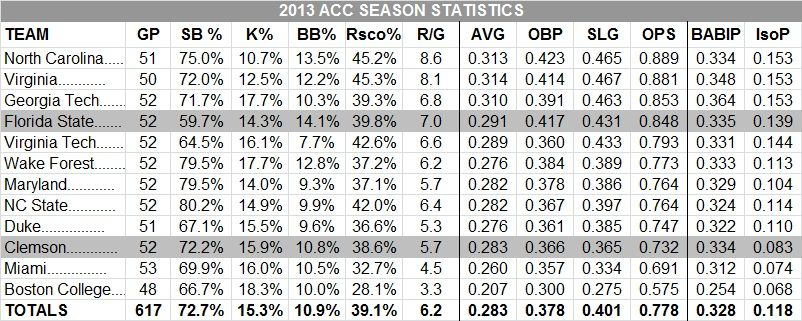 Freshman outfielder DJ Stewart (.328/.437/.520) is coming off a National Player of the Week award as well as Co-Player of the Week in the ACC. Sluggers Marcus Davis (.314/.396/.545) and Stephen McGee (.299/.455/.545) have been fun to watch all season as they battle for the team lead in homeruns.
Clemson doesn't have a single batter with a slugging percentage over .466 and only three hitters who even eclipse the .400 mark. Shane Kennedy, Garret Boulware and Steve Wilkerson are the most dangerous threats for FSU pitching but hopefully can be taken advantage of as each player has struckout at least 20% more than they have walked.
PITCHING
Florida State starting pitching has been absolutely phenomenal over the last month with a K:BB ratio over four and an ERA under three. The bullpen is what has been shaky but fortunately the starters have been averaging over 6 innings per start and the offense has done their part in handing over sizable leads. Clemson's pitching staff has been what has carried them over the past month or so as their ERA has lowered more than half a point since their North Carolina series. Part of that is due to the offenses that they have faced but they did manage to hold a potent GT offence to just 11 runs in 20 innings.
PROBABLES
So Luke Weaver has his normal rest Peter Miller will get the start against Clemson's normal Friday starter. Miller has been superb since moving to a starter on weekdays although he will need to pitch better than last Tuesday versus Stetson where he allowed 4 earned runs in 6 innings. The right hander for the Tigers has been a horse this season averaging 6 innings overall and right at 6 innings in conference play. The sophomore dominated Miami and GT recently, struggled at Maryland before another stellar performance against Georgia Southern last weekend, in that stretch he has struck out 29 while only allowing 8 walks.
Some bad breaks and an All-American pitcher prevented Luke Weaver's 9 strikeout, 1 walk performance last week from equating to a Florida State win. In his last 3 starts the sophomore righty has gone 7 innings with 9 K's in each and just 5 total walks. Hopefully last weeks performance against left-handed pitching wasn't a fluke because the Noles face last week's ACC Pitcher of the Week. Crownover earned two victories on the mound last week by tossing 13 scoreless innings over two starts. The freshman allowed just seven hits (six singles, one double), a .159 opponents' batting average, no runs, and four walks with 10 strikeouts.

Huge advantage for the Noles on Saturday afternoon as their best pitcher of late takes the mound against a freshman who is just making his 4th career start. The left-hander was nearly perfect last weekend as he went 8 innings of 3 hit ball (2 singles and a double) allowing 0 runs with 0 walks and 7 strikeouts. The left hander for Clemson has starts against Western Carolina, Maryland and Georgia Southern, in those combined starts he has issued 5 walks, allowed 15 hits and struck out only 5 over 16 innings pitched. Now he will more than likely fare better than NCST's last starter did but I wouldn't expect too much better.
Florida State has a much better lineup than Clemson and has favorable pitching matchups in 2 of the 3 games so one would expect a series win. Given the way the Noles have played lately it would be really disappointing if a goal they've worked for all season long escaped them in the last weekend of the season.
Tonight's game will be on ESPN3 only but the next two can be seen on ESPNU. We will have you covered here tonight starting at 6PM.
Go Noles!