Due to game cancellations earlier in the season Florida State and North Carolina decided to add an extra game which gets them both to a maximum of 56 on the season. It works out for both as FSU was on its way to North Carolina for the ACC tournament and UNC gets to play at home. At this point in the season North Carolina is a lock to be a national seed while catastrophic events would have to occur over the next 4 games for FSU to miss out on a national seed. The major reason behind this is that there are not many other deserving teams that could pass FSU for a national seed. If the Noles were to falter in the tournament like they did last season, 0-3, you can't penalize them for games that they are forced to play and still reward teams a national seed even though the don't compete in a conference tournament. This game should be great for college baseball fans everywhere and ESPN did the smart thing by picking it up and broadcasting it nationwide.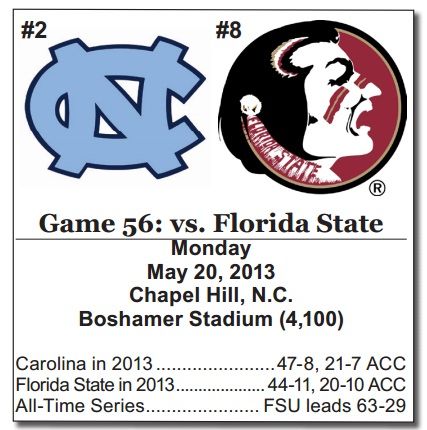 OFFENSE
Its not very often that the Seminoles go up against a team that is better than they are but the Tarheels have the best offense in the nation. They lead the country in scoring, almost 2 runs higher than conference average and are amazingly disciplined at the plate. North Carolina strikes out 6 percent less than league average while still having a tremendous slugging percentage, good for 10th in the country. The Seminoles held GT and UVA to under 6 runs per game and if that happens tonight even with Scott Sitz on the mound I would consider it a victory.

Florida State has two hitters who earned All ACC honors, freshman OF DJ Stewart (.328/.434/.513) and Junior catcher Stephen McGee (.299/.462/.534) who is also a Johnny Bench finalist. When McGee isn't asked to bunt he is the Noles best hitter. The Tarheels had three hitters earn All ACC honors, Colin Moran (.376/.504/.624), Cody Stubbs (.349/.472/.579) and Skye Bolt (.359/.472/.585). Junior 3B Colin Moran is one of the best players in college baseball and will be a 1st round pick next month in the amateur draft.
PITCHING
Part of being the best teams in the nation is having a great pitching staff on top of excellent hitting and going into this past weekend both UNC and FSU were extremely balanced. The North Carolina baseball team is poised to finish among the top five nationally in both team scoring and team ERA, a feat accomplished by only three other teams since 1989. Meanwhile Florida State went into last weekend 11th in scoring and 20th in ERA, one of the most balanced squads in the nation.
The Seminoles had to alter their rotation this past weekend to ensure that their starters had proper rest which meant Peter Miller started last Thursday. Only 1.1 innings pitched means that he should be well rested for tonight's game. It also doesn't give that much hope to FSU fans as he faces the best offense in the country. Florida State does not want to go into their bullpen early with the tournament right around the corner.
Freshman Chris Munnely is making his first start since May 8th where he faced James Madison in a weekday game. Since then he has made a few relief appearences, most recently this past Saturday against UVA where he allowed 2 runs on 2 hits in an inning pitched. The right hander has no starts in conference play this season but does have pretty impressive numbers, a H/9 under 5 is tremendous but a BB/9 ratio above 4 could get him in trouble against a very patient Noles lineup.
Any time two of the best teams in the nation face each other you would expect a good game and tonight should be no different. UNC is the better overall team but FSU has the pitching advantage . Regardless of the outcome both of these teams have an excellent shot of seeing each other again in Omaha.
ALL ACC TEAM
Earlier today the All ACC Teams were released and for the most part coaches did a good job. I am not going to argue the 1st or 2nd team offense because it is pretty easy to identify who put up the best numbers at their respective position. What I do take issue with is the laziness of choosing starting pitching based on ERA and wins. Without getting on a sabermetric soapbox I will let you know that those are the 2 stats that have the least correlation to a pitcher's performance.
UVA's reliever Kyle Crockett had one of the most dominant seasons I've ever seen out of a reliever. Carlos Rodon is a guy who went into the season with immense expectations that fell short when you are comparing his sophomore season to his freshman season. He still led the country in K/9 and was a horse throwing nearly 100 innings. I have no real issues with him earning this award. Kent Emmanuel and Buck Farmer combined for nearly 200 innings, both had great seasons, and are some of the best ACC pitchers the league has seen in the last decade. However I believe their name recognition helped and past accolades helped them but they are still deserving. Bryan Radziewski was the only Hurricane to make the two teams and that may or may not have had some influence when voting took place. Despite not throwing as many innings as the previous pitchers mentioned I believe his numbers are good enough to warrant a 1st team award.
Florida State had a starting pitcher on the 1st and 2nd team and there is no reason to complain about that but I really think the coaches got lazy here and chose the wrong guy. Scott Sitz's transformation into a great starter has been wonderful and I know he get's a lot of attention with his mustache but he is not the best pitcher on this team. This is what I think happens when voters look at the stat sheets.

Scott Sitz actually gave up more runs that Weaver did this season, like 12 more, now this wasn't entirely his fault because at some point in the season opposing teams had score like 21 runs but only 3 were earned. Now I don't expect voters to have spread sheets upon spreadsheets but at this point they should be able to see that these two pitchers threw the same amount of innings which means comparing every other stat they have should be easy.

You know what the difference in ERA is among these two over the course of ~77 innings? Four, Sitz allowed 4 less runs than Weaver but when you look at every other category he was better, significantly better is some instances. I was reviewing some numbers this past weekend and Weaver ranks 20th overall in K:BB ratio but more impressively he ranks 4th among pitchers who have a K/9 greater than 9.00. Two of those pitchers are from non-power conferences, the other is Aaron Nola. Now I know with the way things go in the ACC we should just be happy that both of these pitchers made the team but Luke Weaver is quietly having one of the best seasons in college baseball. Rant over, I really shouldn't expect college coaches, especially head coaches with as much experience as there is in the ACC to look too in depth into the numbers because they basically vote off what they can remember in past games.
ACC TOURNAMENT
The Noles had the tournament locked up a couple weeks back while Miami was rejoicing Thursday night after a win secured their spot. I'll repeat, Miami was not rejoicing about making a national seed, not rejoicing about securing a host site but by merely making the ACC tournament. Some fans claim that Florida State is in the tougher bracket and that may or may not be true but when your conference tournament boasts 8 of the top 20 RPI teams it really doesn't matter. Below is a full schedule of the games.
Florida State plays on Wednesday, Thursday and Saturday. All games will be on ESPN3 and RSN, here is an affiliate list for your region. Expect a full preview later on this week. Should be a great one tonight starting at 6PM.
Go Noles!