Florida State beat Wake Forest 43-3, and it wasn't great in doing so, but it did cover. 18 content pieces up on the front page since the clock struck 00:00, and all free, always. We're not making you wait until Monday. Check those out and share the ones you like on Facebook.
Offense > Defense, still
Last week in the Mailbag, I wrote:
By the way, do not fall into the trap of thinking the defense has fixed its issues if it shuts out Wake Forest this weekend. Wake has one of the worst offenses FSU will have ever played from an ACC opponent. 3.12 yards/play against D1 teams this year. Next worst from a Power 5 team? 4.09, from Purdue, nearly a full yard better.
People love to overreact to things. FSU's offense is still a lot better than its defense. But Florida State's defense did look a bit more disciplined and did tackle better for the most part, which is somewhat encouraging.
Still ...
What do three of these defenses have in common?
They've all played Wake Forest!
In its last three games against FSU, Wake has gained 418 yds on 185 plays, converted 7/49 on 3rd, committed 10 TOs and lost 154-6.

— Paul Myerberg (@PaulMyerberg) October 4, 2014
Rhythm
Does it feel like this team just hasn't been able get into top gear due to various suspensions and injuries? It'll be interesting to see what it is once some of the guys get back if it stops losing more players to injuries.
In the meantime, freshmen seem to be stepping up quite well. I can't believe how well Ermon Lane is blocking, too. FSU  is likely going to have the best receiver tandem in the ACC in 2015-16 if things keep developing as they are.
Center
I got a lot of questions about what FSU will do now that center Austin Barron is out with a fractured wrist/arm, and I honestly do not know. Tomahawk Nation's Dustin Tackett saw left tackle Cam Erving, who does work at center in practice, fire some really wild and high snaps in warmups, so that calls into question his viability at center since FSU does run a lot of shotgun.
From a pure blocking perspective, replacement Ryan Hoefeld wasn't bad. But can he handle all the calls? It looked like Cam Erving was calling out a lot of stuff from his left tackle spot Saturday. Hoefeld also had more than a handful of bad snaps that hurt the timing of some of the offensive plays.
Banked wins
Florida State has two wins over teams currently ranked in the Coaches Poll, which is more than any other squad. It also has four wins over Power 5 teams, which is as many or more than any other school. And now it sits back and watches everything burn.
If FSU goes undefeated in the regular season, it will likely have wins over a 10-2 Notre Dame team, a 10-2 Clemson team, an 8-4 Louisville team, an 8-4 Oklahoma State team, and Miami and Florida, both of which should make bowls but probably not much more.
Hypothetical
@TomahawkNation who do you think from the top 10 that lost this weekend is most and least likely to make the playoff

— Perry Kostidakis (@perrykos) October 5, 2014
Alabama. The Tide still gets Auburn, Mississippi State and Texas A&M at home. It trips to LSU, which is incredibly down, and Tennessee and Arkansas, which are just not going to get it done barring some miracle collapse.
Oklahoma would be my second choice, if it comes back to beat ranked Baylor, Oklahoma State and Kansas State teams to win the Big XII.
SEC
Brand names matter. The SEC is a brand, but within it, there are tiers. And that's why Alabama and Texas A&M going down over the weekend was a good result for Florida State. If Alabama or Auburn or Texas A&M (not much prestige, but a media darling nonetheless) has only one loss, and it isn't the conference champion, it probably goes to the playoff over a hypothetical one-loss FSU.
But Ole Miss or Mississippi State? Not necessarily, even with the flag waving going on in the SEC West. And that's because of their non-conference scheduling (a combined ZERO power conference teams.)
Remember when Barry Alvarez said he'd look at the "intent" of teams' OOC schedules? Not good if you're Miss. State http://t.co/Szu6BIkkxw

— Stewart Mandel (@slmandel) October 5, 2014
Now the SEC is down to three undefeated teams. And one of those teams, Ole Miss, is an underdog this weekend at Texas A&M. Another two, Auburn and Mississippi State, play each other (Auburn is a slight favorite).
Based on the Las Vegas odds, it's more likely that the SEC will have only one undefeated team after this weekend than two. If Auburn wins at Mississippi State, it probably still has less than 20 percent chance of finishing undefeated, even by the most optimistic of projections.
Also, have you noticed how much the rep of some teams (A&M, Auburn, Mississippi State) are being propped up after destroying preseason top-10 type teams that turned out to be anything but?
LSU and South Carolina are a mess. The SEC is very lucky that they were ranked so high to start the year. Neither are top-25 quality right now.
Big XII
Why on earth is the Big XII perceived as a better conference than the ACC with Texas being this down? What good wins does this league have? Here is me attempting to rank them:
1) West Virginia over Maryland 2) Oklahoma over Tennessee. 3) TCU over Minnesota.
The Big XII has some tough close losses to big teams, but the media has never given conferences credit for close losses against good competition, and the committee probably won't either. Not on the conference level (an individual team level is a different conversation).
Oklahoma is like an Alabama, Auburn, or Texas A&M. TCU is more like an Ole Miss or Mississippi State. Reputation and brand name hold a lot of value. And for that reason, TCU beating Oklahoma was a good thing for the Seminoles' chances of getting in as a one-loss team.
Baylor, like the Mississippi Schools, has a terrible non-conference schedule. Zero Power-5 teams and the likely worst team in football (SMU). If Baylor goes undefeated, it's in, but a 1-loss TCU or a 1-loss Baylor are not getting in over a hypothetical 1-loss Florida State.
And, whaddaya know, Baylor plays TCU this weekend in Waco and is favored by 10.5 points.
Pac-12
It was a bad, bad weekend for the guys out West. Very bad.
The Pac-12's two playoff contenders, Oregon and UCLA, lost at home as 23 and 13-point favorites. Stanford, who the Pac-12 tries to champion as a great team even after it lost at home to a USC team that allowed 400 rushing yards to Boston College, lost to Notre Dame and put up only 205 yards of offense!
It's often accepted that the Pac-12 is the No. 2 conference in the country, but that is not so clear to me this year.
Pac-12 brass almost certainly did not envision Oregon, UCLA, USC and Stanford to have six combined losses by October 5.
This weekend, Oregon travels to UCLA and the loser will definitively be out of the playoff race. FSU should be rooting for UCLA here, because Oregon is the much bigger brand name, and its remaining schedule is likely tougher than Oregon's.
Polling
I want to start this portion of the column off by saying that arguing about college football rankings like it's a life or death thing in the first week of October is silly. It's fun to discuss and disagree, but realistically, we don't have a great amount of data right now to judge these teams by, and as such, our opinions are colored by our preseason expectations.
Ranking the top 25 isn't easy. Not at all. And especially not after half of the top 20 lost this week. But the Coaches poll simply gets it wrong. And these issues are not new, they're just more pronounced right now.
The main issues are this: instead of moving disappointing teams down and acknowledging they were wrong in the preseason, voters give excess credit to teams for beating them.
-I'm fine with rewarding teams for tough schedules. But at least let them play those schedules first. Pre-emptive rewarding for tough scheduling in polling is then followed up by excusing the losses due to the tough scheduling, which is a double bump. That's not cool.
-Arizona is undefeated, just beat Oregon in Oregon, and Oregon is 11th while Arizona is 13th.
-Baylor has yet to play a team from a major conference that is guaranteed to even make a bowl and played nobody in the non-conference, but they're ranked 3rd.
-Undefeated TCU just beat Oklahoma, and yet the Sooners are 9th and TCU is 12th. As I wrote above, big-name schools can make the playoff with a loss, but a school like TCU or Baylor simply cannot.
-Georgia is ahead of Texas A&M, who crushed the team (South Carolina) that beat the Bulldogs.
-The circular logic in the SEC right now based on teams dismantling LSU and South Carolina (two preseason top-15 teams) is really propping up the conference. LSU is 0-2 in SEC play and has been blown out in both games. They barely beat a Wisconsin team that had its Heisman contender (Melvin Gordon) injured in the second half. LSU is a team with a freshman QB, freshman RB, freshmen receivers, and a suspect defense. It has done nothing to be ranked highly, and yet it's only two spots from being ranked again. South Carolina has already been blown out at home, lost at Kentucky, and lost at home to Missouri (who lost at home to Indiana!). Rather than admitting they were wrong in the preseason about LSU and USCe, pollsters simply excessively reward teams for beating them.
Coastal
Georgia Tech is now 5-0 with wins over Virginia Tech and Miami. There's a decent chance they are 9-3 and in the ACC title game as an opponent for Florida State, although UNC is the only team that is basically eliminated from the race with how bad they are currently playing.
GameDay
The same Florida State sources that were notified to expect ESPN's College GameDay against Clemson have been notified to expect it again against Notre Dame on October 18.
Florida
Update: Reports say that Harris has been suspended indefinitely for a legal matter.
Original:
UF picked up a win at Tennessee over the weekend. In the preseason, I thought this was an 8-4 or 7-5 team, but after Game 1 was cancelled, those expectations were reduced by a win to 7-4/6-5.
And really, didn't we expect UF to lose to Alabama and beat Kentucky and Tennessee? It seems that Florida is right on track as far as wins and losses go. Of course, gaining only 3.01 yards/play against the Vols, when Utah State and Arkansas State put up 4.14 and 4.24, respectively, isn't good at all.
Freshman QB Treon Harris looks like he'll now be the starter as Jeff Driskel still cannot do it. And I am going to brag on my preseason evaluation of Driskel just a bit:
Quarterback: 

Jeff Driskel

has a big arm, and very underrated wheels. This new spread offense does seem likely to use him better than other offenses have. However, I don't know if Driskel will be able to read coverages, throw with anticipation and deliver footballs in stride that allow the receiver to run after the catch. I've never seen him do those things. Using his legs more could help to simplify some coverages. But running Driskel a lot also puts him at risk of injury. Given the hotseat Muschamp is on, I anticipate UF rolling the dice and running Driskel a lot. This is no time to play it safe. Driskel running often and staying healthy would be a big help to the offense.
Physical tools sometimes never translate into feel for the game. Jeff Driskel has competed less than half of his passes against Power 5 teams, has thrown for less than 5 yards/pass attempt, and has more picks than touchdowns. Yuck.
Florida is a coin flip against LSU this weekend (LSU is not very good, in case you didn't know), hosts South Carolina and Missouri, has a very easy road trip to Vanderbilt, and gets Georgia at a neutral site.
Looks like the Gators are right on track to lose four or five games, with some shot at only three. And that's right what we thought of them in the preseason. Does Will Muschamp need to avoid the fifth loss to keep his job? Is a young QB enough to sell?
Miami
LOL
The one thing Miami did well under Al Golden was beat Georgia Tech. And it couldn't even do that Saturday, running only 44 plays, as it couldn't stop the Tech option.
Al Golden has still never defeated a Power 5 team at Miami that has lost fewer than four games by season's end. The streak continues.
How bad will the attendance be this weekend? Worse than this: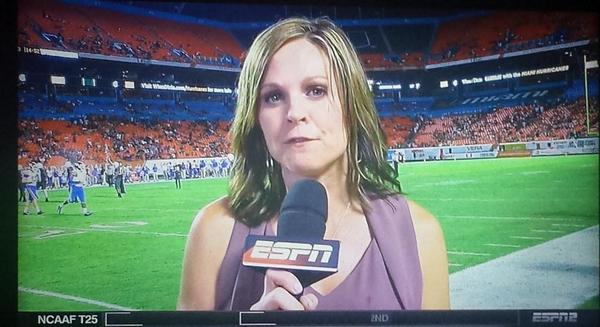 Tickets are going for as cheap as 88 cents! $0.88!!!
Miami Hurricanes football tickets: 88 cents pic.twitter.com/GVIrn9FHrn

— Billy Corben (@BillyCorben) October 5, 2014
And good seats are also really cheap.
There are ninth-row, lower-bowl seats on a secondary ticket broker's site for Cincinnati-Miami, for $13.

— Tim Reynolds (@ByTimReynolds) October 5, 2014
Miami's defense is improved (somewhat), but its offense under freshman QB Brad Kaaya is worse than the sum of its parts, which typically falls on coaching.
Canes are 15 for 63 on third downs this year. One part of the issue: Duke Johnson has gotten the ball on eight of those 63 plays.

— Tim Reynolds (@ByTimReynolds) October 5, 2014
Problems aren't all defense, either. Canes had 15 turnovers in entire 2012 season; already at 15 midway through this regular season.

— Tim Reynolds (@ByTimReynolds) October 5, 2014
Problems aren't all defense, Part II: Canes giving up 24 yards per KOR, on pace for worst showing there in at least a quarter-century.

— Tim Reynolds (@ByTimReynolds) October 5, 2014
Miami sits at 3-3 and is still likely to make a bowl game, but this will hurt its recruiting. I wrote this over summer and it is just not happening.
Miami has gone 7-5 and 9-4 over the last two years, and has weathered the storm of NCAA sanction threats. That sounds good, but there is an argument that Miami should have done better, given its recruiting.

Al Golden's three complete classes have produced 34 percent blue chips, which is very impressive when compared against the rest of the ACC, which has produced just 15 percent over that same period. But Golden is just 22-15 at Miami, and 13-11 in conference. Will the Canes' on-field play finally catch up to recruiting?

Miami has outrecruited every team on its schedule except Florida State, and most by healthy margins. Given that and the hype surrounding the program, Miami will be expected by most to get to 10 wins for the first time under Golden, and to play in the ACC title game by winning a weak Coastal.

If the Hurricanes do not, it will likely mean they've lost three or more games against the likes of Florida State, Louisville, Nebraska, Virginia Tech, Georgia Tech, UNC, and Duke. And if that happens, Miami might start to see more elite talent flee its fertile backyard.
All Canes Conference
That's now 11 straight years--every year in the #ACC--that Miami has had at least 3 losses overall, and at least 2 #ACC losses.

— Tom Block (@_TomBlock) October 5, 2014
Ouch
this would be Miami's 39th loss since joining the ACC in 2004. FSU has 34 since joining in 1992 #AllCanesConference

— Chuck Blunt (@cblunt58) October 5, 2014
Ouch x2
Cuse
UPDATE: Syracuse's QB is out for the FSU game with a fractured fibula.
Florida State is at Syracuse Saturday in an obvious trap game spot with Notre Dame on deck. This line was opened at 20, but likely because of an important injury, is now up to 23. What injury? ...
Syracuse scored six points and had two safeties against Louisville. Now its QB is out and they demoted the OC. Just in TIME to face FSU!

— Mark Ennis (@MarkEnnis) October 6, 2014
Have heard similar things RT @BrentAxeMedia: Hearing that Terrel Hunt's injury is serious. Could miss several weeks

— CuseNation.com (@CuseNationScout) October 6, 2014
Cuse has had two very good offensive performances this year (7.46 yards/play v. Maryland, 6.31 yards/play against Notre Dame), but they scored just 20 and 15 points, respectively, due to turnovers.
It plays a very aggressive, blitzing defensive style that leads to long passes, but low competition percentages (usually).
More on Syracuse this week.
Notre Dame
Notre Dame's win over Stanford really helps FSU's strength of schedule. The Irish could easily end up 10-2 if FSU beats them in two weeks, which would be a nice feather in the cap.
Pro Football Focus is a great site that you should follow. Here's an excerpt from their Notre Dame v. Stanford article -- go read it.
Kevin Hogan, Stanford QB QB: -0.9

Breakdown: Hogan looked excellent on the Stanford touchdown drive that put them ahead in the fourth quarter, but for much of the game his deep accuracy was lacking, with plenty of opportunities missed. He struggled when put under pressure too, going 1-for-8 with a grade of -2.9 on plays when Notre Dame were able to pressure him.

Signature Play: His deep accuracy struggles were easy to see on 3rd-and-12 with to go in the 1st Quarter, with a lofted effort picked off by Cole Luke deep in Notre Dame territory.

Matt Hegarty, Notre Dame center C: -6.9

Breakdown: While they came away with the win, one concern from Saturday afternoon for Notre Dame will have been the play of center Matt Hegarty. He struggled all afternoon, particularly against Parry, both as a run blocker and in pass protection. Too often he was beaten straight off the snap, something to keep in mind with a Notre Dame offensive line that has already made changes on the interior this year.

Signature Stat: Two hits and three hurries from 48 pass blocking snaps saw him struggle to a 92.2 Pass Blocking Efficiency Rating.
Know who does not struggle with deep accuracy? Jameis Winston. On the flip side, Notre Dame's defensive line is pretty darn good, getting the better of a fantastic Stanford OL and holding them to just 205 total yards.
No word on Notre Dame getting its star players back (academic suspensions) in time for the FSU game.
E.J. Manuel & Recruiting
Adam Schefter is a very good reporter. I believe his report about Jimbo Fisher's alleged comments to NFL teams regarding EJ Manuel. I also agree with the content of the alleged statements (Manuel shouldn't be drafted before third round), as Alan Mundy and I wrote in April of 2013 before the draft that he should not be picked in the top 50 picks.
This is not an ESPN conspiracy against Florida State. Schefter is an NFL reporter and his job is to report on NFL matters, and Manuel's recent benching was a hot topic this week.
I also believe that Fisher and Florida State saw the potential negative recruiting impact of the statements and knew it had to quickly release a denial.
This is a tough spot for Fisher. If he lies to NFL teams about his players, he gets blasted. However, in this case when he was honest, likely private conversations with NFL people get leaked to the media.