The Seminoles offense and pitching were previewed earlier in the week if you missed out. Before we get to the series preview lets cover some preseason awards, the schedule and predictions.
Preseason Accolades:
DJ Stewart and Luke Weaver earned first and third team honors, respectively, as the Seminole duo were two of 12 student-athletes representing the ACC on the preseason list.
Stewart adds to the accolades from last season where he was name Freshman All-American by Baseball America, Collegiate Baseball, NCBWA and Perfect Game. I felt Weaver really was slighted here, I can understand him not making 1st team but dropping all the way to 3rd shows that the baseball writers really don't understand just how good he is.
Florida State's DJ Stewart and Luke Weaver were honored for the second time this preseason named to Louisville Slugger's Preseason All-American teams as selected by Collegiate Baseball Newspaper.
Florida State landed three players on Baseball America's Preseason All-America team as announced on Monday. Luke Weaver was named to the first team, while both DJ Stewart and Jameis Winston (utility player) garnered third team honors.
Jameis joins the party as a utility player. The hype around Jameis playing baseball is large, he had is own spot on Sportscenter when this news broke.
Television Coverage:
Florida State Baseball will get a great opportunity to showcase this year's talent in front of a national audience as over 30 games will be televised nationally and/or regionally by ESPNU, ESPN3, CSS and RSN (Regional Sports Network) as announced by the Atlantic Coast Conference on Thursday, February 6.
There will be 10 additional home games (Niagara, Miami, Maryland, FGCU, Jacksonville and Stetson) broadcast over the Seminoles All-Access Channel. If you subscribe to the universal package you will be able to watch several road series (UCF, BC, WF and UNC) as well. Road games against USF, Jacksonville and Stetson might be available but will probably cost a fee.
While the Noles only have 8 games that are actually "televised" it is possible to catch every game this season.
Media Expectations:
Noles Favored to Win ACC Atlantic Division
2014 ACC BASEBALL COACHES PRESEASON POLL
OVERALL CHAMPION: Virginia (10)
Also receiving votes: Florida State (4)

COASTAL DIVISION
Team (#), Points
1. Virginia (12), 96
2. North Carolina (2), 84
3. Miami, 66
4. Georgia Tech, 57
5. Duke, 36
6. Virginia Tech, 35
7. Pitt, 18

ATLANTIC DIVISION
Team (#), Points
1. Florida State (9), 93
2. NC State (5), 88
3. Clemson, 70
4. Maryland, 48
5. Notre Dame, 40
6. Wake Forest, 36
7. Boston College, 17
No arguments with what the coaches voted on here.
National Rankings
NCBWA - 5
USA Today - 5
ESPN Power Rankings - 8, Returning Starters: 6; Weekend Starters: 2; Midweek Starters: 1; Key Relievers: 5
Of note: The Seminoles have aces Brandon Leibrandt and Luke Weaver back, and they also return 2012 Freshman All-American Mike Compton from injury. OF D.J. Stewart is back to lead the offense
Perfect Game - 4, Kendall Rogers picked Florida State as a National Seed (#5)
Baseball America - 6, also projected Florida State as a National Seed (#7) while writer John Manuel predicted the Seminoles to win the College World Series.
@AriyaMassoudi weaver, Soph. Class, x-factor Winston brings in bullpen, return of Gonzalez at SS ... Many factors

— John Manuel (@johnmanuelba) February 13, 2014
Staff Predictions:
Dustin Tackett - Barring any unfortunate injuries, this Florida State team is poised to make a run at the College World Series, and even the title. I know, I know.. But bear with me for a minute. Weaver, Leibrandt and Compton make up one of the best weekend rotations in the country, so that's enough to get you to the post season right there. DJ and Gonzo are going to drive in a lot of runs, too. And in today's game, once you've made it to Omaha, it's all about pitching. The Noles have that with an extensive bullpen. I think with the coaching staff, pitching staff, the run support and the improved speed on the base paths, this team can do what previous teams haven't been able to do. Go ahead and tally it up on the big boards, boys; this team is at least a runner-up in my mind. But I'm picking them to get it done. Bring the Natty to Tally baby!
Ariya Massoudi - In 2013 the Noles' won 47 games and reached the Super Regionals, eventually falling to Indiana. Florida State loses some key bats in Marcus Davis and Stephen McGee as well as a very solid pitcher in Scott Sitz. So then why do I feel like this team will go even further than last season's? Quite simply because of the pitching staff. Luke Weaver, Brandon Leibrandt, and Mike Compton combine to give FSU the best pitching rotation in the ACC, maybe even the country (CS Fullerton gets my vote right now). Throw in the returns of Gage Smith, Billy Strode, and Brandon Johnson in the bullpen and you have quality arms that are proven with experience. There's also this guy, you may have heard of him? Jameis Winston comes back after a solid season on the mound in 2013. I really believe while he never has lacked confidence, his experience in winning a title with the football team will bring a stronger presence and leadership to the team. It's an aura that hasn't been felt around this program in quite some time. I feel he is poised for a breakout year on the mound as the closer for Florida State in 2014. At the plate FSU returns some very good bats in DJ Stewart and Jose Brizuela. Ben Deluzio brings speed that has been missing from this program the last few years and Justin Gonzalez brings back leadership and a nice power bat. Offense has never been an issue at FSU and I expect them to once again be tops in the country in that category. Overall, I feel confident in saying FSU will win 50 games, win the ACC, and reach the College World Series in 2014. This pitching staff will lead the way and the abundance of leadership will help FSU keep a level mindset throughout the entire season. I don't like predicting a team to win a National Title in the pre-season because it's nearly impossible to know what will happen in Omaha as the favorites rarely win. But, with that being said, if there was ever a year to for Mike Martin to get the monkey of his back, this will be the year to do it.
Last season I broke down the schedule here in a series by series fashion, my prediction was that the Noles would finish the regular season 41-15 overall and 21-9 in conference play. The Noles exceeded expectations and finished the regular season with a national seed at 44-12 with a 20-10 ACC record, very solid for a team that started outside the top 10 in preseason polls.
Non-Conference Home Games
Niagara is the worst team that Florida State has played in quite some time. Georgia has a new coach and a nice recruiting class but they are still in rebuilding mode and in the bottom half of the SEC. Miami wasted one of the best pitching staffs in the country last season with an atrocious offense, I don't see them improving all that much under Morris. Minnesota lost their entire outfield and two weekend starters.
Florida State should sweep Niagara and Minnesota and win both series against Miami and Georgia, a 10-2 record here is totally feasible.
Prime In-State Games
Florida (3 games) is coming off a terrible season but are still loaded with talent and just brought in more with the number one recruiting class. UCF (2 games) was an average team in a bad conference, 24 new faces on this team will not make them any better this season in their new one. USF (2 games) was outscored by FSU 27-5 last season in a 3 game weekend series, the Noles play at their place this year but the results should be the same.
Going conservative here and say the Noles go 5-2 against these three teams.
In-State Games
Jacksonville (2 games) has the ability to play the Noles close but the results usually end up the Florida State's favor. FGCU (1 game) is very talented and will compete in the Atlantic Sun conference but will probably not be able to hang with on a Tuesday night in April. Stetson (3 games) has won 2 games vs the Noles in the last four years by a combined score of 12-9, in the same four years they have lost 10 times by a score of 114-31.
Florida State is more likely to go 6-0 than 4-2 so let's again play it conservative and go with 5-1.
Home ACC Games
Maryland has pulled off a win in each of the last 3 series and will be much better when they join the Big 10 but I don't think they will leave Tallahassee for the last time with a victory. NCST has possibly the best pitcher in the history of college baseball and the Noles have yet to defeat him. Notre Dame plays Florida State for the first time since 2002, payback is a BITCH. Virginia swept FSU last season and is the #1 team in the country. Duke stinks at baseball.
Florida State is 36-9 at home over the past three seasons and against these teams going 11-4 would be an accomplishment.
Away ACC Games
Clemson is always a great team and is 5-1 in the last two series it has hosted the Noles and 8-4 overall the last 4 years. Boston College won 4 conference games last season and will probably win around 4 again this season, none of those 4 will come against the Noles. Georgia Tech lost Nole killer Buck Farmer and always underachieves but still always competes against Florida State. Wake Forest won 9 games in the ACC last year but every win came against the bottom half of the conference. North Carolina and Florida State have split their last 6 games with both away teams winning the away series.
In the last 3 seasons Florida State has a losing conference record on the road at 23-24 but I feel this team has the talent to go 10-5.
If the Seminoles fall in line with the records that were predicted they will finish with a 21-9 conference record and an overall record at 41-14. This Florida State team has the potential to make history. I really feel this is the most talented team since the 2002 squad that won 60 games.
Bring on the Purple Wave:
Niagara University is located in Lewiston, New York which is very close to Niagara Falls.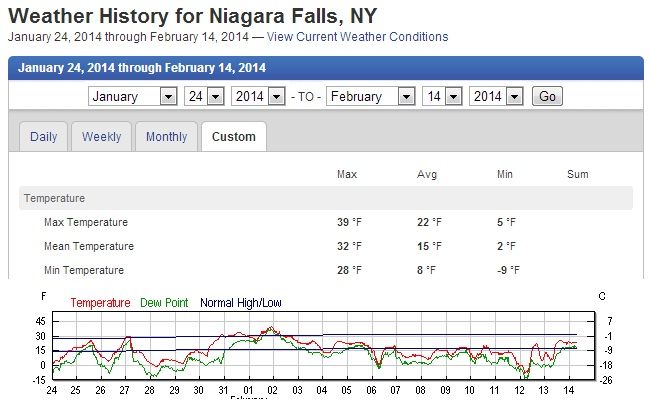 I have lived in Florida my entire life but I am pretty sure that you can't get much accomplished in weather like Niagara has seen since practice started January 24th. As mentioned before this Niagara team was atrocious last season. The one player that I suppose is worth mentioning is RHP Jordan Schwartz, Baseball America named him the top draft prospect in the Metro Atlantic Conference going into 2013. He responded by posting 8.19 ERA in 9 starts and 17 appearances, walking 33 and striking out only 35. That performance did not deter Baseball America from again naming him the top prospect in the conference and it also prompted Kendall Rogers of Perfect Game to write an article($) about the pitcher/hitter for Niagara.
I really can't see Florida State having any trouble with Niagara, every game should be a blowout. Hope you enjoyed the previews, I had a great time writing them. We will use this article as the game thread for the game airing tonight on ESPN3. Many thanks to @dtackett_ and @AriyaMassoudi for their help and insight with these previews, make sure to follow them as they will be the eyes and ears in Dick Howser all season.
See everyone tonight at 6 PM.
Go Noles!