North Carolina State (14-2, 3-0) are winners of six straight including a sweep of Notre Dame last weekend and a midweek victory against Stetson in Deland. Like the Noles the Pack are playing baseball at an extremely high level and are warranting their top ten ranking in each poll. Florida State (14-2, 2-1) bounced back from a loss on Saturday versus a much improved Maryland team and won Sunday to take the series. The Noles also had a pair of road wins on the week against UCF where they battled back from three run deficits twice on Tuesday and destroyed the Knights Wednesday afternoon defeating them 18-1.
The two best pitching matchups of the 2014 season will take place on the same day: call it Fantastic Friday.

In Tallahassee, first-team preseason All-Americans Carlos Rodon and Luke Weaver face off, as No. 5 North Carolina State visits No. 2 Florida State. In Nashville, Aaron Nola (the lone 2013 postseason first-team All-American of the four) takes on first-team preseason All-American Tyler Beede, as No. 8 LSU takes on No. 7 Vanderbilt.

All four of them have performed well early on, but the two SEC pitchers have gotten off to sterling starts, while the two ACC pitchers have not yet reached peak form.

Weekend Preview: March 14-16

- Aaron Fitt
This article is a great read that provides scouting reports, highly recommend.
As mentioned before this is a battle between premier teams and should be the key match up in college baseball but will probably take a backseat to the LSU and Vanderbilt match up taking place in Nashville. While those two teams are extremely talented and have a beautiful pitching matchup Friday night I believe the better series is in Tallahassee.
OFFENSE:
Other than Florida State there is not a better offense in the conference right now than NC State. They are just as disciplined as the Noles at the plate as them and Virginia are the only other teams to strike out as much as they walk. There are several professional prospects in the lineup as well as some newcomers who have contributed heavily to the 2nd highest scoring offense in the league.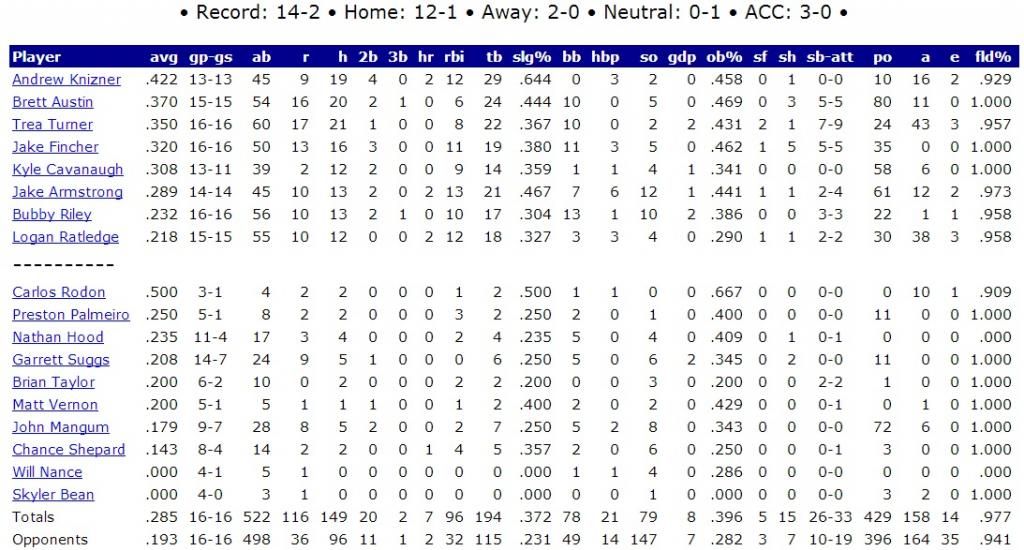 Freshman 3B Andrew Knizner has a been a tremendous surprise for the Pack as he is currently leading the ACC in batting average (.422), 8th in on-base percentage (.458) and 3rd in slugging percentage (.644). Unfortunately he has been sidelined for the past three games with a foot injury and as of now his status is unknown. Shortstop Trea Turner (.350/.431/.367) is a lock to be a first round draft pick in June and is certainly playing like one with 10 walks and only 2 strikeouts while stealing 7 of 9 bases. NC State also has a tremendous lead off hitter who catches and plays the outfield, Brett Austin (.370/.469/.444) is 5th in the conference for average and 6th in on-base percentage.
The Seminoles starting pitching was amazing last weekend combining for 23.1 IP allowing 12 hits and 5 earned runs while issuing only 1 walk and recording 28 strikeouts. Given the potency of this lineup those results should not be expected, getting a quality start from each of these pitchers would give the Noles a shot at winning each game.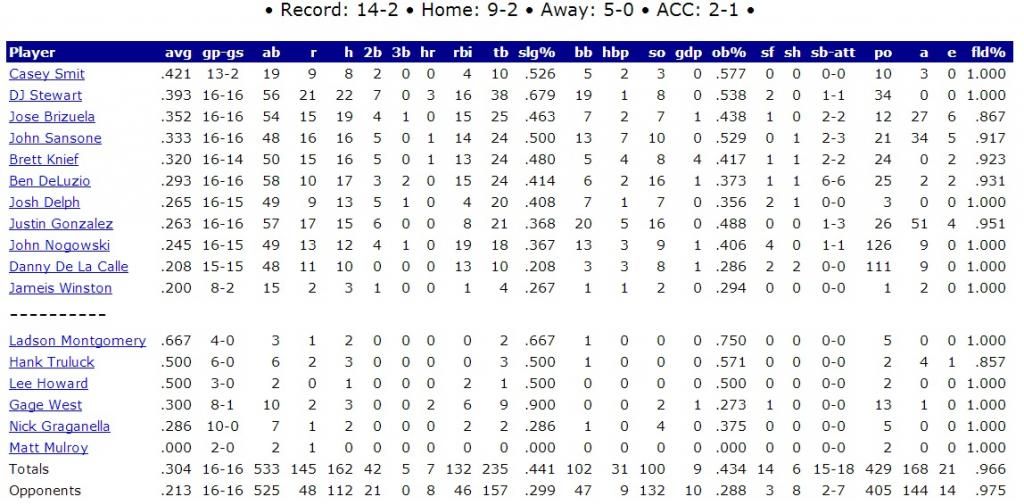 A month into the season the Seminoles are still scoring more than nine runs per game, there are 3 out of 295 schools that can say that. They do this because they are near the top of the country in walks and on-base percentage. Left fielder DJ Stewart leads the conference in on-base percentage and is 2nd in batting average while also leading the Noles in extra base hits (10) including three homeruns. The middle infield for the Noles is also atop the ACC in OBP as 2B John Sansone (.529) is second and SS Justin Gonzalez (.488) is fifth.
Florida State has handled almost every pitcher they have faced this season and were able to put runs up against a very good Miami pitching staff. The North Carolina State staff is better than that of the Canes and runs this week could be very difficult to come by.
PITCHING:
Much like Miami did before they came to Tallahassee the NC State team has yet to see an offense anywhere near the caliber that they will see in Florida State. The Wolfpack has yet to play a team with an RPI in the top 50 and is 1-2 vs teams with an RPI between 51-100. They have basically put up fantastic pitching stats against inferior competition, that's not to say that they are not capable of beating quality teams they just have yet to prove they can. The Seminoles on the other hand are 4-1 against top 50 competition and 2-1 vs teams with an RPI between 50-100.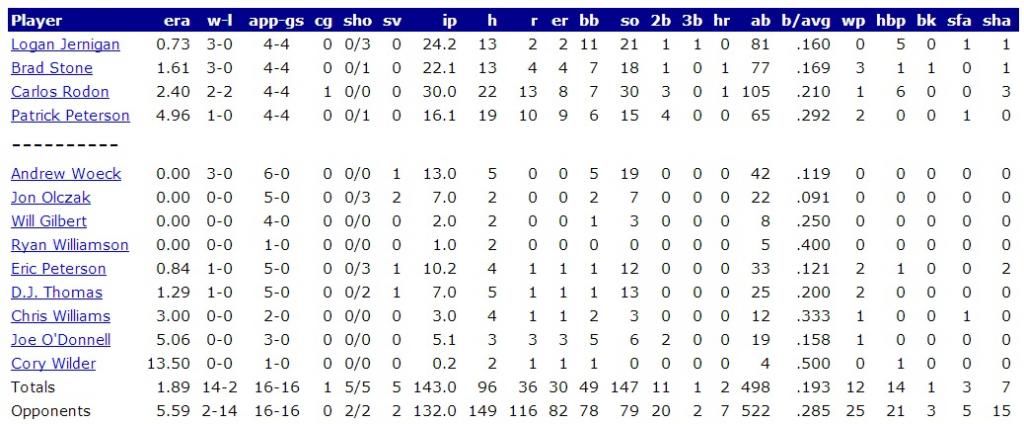 The NC State staff as a whole has better numbers as a staff than that of Florida State. They strike out nearly a whole batter more per nine and allow nearly a hit and a half less per nine than that of the Noles too. Of those hits allowed by the Wolfpack only 15% have gone for extra bases whereas the Noles pitching has allowed 26% of their total hits to be of the extra base variety.
Bullpen arms for NC State seem to be plentiful as head coach Elliott Avent has four pitchers with a save this season which lends me to believe that he goes with the best arm for the best situation and does not have a set closer. Those four pitchers have averaged more than an inning per appearance so far this season and can be extended as needed although the weekend starters are averaging more than 6.1 innings pitched per start. In those relief appearances Woeck, Olczak, Peterson and Thomas have surrendered 2 earned runs in 27.2 innings and have a K/9 at 16.9 while walking only 9 hitters.
Without doing the research it appears to me that head coach Mike Martin is using more relievers this early in the season than he has done in recent years. This has been great so far as he has been able to see how certain pitchers respond in certain situations. That being said I think if there is a high leverage situation this weekend he will go with who he trusts and those pitchers are only a select few. Gage Smith, Bryan Holtman and Jameis Winston have been nearly perfect in their outings this season, 22 relief appearances in all. The trio has 20:3 strikeout ratio in their 30.1 innings pitched and have allowed only 4 earned runs while allowing only 2 of the 17 inherited runners to score.
STARTING PITCHING:
FRIDAY: If it weren't for the Nola vs. Beede match up on Friday night the Luke Weaver and Carlos Rodon would have top billing. The left hander for NC State is more than likely the number one overall pick in the amateur draft this season and while he will probably not have another sensational season like he did as a freshman the junior is still one of the best in college. Rodon has faced the Noles twice before and the Pack came out victorious in both outings. Last season was a great pitching match up where Rodon threw 8 innings walking 4 with 8 strikeouts while Weaver threw 7 innings struck out 9 and issued only 1 walk. Of the 17 hits allowed by both pitchers 15 went for singles as NCST won 3-1. Luke Weaver has been pitching better and better as the season has progressed and the Noles saw the right hander's best outing of the season last week as he allowed only 4 singles, 1 walk and struckout 8 over 7 innings.
#NCST SP Carlos Rodon is 2-0 vs #FSU - 14.1 IP, 12H, 4ER, 13BB, 14K - that statline means he has been lucky as hell

— RaysnNoles (@RodMahoney) March 13, 2014
Carlos Rodon has retired only 40% of Seminoles batters that he has faced in his career and for only allowing 5 runs to score means that he has been extremely lucky against the Noles. Do I expect him to pitch well on Friday, the probability that he will is high but hopefully the luck will swing back into the Noles favor.
"I think Luke's slider has been very good the past couple of weeks. He'll throw it for a strike when he needs to in any count, and that keeps hitters from thinking he's always going to throw a fastball in fastball counts. That's helping his confidence across the board. He's not just throwing it 92-95, he's spotting it up when he needs to, and also throwing his breaking pitches for strikes. The slider has been about 80-82 and the changeup around 78-80. The changeup in particular has had some good action on it so far this season." - FSU Pitching Coach Mike Bell
Bell talked more about Weaver in Kendall Rogers' College Weekend Preview: Week 5.
SATURDAY - GAME 1: Logan Jernigan was a weekend starter in 2012 and was terrible, in 2013 he was a weekday started and pitched excellent against terrible midweek competition. In 2014 he has allowed only 2 earned runs in 24.2 innings and only 2 extra base hits. The level of competition he has faced though rivals that of 2012 and in those 24 plus innings this season he has issued 11 walks. Despite having a devastating splitter the Noles offense will make him work thus giving the advantage to lefty Brandon Leibrandt who is also coming off his best start of the season. His command has improved this season as he has walked only 4 batters in 25 innings while striking out 21 including the 8 strikeouts he had last week against Maryland.
SATURDAY - GAME 2: Obligatory "FSU's Mike Compton will be the best Sunday starting pitcher on the mound in every series this season" statement. If it weren't for a midweek perfect game pitched by Miami this past week the red-shirt sophomore would have been named ACC Pitcher of the Week for the first complete game shutout thrown by a Seminoles pitcher since 2004. Compton owned Maryland as he allowed only 2 singles and struck out a career high 10 and walked none. The Wolfpack's Brad Stone was terrible last season, in 13 games started he pitched 6 innings three times, those came against Maryland, Virginia Tech and BC. Until the left handed sophomore throws a good game against a good team in his career I'll take the Noles in this match up.
COVERAGE:
All three games will be covered on ESPN3 and once again @dtackett_ , @AriyaMassoudi and (myself)@RodMahoney will all be live in Tallahassee with your coverage. Friday's game is at 6PM and because poor weather is expected on Sunday there will be a double header on Saturday.  The first game Saturday will begin at 1PM with game three starting 45 minutes afterwards.
There will also be a slight change in format this weekend, the play-by-play will still be in this article but look for a game recap following shortly after the conclusion of game one. After the end of each of the following games the recap article will be updated. Any other suggestions you may have as readers are also welcomed.
Since sweeping NC State in 2009 the Seminoles have won each season series since. On paper these two teams look very evenly matched but I think that the Noles have proven more through this young season and have an advantage over the Wolfpack. A series loss for the Noles would not be ideal but understandable although I believe Florida State takes two of three from the Pack.
See you all tonight at 6PM
Go Noles!