All  ACC games this week start a day earlier to allow for travel to the conference tournament which starts next Tuesday. The Seminoles are coming off of only their fourth midweek loss of the season, an uncharacteristic lack of pitching against a talented UCF team who is postseason bound. The Noles are still in good shape to earn a national seed however, I think four wins between this series and the conference tournament locks them in to one of the best eight teams in the country.
Only twelve times in the last 60 years has Duke finished .500 or better in conference play and 6 of those times came between the years 1954 through 1961. In his second year, head coach Chris Pollard has Duke playing great baseball. They had an outside shot of making the tournament for the first time since 1961 but a sweep against Miami last week pretty much killed those chances. Florida State has won 9 straight games against Duke and have only lost a series to them once, back in 1994. The Blue Devils should make it a competitive series and let's see how.
OFFENSE
Only eight other teams in the country have walked as many times as Duke this season, Florida State obviously being one of them. While the Blue Devils still walk a high amount in conference play you will notice that they really struggle to hit the ball which results in them scoring a run and a half less than their overall average. In their most recent series against Miami they were limited to one run in the first two games and scored three in the finale. They did manage to walk 9 times and only strikeout 14 but of the 20 hits they racked up against Canes' pitching only 2 went for extra bases.
The Seminoles are coming off an excellent offensive series against North Carolina in which they score 21 runs. They did strikeout twice as much as they walked but 7 of their 29 hits went for extra bases and also reached base 4 times via a hit batter.

Third baseman Jordan Betts (.322/.407/.515) is far and away the best offensive player for Duke but has never done much against Florida State in years past. Chris Marconcini (.252/.349/.446) is the beneficiary of some great on-base players in front of him as he currently has 44 RBI which leads the conference. Another player I really like is leadoff hitter Mark Lumpa (.286/.452/.381) who is 5th in the ACC in OBP and leads the nation in walks.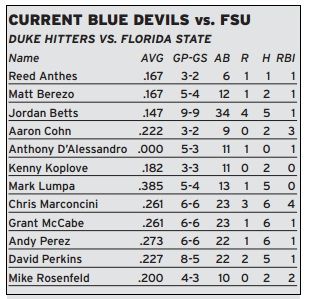 Every week we talk about DJ Stewart (.359/.474/.593) and how great he is, and every week he goes out there and continues to impress. Last weekend against UNC the left fielder went 5 for 10 with 4 doubles and 2 walks as he continues to lead the ACC in batting average, on-base percentage and slugging. First baseman John Nogowski (.317/.449/.459) is having a career season for the Noles as he is tied with teammate Casey Smit for 6th in the ACC in on-base percentage and tied for 3rd with 41 walks.
I really like the offensive approach that Duke has, it resembles Florida State's but they don't have the athletes that the Noles do to score enough. Their top three hitters are all extremely tough outs but after that there is not a lot of production.
PITCHING

Where Duke's new head coach has really made his impact is the pitching. To have a staff comparable to Florida State and NCST and better than teams like Clemson and Georgia Tech really says just how good a season the Blue Devils are having. The Seminoles continue to pitch well despite some serious injuries, most teams could not remain a top five team throughout the year while losing an All-American starter and his replacement.
The junior for Duke has gone back and forth from starter to reliever for Duke this season and today is his first start since UNC Greenboro on April 22nd. His last ACC start was against Pitt on March 22nd where he gave up 10 hits and 4 runs over 6 innings. After being removed from the game two weeks ago against Minnesota due to a liner off his leg Luke Weaver showed that he is just fine completely dominating North Carolina last weekend. The junior righty pitched seven scoreless innings, striking out five and walking none, of the five hits allowed none went for extra bases.

The senior for Duke has been the Friday ace for the majority of the season but has been bumped back in the rotation the last two weeks. The 6'-4" right hander has an extremely impressive strikeout ratio, last season against the Noles he struck out 8 batters over 7 innings, but also allowed 7 runs. In his last start against Miami he gave up 5 runs over 6.2 innings, striking out 7 and issuing 2 walks. Mike Compton has given the Noles three straight quality starts and has eaten up 15.2 innings in his last two starts. Just 4 earned runs, 9 strikeouts and 1 walk in that span has been vital given the Noles Sunday pitching situation.
No team has announced a starter for Saturday and who pitches is solely dependent on who is left after the first two games. The Seminoles pitching staff has issued 16 walks over their past two games after allowing only 18 in their previous 6 games. The control has to be better moving into the postseason especially if the Noles are without two proven pitchers in Leibrandt and Holtmann.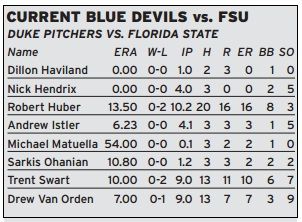 COVERAGE
All three games are on ESPN3 and we will have our guys in the box all weekend updating in each game thread.

Duke has been swept three times this season but did avoid a sweep against Virginia. They are good enough where they could win a game this weekend but I could easily see the Noles taking all three.
Go Noles!