The Seminoles played extremely well the first time they faced the Tar Heels less than two weeks ago. The Noles shutout North Carolina in game one, limited them to just two runs in game two but lost the final game by a 5-4 score. Florida State is in good position today because of the tight four hour game that the Heels played yesterday to advance. In that game North Carolina used five of their best arms including their best reliever (3.1 IP, 74 pitchers) and their ace Trent Thornton (2.0 IP, 28 pitches). Three other of their top arms threw the other 3.2 innings and could be available today if needed since North Carolina has tomorrow off. I would expect them to be rested though with the possibility the Tar Heels could play three more games after today.
Before we get into the preview I enjoyed watching this video (yes its dumb) that was released today starring starting pitcher Luke Weaver...
OFFENSE:
The North Carolina offense scores a run and a half less than Florida State and are scoring more than two full runs less than last season's team. As a team they are have an on-base percentage 40 points lower than last season and only have two players with an OBP of .400 or greater, Noles have five. The Heels power numbers are also significantly down, a 68 point drop from last season with only two hitters slugging over .400, Noles have four.
Not surprisingly the Noles have the best offense in the conference and one of the best in the country. They score a full run more than any other team, have the highest OBP, highest slugging and walk the most out of any team in the ACC. Watching yesterday's games being broadcast you heard announcers and coaches make the excuses that a team had a down year because of injuries and youth, it truly is remarkable that Florida State can remain constantly elite and never have to use those excuses.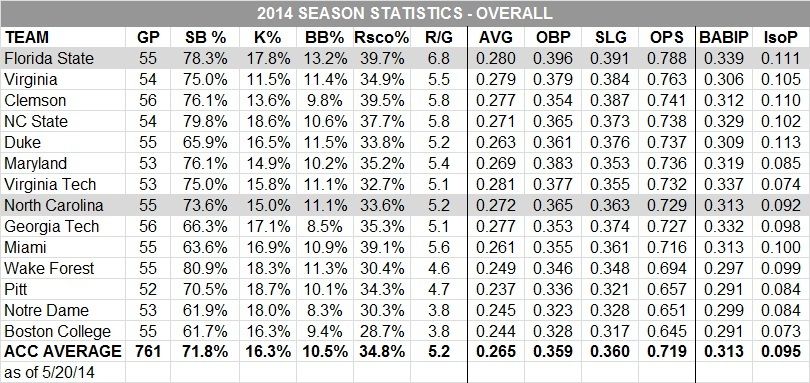 Shortstop Michael Russell (.343/.429/.505) is the Heels best hitter and just picked up a 2nd Team All ACC honor, his bat was held in check earlier this season as he only had one hit in the series. Somehow Tom Zengel (.261/.321/.428) picked up a 3rd Team All ACC honor, the DH has struck out 30 times on the season with just 13 walks. Link to UNC Offensive Stats, sortable and split.
Four Florida State hitters picked up All ACC honors with DJ Stewart (.362/.478/.588) earning Offensive Player of the Year leading the league in batting , on-base and slugging. First baseman John Nogowski (.309/.438/.460) and thrid baseman Jose Brizuela (.325/.411/.443) were also named to the 1st Team with Josh Delph (.275/.388/.365) grabbing a 3rd Team. Link to FSU Offensive Stats, sortable and split.
PITCHING: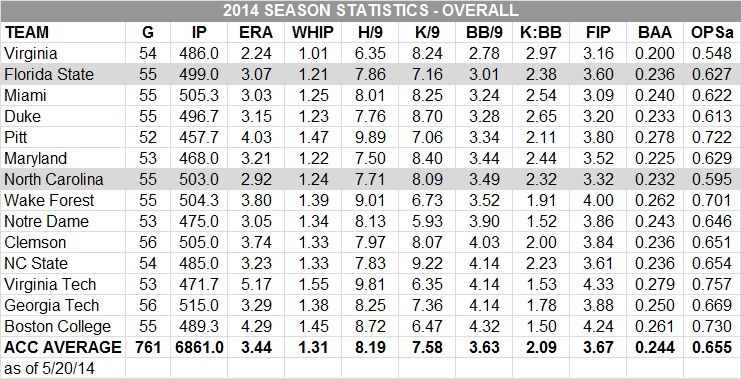 The pitching staff for North Carolina is the strength of their team this season, particularly their bullpen. As mentioned earlier though their key contributors were used yesterday in a must win scenario which means that they could be rested today and tomorrow in preparation for their remaining games. On the other hand the Heels are fighting for a spot in regionals so they may go all out and treat each game as if it is their last. Link to UNC Pitching Stats, sortable and split.
Florida State has had another great year under Mike Bell especially considering the injuries that they have suffered. Their season success has been very comparable to that of the Heels and as mentioned before they did a great job of shutting down the North Carolina earlier this season. Starting pitchers Luke Weaver and Mike Compton accounted for over half the innings pitched in that series but no way will they be expected to see any action which means it's up to the bullpen to contribute today. That bullpen has been shaky the past few weeks, in the last three series they have thrown 40.2 IP with 25 walks and 22 strikeouts, that has to get better if the Noles are to have success this week and moving into the postseason. Link to FSU Pitching Stats, sortable and split.

The right hander for North Carolina has had some success as a midweek starter and relief pitcher. However his opponents, Elon, George Mason, Coastal Carolina, ECU (twice) and Gardner Webb are nowhere near the caliber of Florida State and I assume he will have his struggles against a lineup full of left handed bats. This is not a matchup that favors Cherry, as mentioned the Noles have the best offense in the conference and the righty has an extremely low K rate and an extremely high walk rate. Even if the Noles don't score with frequency against him I expect them to work the count and force him to exit the game early.
It has been two months since the left handed Strode made a start for Florida State. In the time since he has made eight relief appearances including two against North Carolina where he pitched 3.1 innings allowing 1 run on 2 hits with 1 strikeout and 2 walks. Like his counterpart tonight he gets himself into trouble with walks, fortunately he has been able to control those for the most part recently. He has issued zero walks in five of those most recent outings with 3 of the 6 walks allowed coming in a 3.2 innings stint against Minnesota.

COVERAGE:
Wednesday night's game will air live on FS Florida on DirecTV and DISH Network and on cable only in Tallahassee. ESPN3 will cover the game throughout the state of Florida. Check your local listings for the carrier of the game outside the state of Florida.
This was the official statement from Florida State regarding the broadcast of tonight's game which contradicts what ESPN3 currently has on their blackout map. If the game is in fact aired it will unfortunately be brought to you by one of the worst baseball personalities I have ever listened to in Nick Belmonte. Luckily for fans the other announcing crew will have the call tonight, Dan Bonner and Wes Durham while not great they're better than the alternative.
Here is your ESPN3 link and the link to live stats. This article will serve as the game thread and we will have the play-by-play below, please remember no posting of pictures or embedded tweets.
Florida State is the better overall team, the entire team is rested especially the pitching staff. The Seminoles looks to snap their seven game losing streak over the past three tournaments and I think that happens tonight.
Go Noles!