The Seminoles made a statement Wednesday night as they handily defeated a quality team pretty much securing a coveted national seed. Today they take on a Maryland team that made the conference tournament for the first time since 2005. While improved the Terrapins are a product of their soft schedule, in conference they avoided Virginia and Miami, lost series to Florida State, Wake Forest, North Carolina and Clemson and finished the season with BC, Notre Dame and Pitt. None of those teams made the tournament and Maryland was 7-8 on the season against teams that are playing this week. That is not to say that Maryland is not capable of defeating the Noles this morning as they did win the 2nd game of the series earlier in the season, shutting down Florida State by a 5-1 score and we all witnessed the Terps defeat Virginia yesterday.
OFFENSE:
Maryland has a very respectable offense, better than it has been in some time. They are right around league average in scoring but what makes them a threat is their high on base percentage, second in the league to only Florida State. Where the Terps struggle is with their power but as we witnessed yesterday anything can happen in one game, of their eight hits six were for extra bases including four homeruns.
Once again the Noles have the best offense in the conference and one of the best in the country. They score a full run more than any other team, have the highest OBP, highest slugging and walk the most out of any team in the ACC. On Tuesday night they looked excellent at the plate, patient when needed and struck the ball hard throughout the entire game.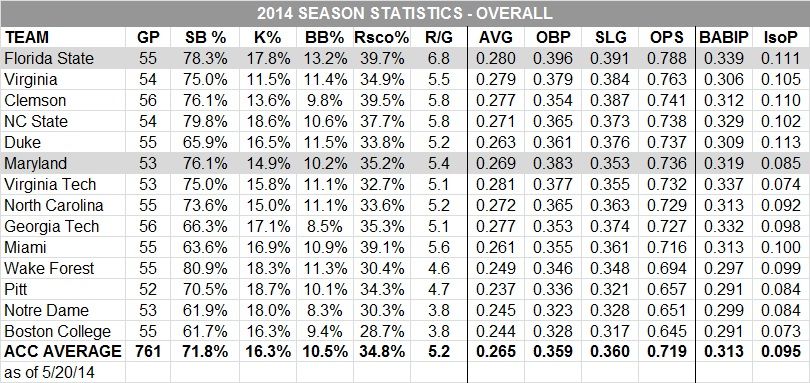 Charlie White (.237/.393/.351) was the only offensive player to be named to the All ACC team even though there were much better hitters on the team. Brandon Lowe (.338/.464/.459) and Blake Schmidt (.309/.414/.411) were far more deserving and have had extremely productive seasons. The Terrapins had just 13 homeruns going into yesterday's game against arguably the best pitching staff in the country but this is baseball and four homeruns were hit including LaMonte Wade's first two of the year. Link to Maryland Offensive Stats, sortable and split.
Four Florida State hitters picked up All ACC honors with DJ Stewart (.362/.478/.588) earning Offensive Player of the Year leading the league in batting , on-base and slugging. First baseman John Nogowski (.309/.438/.460) and thrid baseman Jose Brizuela (.325/.411/.443) were also named to the 1st Team with Josh Delph (.275/.388/.365) grabbing a 3rd Team. The Noles saw some life from the bat of Justin Gonzalez (.253/.411/.409) the other night as he hit the farthest homerun he has ever hit in his career, if he can get hot like he has done in the past he will be a great asset at the bottom part of the lineup. Link to FSU Offensive Stats, sortable and split.
PITCHING: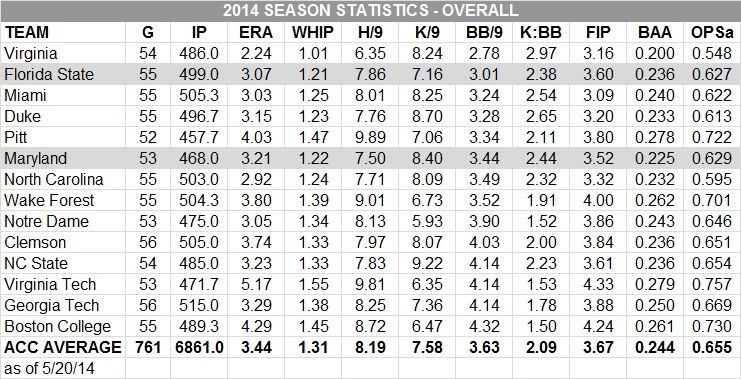 The pitching staff has been the main reason that this Maryland team is having so much success this season, they have great starting pitching as we saw yesterday in their ace. Their #2 is also having a great season and he handled the Noles well the first time around. In the game that he didn't throw earlier in the season the Noles scored 22 runs though, if needed today the bullpen should be rested as Stinnett threw 8 innings yesterday. Link to Maryland Pitching Stats, sortable and split.
As mentioned in the Tuesday preview the pitching staff outside of Compton and Weaver have struggled as of late and until we see them pitch it still should be a concern moving forward. Luckily for the Noles they have Compton and Weaver still to go in this tournament, the two have been phenomenal as of late, over their last 3 starts combined for 39.1 innings pitched allowing 7 earned runs with 25 strikeouts and only 3 walks. Link to FSU Pitching Stats, sortable and split.
The first time around for the right handed Shawaryn went about as well as they could as he allowed only one run to Florida State pitching 7.1 innings walking 3 with 5 strikeouts. Due to their schedule it has been two weeks since he last pitched, against Pitt he went 6.2 with 3 walks and 4 strikeouts giving up just 1 run on 3 hits.
If Mike Compton can pitch better this time around against Maryland there is no way Florida State loses this game. Back in March the righty threw a complete game shutout in which he allowed only 2 singles and struck out 10 while walking none.
COVERAGE:
Unless you are sitting in front of a television it is going to be tough to watch, the ESPN3 feed is blacked out for most of the East Coast. You can follow along in this thread or follow the stats here. Every game so far in this tournament has been extremely competitive and close, I wouldn't expect this game to be any different. Florida State is the better team this morning but Virginia was the better team yesterday. See everyone at 11AM.
Go Noles!