It is hard to call a game meaningless because you fully expect players to go out there and give it their all despite the circumstances. Today's game between two of the best teams in the country really does mean nothing in the big picture, both teams are going to earn a national seed which means hosting throughout the playoffs and both teams have been eliminated from the championship game. If anything it should be a great game given the pitching matchups, hopefully it lives up to the hype.
OFFENSE:
The Virginia offense is not all that potent but they don't have to be given their pitching and defense. They were outscored earlier in the season series with the Seminoles 13-10 and scored only 11 runs in the Georgia Tech series before "busting" it open against Wake Forest in which they scored 15 runs. Overall these teams look pretty comparable but the conference only stats tell a little difference story, Virginia has an OPS 91 points lower there compared to the Noles 34 points. Florida State is also scoring over 6 runs per game in ACC play while the Hoos are scoring only 3.6 runs per in 30 conference games.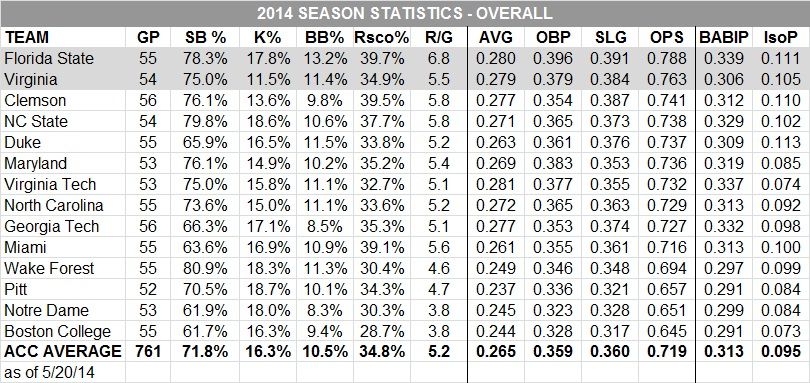 There were three players named to the 1st Team All ACC because of their offense, Mike Papi (.296/.450/.497) is their most dangerous hitter and has a league leading 10 homeruns on the season. Joe McCarthy (.305/.415/.483) and Branden Cogswell (.294/.398/.333) are extremely disciplined at the plate and are a combined 17-22 in stolen bases. The Cavs also have a first round draft pick in their lineup, Derek Fisher (.286/.346/.437) spent half the season injured with a broken hamate. Link to UVA Offensive Stats, sortable and split.
Four Florida State hitters picked up All ACC honors with DJ Stewart (.362/.478/.588) earning Offensive Player of the Year leading the league in batting , on-base and slugging. First baseman John Nogowski (.309/.438/.460) and thrid baseman Jose Brizuela (.325/.411/.443) were also named to the 1st Team with Josh Delph (.275/.388/.365) grabbing a 3rd Team. The Seminoles offense scored 13 runs in the series the first time these two teams played, that was the most that Virginia has allowed all season. Link to FSU Offensive Stats, sortable and split.

PITCHING: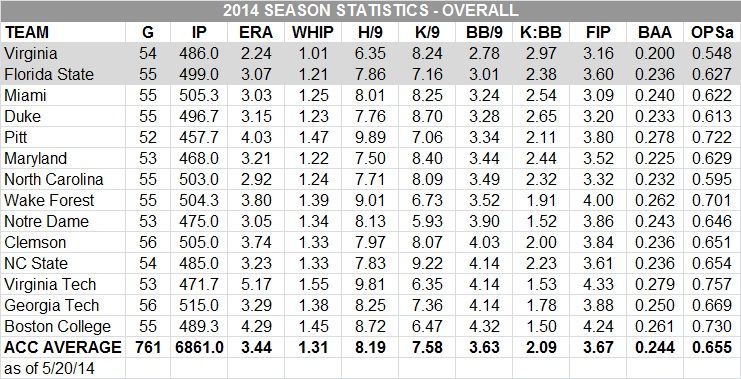 The Cavaliers have one of the best pitching staffs in the country despite the results of Wednesday. Before Wednesday's game with Maryland the Cavs pitching allowed a homerun ever 118 plate appearances, they allowed 4 in 37 to a team that had only 13 on the season. Link to UVA Pitching Stats, sortable and split.
Florida State's pitching has been superb so far in the tournament, 17 innings pitched with only 2 earned runs allowed, 4 walks, 13 strikeouts and 10 hits. Both bullpens are well rested and available, could we possibly see Brandon Leibrandt pitch an inning? Link to FSU Pitching Stats, sortable and split.

Virginia's Nathan Kirby is arguably the best pitcher in the country and easily the best pitcher in the conference, the fact that he was Co-ACC Pitcher of the Year is terrible and goes to just just how lazy people are.  A minuscule hits per nine and a one of the highest strikeout to walk ratios among starting pitchers with a high strikeout rate. In his first time out against Florida State the lefty struck out 7 and walked 1 allowing 3 runs on 7 hits over 6 innings.
The Noles would be happy if Weaver had a repeat performance of his last outing against Virginia where he allowed 3 runs over 7 innings striking out 5 and issuing 0 walks. The right handed junior has been brilliant recently, in his three starts since Virginia he has allowed only 1 run on 14 hits while walking 3 and fanning 12 batters.
COVERAGE:
Not sure how the game will be aired this evening with both Florida RSN affiliates carrying MLB games that start at 4:10. PM. My best guess is that once again the ESPN3 blackout will be lifted and the game will air once all MLB postgame activities have concluded.
Enjoy the game, it has been a solid tournament for the Noles regardless of tonight's outcome. We will have your play by play here, the ESPN3 link is 
here
and live stats are 
here
. See everyone back at 7PM.
Go Noles!