FSU drops to No. 2 in Coaches Poll. I am fine with this. Florida State has absolutely not played like the No. 1 team in the country. I'd personally have FSU behind Alabama and Oklahoma, at the least.
But the timing of it certainly will rub some the wrong way. It would be nice if pollsters would wait until the SEC teams actually played their SEC schedule before rewarding them for said schedule. FSU got jumped by Alabama after Alabama had a bye week. FSU got down to N.C. State 24-7, then went on a 49-17 run to win by 15. But most saw the portion where FSU got down big. All 15-point wins are not created equal. Nobody bats an eye when a team gets up big then holds on to win by a 15-point margin.
Regardless, with Bama facing Ole Miss this week, the Crimson Tide was slated to make a jump -- either to No. 1, or out of the top 5 (with a loss).
By the way, FSU had more first place votes than Alabama, but was No. 2 overall, which means many are voting FSU third or fourth. But while FSU is very likely to win comfortably the next two weeks, there are a lot of potential losses for top-10 teams. Oklahoma plays TCU, Auburn hosts LSU, Texas A&M plays Mississippi State, Utah plays UCLA, Stanford plays Notre Dame, Oregon plays UCLA, Alabama plays Arkansas, Auburn plays Mississippi State, Ole Miss plays Texas A&M, TCU plays Baylor and Georgia plays Missouri. Losses are coming.
Stats
I want to make sure everyone sees this column. FSU got dominated for the first 13 minutes of the game, and dominated the final 47.
What is this defense?
FSU's defense is not as bad as many think it is. It held a good (not great) Clemson offense down pretty well, and some credit must be given to receivers and quarterbacks making great plays in games against the Tigers and N.C. State Wolfpack. It's still a good to very good defense, and one that may have just played the second and third-best QBs in the ACC ...
... but a jump like FSU had in 2013 after Boston College should also not be expected. It will get back Mario Edwards, Jr. from the concussion, and that means guys like Chris Casher and Demarcus Walker will be better rested. Edwards, Jr. is criminally underrated.  LB Ukeme Eligwe will come back from his foot injury at some point soon, but how well he will play after all that time off is anyone's guess. I also see a lot of people assuming that Matthew Thomas is coming back for the Notre Dame game, but I've yet to see anyone have solid enough info (us included) to actually report it.
But Nile Lawrence-Stample is not coming back. We said in the preseason that FSU could not lose anyone important at DT, and it already happened in Game 3. You have to downgrade your expectations for this defense because of that. No injury updates from FSU as of yet -- those are likely to come Monday.
Freshmen Lorenzo Featherston and Jacob Pugh made a couple really nice plays Saturday. Getting the fresh legs in was great. But remember, they are freshmen and being asked to play in the full defense is a lot different than simply rushing the passer like crazy.
There are a lot of calls to move Jalen Ramsey back to safety, but what does that do to the rest of the defense? Nate Andrews might not have the length to play the star position, and Tyler Hunter has had a lack of physicality, so he's not necessarily a great fit there, either. This might be it. There may not be better options there. Nobody in Garnet and Gold wants to hear that, but sometimes you just have to roll with it and hope.
We can talk about tackling, and that was absolutely an issue, but the main weakness with this defense is its linebackers and safeties in coverage. All three teams FSU has played have attacked the seams, and that is where I'd try to attack, too.
The tackling has also been compounded by coverage errors, which means that guys are running out of control to get back in phase and as such, are not in good tackling positions. And I don't think it's an effort issue. It's a combination of talent, inexperience and comfort (or lack thereof). In some cases, players may be giving too much effort.
By the way, do not fall into the trap of thinking the defense has fixed its issues if it shuts out Wake Forest this weekend. Wake has one of the worst offenses FSU will have ever played from an ACC opponent. 3.12 yards/play against D1 teams this year. Next worst from a Power 5 team? 4.09, from Purdue, nearly a full yard better.
And I don't think the defense would look much different/better with Jeremy Pruitt calling the shots.
The devil you know ...
FSU definitely repped LT Cam Erving at center more in practice this week, and it had people believing a switch might be coming, but when FSU came out, it was in its normal lineup of Erving-Matias-Barron-Jackson-Hart. The proposed switch would have been Hart-Matias-Erving-Jackson-Mavety. But Austin Barron played well Saturday, and Bobby Hart struggled a lot at right tackle. Do you really want Hart protecting Jameis Winston's backside?
Winston trusts Wilson
Jesus Wilson isn't the biggest or the fastest, but he gets himself open, catches the ball, and Jameis Winston trusts him. He's where he is supposed to be. Know who that sounds like? Wes Welker. Six catches for two touchdowns and 109 yards Saturday.
With Wilson, Nick O'Leary, and Greene, plus some dangerous underclassmen and Christian Green as fourth options, it's very difficult to cover Florida State. N.C. State tried to be aggressive early and got burned. Then they backed off and Winston completed 23 passes of fewer than 25 yards, taking what was there.
Rashad Greene continues to climb the record books
Greene may soon be FSU's all-time leader in catches, yards and receiving touchdowns.
Playoff & national thoughts ...
Many readers have asked for a playoff prediction. So here it goes.
Projected playoff (no order): FSU, Alabama, Oklahoma, Oregon. Go with the chalk unless there's a reason to believe otherwise. The next group? Auburn, UCLA, Baylor, Michigan State (I guess?) and Notre Dame. The four teams in are favored in all remaining games. The others are not. It's that simple at this point.
-I think every team in the SEC West, including Arkansas, would finish first in the ACC Coastal.
-Just like when you build your lead matters, so does when your conference loses. Not too many media folks talking about Pitt losing at home to Akron!, but if they had done so in Week 1, you can bet it would be a talking point about the league.
51 before 11?
Jimbo Fisher has a chance to start his career going over the 50 win mark before exceeding 10 losses. He's 49-10 right now as FSU's head coach. That's pretty ridiculous.
Miami twice?
Despite this embarrassing crowd (announced at 44K+), Miami got revenge on the Duke team that embarrassed them last year, and now has a good shot at the Coastal Division, with Virginia Tech continuing to lose important players. Miami's defense seems like it is much improved if you consider the Nebraska game to be an outlier. FSU could end up playing Miami twice this season.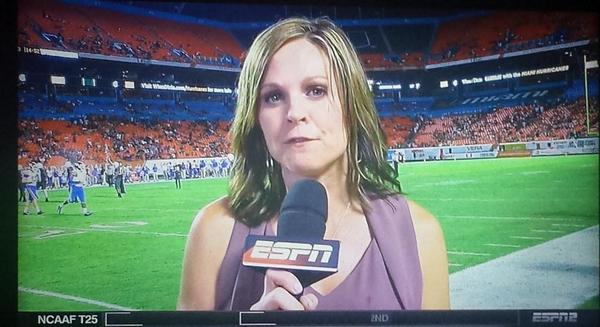 Last week's leftovers
I started this last week and never got to finish it. Here are the notes that are still relevant.
-Driskel was 2-for-16 for 45 yards on passes thrown at least 10 yards down the field against Alabama. Woof.
-FSU has been informed that they are NOT out of the mix for ESPN's College Gameday on October 18 v. Notre Dame. Most assumed that FSU would not the host show twice in such a short period, but Texas A&M is not looking as good as it did a week ago.
-Think this will last? UF does have some shot to win the SEC East.
"You never judge or evaluate a program based on one game or one season," Foley said. "That's just not how we do things here. We're going to evaluate where we're headed - where the players are, how is recruiting going, what type of staff we have - are we better? That's going to be plain for all of us to see, but it's also going to be played out over the course of 11 games and we'll see where we are when we get to the end of the season." -- Florida's AD to Mike Bianchi of the Orlando Sentinel.