Every season I make a prediction on how the season will unfold, I try to break down the opponents and determine what would be a reasonable win and loss record during that stretch of games.  Florida State is about to start the final stretch of the season with just two weekend series left before the ACC tournament and then postseason which follows shortly after. So let's take a look at how the Seminoles fared against my predictions and postseason seeding possibilities.
Non-Conference Home Games- Florida State should sweep Niagara and Minnesota and win both series against Miami and Georgia, a 10-2 record here is totally feasible.
The Noles finished 10-1 in the games above with one of the games against Georgia being cancelled due to weather. That game was recently replaced with UCF next Tuesday at home, even if Florida State were to drop that game the goal would still be met.
Prime In-State Games (UF, USF, UCF) -  Going conservative here and say the Noles go 5-2 against these three teams.
Being swept by your rival isn't any fun but it turns out that Florida is an extremely good team and have already secured a national seed. The Seminoles finished 4-3 and a winning record is all that matters during midweek games.
In-State Games (Stetson, JU, FGCU) - Florida State is more likely to go 6-0 than 4-2 so let's again play it conservative and go with 5-1.
The Seminoles finished up a perfect record last night defeating Stetson.
Home ACC Games (MD, NCST, ND, UVA, Duke) - Florida State is 36-9 at home over the past three seasons and against these teams going 11-4 would be an accomplishment.
Winning 9 and losing 3 so far puts the Noles right where they need to be before the last home series of the season against Duke. A series win hits that projection right on the head.
Away ACC Games (CU, BC, GT, WF, UNC) - In the last 3 seasons Florida State has a losing conference record on the road at 23-24 but I feel this team has the talent to go 10-5.
Florida State has gone 8-4 so far and has an tough team waiting for them this weekend at Chapel Hill. As long as the Noles do not get swept the 10-5 record is achievable.
If the Seminoles fall in line with the records that were predicted they will finish with a 21-9 conference record and an overall record at 41-14. This Florida State team has the potential to make history. I really feel this is the most talented team since the 2002 squad that won 60 games.
All of these predictions were made based on that Florida State would be relatively healthy throughout the season, that unfortunately not been the case.  Saturday starter, Brandon Leibrandt has now missed six starts and it looks like he is still a couple weeks out. His replacement Bryant Holtman is sidelined with a forearm stain but is now throwing and is expected to be back soon. Freshman star in the making Ben DeLuzio missed a handful of games due to a rib injury and struggled to get back on track even after returning to the lineup. The conference's best player, DJ Stewart, has also missed time due to injury and a ridiculous suspension. The hype and distractions of having a Heisman winning quarterback has also not deterred this team from being one of the most successful in the country.
The team currently has a record of 17-7 in conference and 36-11 overall. The have all but locked up a one or two seed in the conference tournament with a 5.5 game in the division over Clemson. Regardless of past postseason performances this team is having a tremendous season and has once again put themselves in a perfect position to make it to Omaha and if healthy has a real shot of winning that first title.
A national seed is awarded to what the committee deems as one of the eight best teams in the country after conference tournament play. This ensures that a team will play at home through regionals and super regionals all the way to the College World Series and Florida State is set up nicely to receive one.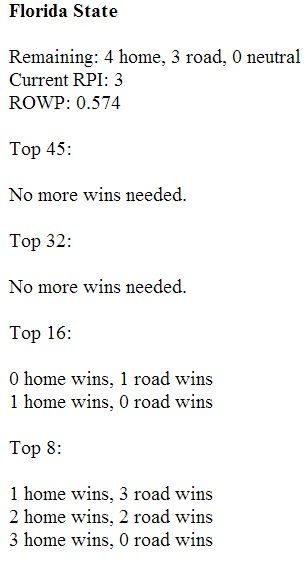 This report lists the various scenarios for each team to finish higher than the team currently in the shown key RPI positions, those that correspond to the various seeding or at large thresholds, assuming that all other teams maintain their current winning percentage. It's highly speculative, since those RPI levels will move up or down, and the committee is highly unlikely to just take the top 8 in RPI for the national seeds, for example, but it can be useful as a rough guide. The report is updated daily around 8:30 AM CDT.

The levels listed here are thresholds, so anything above the threshold will also get the team to a given level. For example, if a team is listed as needing to win 2 home games and 3 road games to get to the top 8, they'll obviously also get there if they win 2 home games and 4 road games.

ROWP is the average remaining opponent's winning percentage, weighted by games against remaining.
Now  Boyd's World doesn't take into account how a team does in the conference tournament but in the past the committee has not put that much stock into it either. Florida State has been swept in the tourney and had a strong enough resume to finish with a national seed.
This team is extremely balanced but the obvious concern is the health of starting pitcher Brandon Leibrandt. If the Noles are expected to make a deep postseason run they are going to need him at full strength, which is why they have not rushed him back. Florida State makes its last road trip of the season this weekend as they travel to North Carolina it what should be a very competitive series. Preview to come later this week.