Day 2 of Florida State's Jimbo Fisher football camp is in the books, and Tomahawk Nation has all of your recruiting updates thanks to our team of Stephen Fenech, Spencer Wills and Kasey Dixon. As always, I'll break it down by position for organizational purposes. Please feel free to ask any questions you may have.
The question entering the camp was whether FSU could get the South Florida players up -- something that did not happen in June. The question has been answered, and it's a definite yes. Booker T. and Miami Central, the two South Florida powerhouses who were notably absent in June showed up in force, and Central brought 18 players. Members of Miami Northwestern, Southridge and St. Thomas Aquinas also made the trip.
So good to have all my boys from the #305 and the #786 in Tally!! #NoleNation #TheTimeIsNow

— Tim Brewster (@TimBrewster) July 19, 2013
Quarterback
I did not see a whole lot of quarterback play today, but no quarterback stood out as someone who was decidedly Florida State material. I've seen FSU commitment Treon Harris throw better before, and I've also seen Miami Jackson (Fla.) QB Quinton Flowers throw much better. I posted a video of Treon Harris talking about being recrutied to Florida State by Matthew Thomas, and recruiting other Booker T. studs to FSU here.
Running Back
Thursday was a much better day at running back, at least in terms of attendance. The biggest name was Dalvon Cook, of Miami Central. I don't think FSU has a true shot at Cook, who is committed to Florida, but that he came to camp shows that he's open to hearing other recruiting pitches.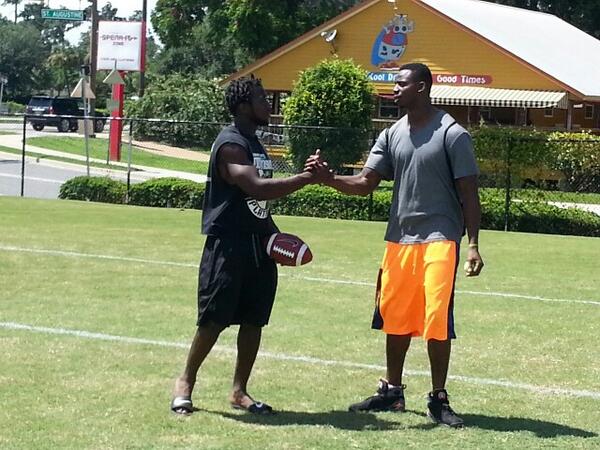 Dalvon Cook chats with FSU linebacker Matthew Thomas
One back FSU does have a shot with, however, is Jonathan "Jay" Vickers, of Tallahassee North Florida Christian. He was there visiting with the staff, but did not work out, which he did in June. Vickers is a back with good balance. He is down to FSU and Louisville, has spent the last two days at FSU, is from Tallahassee, FSU wants him to jump on now, and will decide Friday around noon on WCTV, a local station. Reading the tea leaves...
T.J. Harrell, of Tampa (Fla.) Catholic was there, but did not work out. He will also be in town tomorrow. Harrell holds an FSU offer, and I spoke with him. He named Florida State in his top-two, with Louisville, but he is nowhere ready to decide, because he wants to see Michigan State and West Virginia. FSU commitment Corey Martinez is heavily recruiting Harrell to Tallahassee, as they are high school teammates. Harrell is also excited to see James Wilder, who he knew from growing up in Tampa. Harrell likes the coaching staffs at both schools, because they are down to earth. Louisville and Michigan State are recruiting Harrell as a safety, while FSU and West Virginia want him as a back. FSU plans to take three running backs, but if it fills up with two, it may wait on an elite back, which Harrell is not.
Karan Higdon, of Sarasota Riverview, apparently was there for the morning session. He's a 2015 prospect. I did not notice him, and neither did our other observers, including observers from other networks. Higdon did not return for the afternoon session. He apparently has four-star potential, and I'll see him this year.
Leonard Fournette did not show up, not that FSU ever had a shot at him in the first place.
Aeris Williams, of Mississippi, did not make it in, but FSU is confident he will see the Seminoles this month. He dealt with some travel issues. I would not rule out him committing in July when he makes it back down.
Wide Receiver
The underclassmen stole the show, as 2015 Da'Vante Phillips, of Miami (Fla.) Central showed up and worked out. He's a very talented player. And Jovan Durante, of Miami (Fla.) Jackson, who is a WVU commit (for now) was extremely good as well. Phillips is more of a power player, while Durante uses his speed. 2016 Darnell Salomon, of Champagnat Catholic, is also quite good.
Tight End
Kaden Smith, Flower mound, TX, stood out. He is being recruited by Tim Brewster, who coached at Texas previously. Kasey Dixon spoke with Smith, who holds offers from Alabama and Clemson.
I'm really enjoying it, the new coach is really nice and Jimbo Fisher is still here, so that's good.
How is it working with Coach Brewster?
He's a great guy that I really enjoy, I like how he's really hard on everyone. Just be coachable around him and you'll be great.
When are you looking to decide on a school?
Probably junior year. I just want to see what offers I get and see the best fit for my education and not just football.
Have you been to any other camps this summer?
I just got back from Bama.
How did you like it there?
It was awesome, they offered me there. And then I went to Clemson and Stanford and I'm visiting Michigan later this month.
What are you looking for in a school as far as education goes?
I don't even know yet, just good education, that's all I'm sure of because I'm not sure what I want to major in yet, but I'll probably decide that later in my high school career.
Florida State also offered 2015 tight end Jackson Harris, of Columbia Tennessee. He is a very solid prospect.
Offensive Line
Thursday had the best offensive line group of the Summer.
Trevor Darling, of Miami Central, was the best tackle at the event. Darling, a Miami commit (and a firm one) is very large and moves his body quite well.
Recent FSU commit Corey Martinez showed up, but did not work out. He just got back from The Opening, where he performed well. Martinez is in great shape.
FSU center commit Alec Eberle is also in great shape at 6'4 and 279 pounds. He is adjusting to snapping, and more importantly, coming out of his stance after snapping. He battled Darius Smalls (who is probably 340 pounds) in the 1-on-1 portion of the event, and showed well, considering it's a new thing for him and Smalls bull rushed him, which isn't really allowed.
Marcus Applefield, of Weeki Wachi (Fla.) looked pretty good. He's about 6'6 and 275 pounds. FSU did not offer, but coach Trickett paid him a lot of attention. FSU will continue to evaluate Applefield, go back and watch his film, and depending on how other targets shake out, could end up offering Applefield. FSU is looking to take four tackles, and he could be the fourth, if offered. Early on, Applefield has a good relationship with Vanderbilt and Rutgers.
Jake Stickler, of Brandenton (Fla.) Manatee, is probably 6'4 and 270 pounds. He holds a Georgia Tech offer and would be a good fit there with his athleticism. FSU will continue to evaluate him, but I doubt an offer comes based on what I saw today.
2015 Christian Pellage was again working out. I covered him yesterday.